BBC America has released a sneak-peek clip from Dynasties II, the sequel to the landmark natural history series Dynasties. Check it out, along with episode details.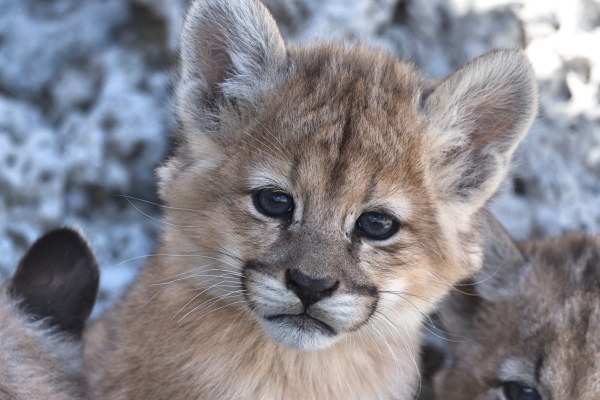 It's shows like Dynasties that makes me wish I had a high-def television the size of my living room wall on said wall. This isn't a knock on the other programs that I watch; it's just that these nature series are so breathtakingly stunning from start to finish, it's almost an injustice to watch them on a 43″ (or smaller) non-HDTV screen. (First-world problems.)
Be that as it may, I will still be tuning in to Dynasties II. The series premieres in the US this Saturday, May 21, at 8 PM ET, on BBC America and AMC+.
Narrated by renowned naturalist and Primetime Emmy® Awards winner Sir David Attenborough (Blue Planet II, Seven Worlds, One Planet), Dynasties II, the six-episode sequel to the awards-winning Dynasties, gives a unique and intimate glimpse into the lives of some of the most charismatic animals on the planet — including puma, elephant, cheetah, hyena, meerkat, and macaque.
The camera crew followed the animals in the series for as much as two years, and what they captured on film includes surprising, dramatic, and heartwarming stories about these iconic favorites from the animal kingdom — from newborns being introduced to their families and youngsters learning how to survive independently, to rivals vying for the top spot and mothers risking everything to protect their families. And the never-before-seen moments even surprised the wildlife experts who worked closely with the crew throughout filming.
Dynasties II opens with "Puma." Filmed in the wild and remote highlands of Patagonia, this episode follows Rupestre, a solitary mother puma raising four cubs, her biggest litter yet. She and her family face extreme elemental forces, from driving white-out blizzards to 100mph winds, while Rupestre herself must grapple with rivals in order to feed her cubs and keep them safe. Her battles for their survival include encounters with a fearsome male puma, whose desire to mate with Rupestre puts her cubs in mortal danger, and a rival female puma, who is determined to lay her own claim on Rupestre's territory.
Check out the sneak peek:
Details regarding future episodes are as follows:
Episode Two: "Elephant" (Saturday, May 28, 8 PM ET)
Amboseli National Park in Kenya is home to a once-thriving family of elephants, a herd that has been struggling to keep their calves alive since the death of their experienced matriarch. But now a new leader is beginning to emerge: a female called Angelina, who gives birth to not just one calf but twins — Atlas and Alana — an extraordinarily rare occurrence for elephants, and one for which celebration might be short-lived.
The odds of Angelina and her family keeping the twins alive are stacked against them, as they face countless dangers, including the deep, thick mud of the treacherous swamp, the aggression of testosterone-fueled bulls, the peril of a drought, and the threats posed by ever-circling predators. While the mischievous, playful twins are blissfully unaware of the challenges that face them, and how much they need to learn from their mother, aunts and cousins, Angelina and her family must draw on all their accumulated experience if they are to keep these precious calves — and the dynasty — alive.
Episode Three: "Cheetah" (Saturday, June 4, 8 PM ET)
This story follows Kali, a cheetah mother battling to raise a family on the unforgiving grasslands of Western Zambia. At eight she is already old for a cheetah here, and the future of her dynasty hangs in the balance, as only two of her previous fourteen cubs have survived. Kali has finally managed to raise three daughters to near adulthood, but they have not reached independence yet. Until they learn to fend for themselves, Kali is forced to hunt larger, more dangerous prey to feed their growing appetites — and to hold on to her kills, away from the claws and jaws of the big hyenas that call these plains home.
Episode Four: "Hyena" (Saturday, June 11, 8 PM ET)
Speaking of hyenas, living on the vast grasslands of Zambia's Liuwa Plain is the once-powerful South Clan of spotted hyenas. It is a time of great upheaval for them, as their Queen has died, and they are facing one of the worst droughts in living memory. Because Sia, the Queen's daughter, is too young to inherit the throne, the top spot is seized by Suma, an adult female. Suma's ability to grab and hold onto power is due to her being surrounded by supporters — hunters that provide her and the clan with food, and breeding females whose offspring could expand Suma's network of allies. However, their loyalty to Suma could be swayed by Princess Sia, as she edges closer to adulthood…
Episode Five: "Meerkat" (Saturday, June 18, 8 PM ET)
This episode follows a young meerkat queen living in the harsh beauty of the Makgadikgadi salt pans of Botswana. If her new pups are to survive, she must unite her family in the face of rivals, predators, and immense dust storms.
Episode Six: "Macaque" — World Premiere (Saturday, June 25, 8 PM ET)
High in the mountains of Morocco lives a descendant of a long line of macaque rulers. She has been in charge of this troupe for many winters — one of the longest recorded reigns of an alpha — but this year is likely to be her last. Over the next twelve months, she must not only keep her latest baby safe and fed through the parched summer, stormy autumn and frozen winter, but she must also ensure her eldest daughter is ready to take over control of the troupe.
Special Episode: "The Making Of Dynasties II" (Saturday, July 2, 8 PM ET)
This episode goes behind the scenes to reveal the many challenges the filmmakers faced on location.
As a part of BBC America's "Wonderstruck" programming slate, Dynasties II is a BBC Studios Natural History Unit production for BBC and BBC America, co-produced with bilibili. It is executive produced by Emmy® winner Mike Gunton (Planet Earth II, Dynasties), with Emmy® nominee Simon Blakeney (Africa, Life) serving as series producer.
__________________
As an affiliate of Amazon and other companies, ads & affiliate links on this blog allow us to earn income from qualifying actions and purchases (at no extra cost to you).

Dynasties II: BBC America Drops Sneak Peek of Sequel to Landmark Natural History Series