Acorn TV announced today the US and Canada premiere date for the third and final season of award-winning Welsh mystery-crime drama Hidden.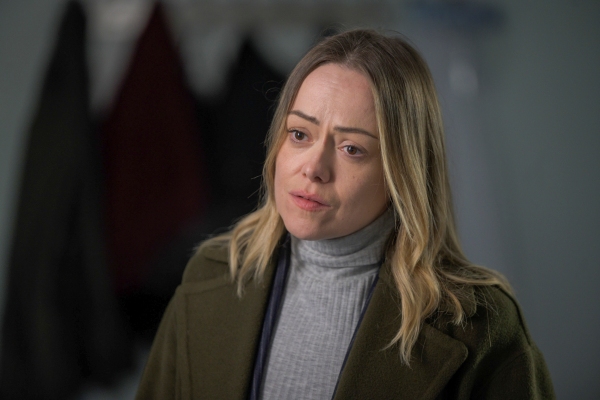 Sian Reese-Williams (Line of Duty) and Sion Alun Davies (35 Days) return as DCI Cadi John and DS Owen Vaughan in the last-ever season of Welsh noir drama Hidden.
Hidden: Season 3 premieres in the US and Canada in its six-episode entirety on Monday, June 20, exclusively on Acorn TV.
Opening a year after the Season 2 finale, Season 3 brings us back to North Wales for another story full of personal dramas, kicked off by the discovery of a man's dead body in a river in the remote Dysynni Valley. Cadi and Owen are called out to investigate what turns out to be a murder — as she is interviewing for a DSI job in Liverpool.
In addition to the possibility of a new job in England, there are other life-changing things happening in Cadi's life. She and her sisters, Elin (Nia Roberts, Bang) and Bethan (Megan Llyn), have decided to sell the family home, and Cadi is in a new relationship. Staring at the crossroads in front of her, she will have to make a choice: leave North Wales and her family, lover, and job for a new adventure, or face down old demons, embrace her new relationship, and make Bangor her permanent home.
Meanwhile, Cadi and Owen continue their investigation into two brothers who have a harrowing history and secrets to hide, but who cannot outrun their pasts.
Returning cast members include Lara Catrin, Victoria Pugh (Hinterland), Garmon Rhys (Gangs of London), Sarah Tempest (The Exorcism of Anna Ecklund), and Mali Tudno Jones (15 Days).
Joining the cast for the final season are Rhian Blythe (Keeping Faith), Gwen Ellis (Hinterland), Rhodri Evan (The Pembrokeshire Murders), Sion Ifan (35 Days), Dritan Kastrati (Agatha Raisin), Gwawr Loader (The Indian Doctor), Justin Melluish, Elen Rhys (The Mallorca Files), and William Thomas (Torchwood).
__________________
As an affiliate of Amazon and other companies, ads & affiliate links on this blog allow us to earn income from qualifying actions and purchases (at no extra cost to you).

Share this post/page.

Hidden: Acorn TV Sets Debut Date for Final Season of Welsh Mystery-Crime Drama