Season 2 of Acorn TV Original series Queens of Mystery opens with the clever and entertaining two-part crime story "Sparring with Death."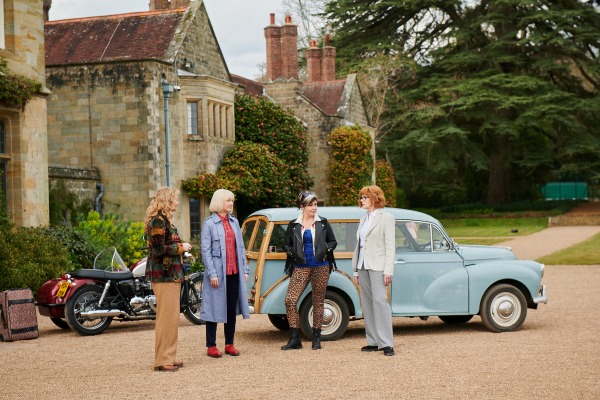 Let us return to the picturesque English region of Wildemarsh, home to crime-writer sisters Beth (Sarah Woodward, Professor T), Cat (Julie Graham, The Bletchley Circle), and Jane Stone (Siobhan Redmond, Taggart), and their detective niece, 28-year-old DS Matilda "Mattie" Stone (Florence Hall, The Princess Switch 3).
It's been a little more than three months since the events in the Season 1 finale, and at least one person in Wildemarsh has moved on with their life in a rather significant way — so much so as to be news in the local paper and to cause gasps amongst the sisters as well as members of the local police station. What could be so shocking? Well, it has to do with GP and police forensic pathologist Dr. Daniel Lynch (Andrew Leung, Flack).
On the same morning as that news, Cat accompanies Beth (sans Jane) to the Wildemarsh Wellness Retreat. Beth is writing a story for the paper about the health spa and its founder, Dr. Angela Isherwood (Sara Stewart, Unforgotten), who established it 20 years ago. That's when the colorful (unpublished) story about how Isherwood came about the funds for her venture began circulating.
Meanwhile, Mattie is off to investigate another break-in at a small newsagent. Here she happens upon someone who she thinks might be able to give her a glimmer of hope in learning about her mother's mysterious disappearance 25 years ago.
While Mattie's mind is racing, certain staff members at the wellness center are reeling — stunned by Angela's just-made announcement. It's one thing for her to step back from the day-to-day running of the place; it's another to name someone other than them as her successor. (You can almost see the steam coming off of one of their heads.)
If that wasn't enough to turn their worlds upside down, the wellness staffers, as well as the guests, are in for another shocker: they are suspects in a gruesome murder.
All told, it's been an eventful 24-hour period for Mattie, and there's more where that came from. As she investigates the death — with help from Jane, Cat, and Beth (natch) — Matilda learns that there is more to the suspects than meets the eye, especially after there is another murder… and one of her aunts finds herself in grave danger…
Written by series creator Julian Unthank (Doc Martin, New Tricks), "Sparring with Death" is a welcome return to the world of Queens of Mystery, which is as colorful and quirky, cozy and darkly-comic as the stories in the first season. Florence Hall doesn't miss a beat as Mattie, making the transition from Olivia Vinall in Season 1 to her in Season 2 totally seamless. In addition to the three leads, it's also great to have Juliet Stevenson back as the narrator, a role for which she received an Emmy® Award nomination in 2019.
Story-wise, the plot is layered and the red herrings are effective. While we still don't know what happened to Matilda's mum, or what the deal is with the mysterious raven, we do learn more about Jane and Beth's backstories and Cat's always-interesting skill set. All in all, "Sparring with Death" is an entertaining whodunit and a terrific way to begin next week.
Queens of Mystery: Sparring with Death premieres in the US and Canada with back-to-back episodes on Monday, January 10, exclusively on Acorn TV.
Costars include returning cast members Martin Trenaman (Quiz), Michael Elcock (The Grey Tarmac Road), Rebecca Grant (Holby City), and James Ballanger (The Capture), and guest stars Paul Bradley (Grantchester), Nicola Chegwin (No Offence), Nick Fletcher (Father Brown), Sarah Hadland (Miranda), Kevin Harvey (Time), and Emma McDonald (The Picture of Dorian Gray), amongst others.
__________________
As an affiliate of Amazon and other companies, ads & affiliate links on this blog allow us to earn income from qualifying actions and purchases (at no extra cost to you).

Share this post/page.

Queens of Mystery: Season 2 Premieres with Delightful Two-Part Whodunit