In advance of its launch of Help in the US, Acorn TV released today the official trailer for the powerful, critically acclaimed telefilm.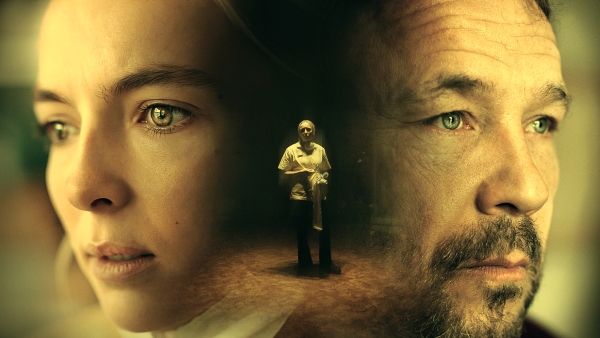 Help, which recently won the 2021 Rose d'Or Award for Best Drama, stars Primetime Emmy® Award winner Jodie Comer (Killing Eve, Doctor Foster) and Royal Television Society, UK award winner Stephen Graham (The North Water, Line of Duty) in the lead roles.
Sarah (Comer) has few qualifications and prospects in life, but she unexpectedly finds confidence working as a care assistant in a nursing home, where she discovers she has a special talent for looking after the residents. One in particular, with whom she begins to build a real bond, is 47-year-old Tony (Graham), who is suffering from early onset dementia, which causes him moments of confusion and aggression that the other members of staff find hard to handle.
But everything Sarah has gained is thrown into doubt with the arrival of the Coronavirus pandemic. She and her colleagues have to fight tooth and nail to get what they need, are ill equipped to deal with the level of stress and horror around them, and are badly led by an overwhelmed manager (Ian Hart, The Terror, The Last Kingdom) as they try to protect the residents. Confronted with the grim and imminent reality of losing Tony, Sarah may have to go to extreme measures to save her friend.
Help premieres in the US on Monday, January 31, 2022, exclusively on Acorn TV.
Originally released in the UK on Channel 4 in September, 2021, the film is written by BAFTA winner Jack Thorne (National Treasure, Enola Holmes) and directed by Marc Munden (The Third Day, The Secret Garden). It costars Lesley Sharp (Scott & Bailey), Sue Johnston (Waking the Dead), David Hayman (Trial & Retribution), Angela Griffin (Brief Encounters), and Cathy Tyson (Whitstable Pearl). The executive producers are Beth Willis (Doctor Who), George Faber (Collateral), and Christopher Moll (Lady Macbeth), as well as Thorne, Munden, Graham, and Comer.
__________________
As an affiliate of Amazon and other companies, ads & affiliate links on this blog allow us to earn income from qualifying actions and purchases (at no extra cost to you).

Help: Acorn TV Drops Trailer of Award-Winning Jodie Comer-Stephen Graham Drama