Connie Nielsen, the star of the psychological drama Close to Me, spoke with me a couple of days ago about the series, her character, and more. Check out our chat!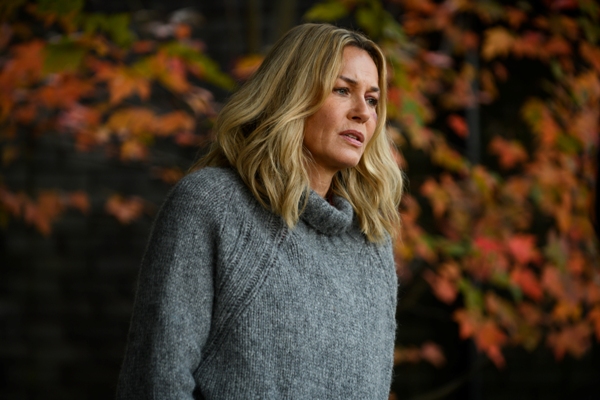 Folks around the world know actress Connie Nielsen from her roles in blockbuster films like Gladiator and Wonder Woman, as well as her TV roles in Law & Order: SVU and Boss. The most recent of her projects that has launched in the US is the psychological drama series Close to Me, adapted from Amanda Reynold's suspense novel of the same name.
In it Nielsen plays Jo Harding, a wife, mother, and working woman with a perfect life. Or so she believes until she starts piecing together the fragments of her life that she begins to remember. What has caused her to forget a whole year's worth of memories is the amnesia brought on by an awful fall in the home she shares with her husband, Rob, played by Christopher Eccleston (Doctor Who, Thor: The Dark World). As flashes of remembrances make their way into her conscious mind, and as certain truths are revealed to her, Jo begins to realize that her life wasn't as hunky dory as she had thought. She also starts to suspect that her fall might not have been an accident…
I binged the screeners for all six episodes over two nights, and shared with Connie that "the show messed with my head." I hadn't read the novel, and asked her if she'd read it before joining the series.
CN: "No, I didn't. And I kind of do that on purpose any time I do anything that's based off of a book, because in the beginning of my career, I did used to read the books, and then I would get obsessed with, 'Oh, but this detail is not there and that is not there, and are we getting this or that.' I just have learned that I really feel that film and literature are two separate and different mediums, and so a film necessitates, or a TV series necessitates, a different structure, and so you have to kind of surrender to the medium that you're in.

"The most important thing to me was to really get the themes across from the book — the themes being a woman dealing with doubt, self-doubt, and then this whole existential crisis that she goes through, which I think is emblematic of and sort of almost like a metaphor for how so many women are struggling to define themselves once their children move out, once menopause gets into place. What happens? Who are you then? So much of the way society sees a woman, it's as if she could just as well pack up and leave society after 47. I just feel like this story is a way of saying, 'This is ludicrous. It's ridiculous. It's time that we find ourselves and we figure out exactly what we want to do and who we are.'"
With hers being the central character, the one exemplifying these themes, I asked Connie what was it about Jo Harding that had her say yes to doing the series, and if she drew from certain aspects of herself to play Jo.
CN: "It was, to a large degree, the fact that she was so funny. She dealt with her issues with a great sense of humor and of dignity. Not dignity as in non-responsive, cos she's certainly responsive. But I just felt she was so well-portrayed as human. There was something very truthful about the way she was described that, in conjunction with the humor, I just really, really loved. And then it's a really good story… and it's very well-structured.

"… I'm really not very much like her. I've not been in a 25-year marriage. I'm definitely a career woman. It was more that I was insisting on making sure that she was as close to a real person as possible, and that we put that into the story. You know, that she has a job, that we see her doing the job, or at least trying to do the job even though she has an injury. It was more that kind of work that I was doing, where I was really, really working to bring more of a real person's life in there, and to make her as truthful as possible. That was the thing, and to make sure there was a fine balance between a person who is really struggling with something life-threatening and difficult, but at the same time not being a victim, per se."
To me that sounds tough (but I'm not an actress, so it would be), and I was curious if Connie found any parts of portraying Jo more challenging than others.
CN: "Not challenging, more interesting. It was very interesting to, well, and hard work, too, to be frank, to get all of the different stages that she goes through. We were shooting out of order, and so there was a lot of continuity to keep straight. You know, you see her 15 years before, you see her from the year before [her fall], but we also had six stages of physical healing, and mental healing as well. So there was a lot of that process that had to be taken care of, and that was a real logistical job, let me tell you. It was crazy to keep a handle on all of those different stages in her life. But it was also super interesting to play all of those different stages."
I shared with Connie that it seemed to me like that process kind of messed with her head a bit, like the show did with mine, although from a different perspective.
CN: "I mean, I was locked up in my hotel room in London when I wasn't on set. It was like the deepest lockdown during that time that we were shooting. So it was. I was locked away from my family and from everybody during that time, so that was also really, really hard. But I think I just fed it all into the character."
Shooting during lockdown had to have had its own set of challenges.
CN: "Yeah, it was crazy. Like making sure that 80 people were tested daily or weekly, I think biweekly at some point, and I was tested daily. It was a huge undertaking. Our producers deserve a medal. It was amazing. And then to keep the budget together, under all of those strains as well, was also a huge difficulty. We were extremely lucky with really resilient crew who worked long, long hours, and many times we didn't even have weekends. I think we just had Sundays off once in a while. So COVID made that – I think I had 6 hours of sleep, less than 6 hours of sleep, throughout the whole shoot. It was brutal."

LJ: "How long was the shoot?"

CN: "It was like 4 months. So yeah, that was rough. A lot of work."

LJ: "Well I gotta tell ya, you looked great. I didn't see any bags under your eyes. You looked fabulous."

CN: "Thank you for that. I can tell you I looked in the mirror and was like, 'Why do you have to look your worst when you have to be seen by the whole world?'"
Which brought me to Jo's physical injuries from the fall, the horrific black and blue bruises, cuts, and the like.
CN: "We really based this off of a lot of research, and you have no idea — the home can be one of the most dangerous places on the planet!"
Speaking of home, it is the setting for a clever element in the story, one that helps Jo to put her memories in order, as it were. Another bit of cleverness has to do with how the thread of Jo and a relatively new person in her life is handled; it, too, messed with my head and "really had me going."
CN: "I mean it had her going too, you know it's like a mother's worst nightmare. 'What if I was a bad person? What if I wake up one day and I realize when I look back I was like a terrible person?"
(No spoilers here. You'll have to watch the series to find out what this bit means.)
And speaking of looking back, viewers get to look back at Jo's life via flashbacks and to the influence of her father on her life. In the present day, he is also living in England, and scenes of this father and daughter together can be quite touching. But something about how they communicate with each other made me curious: Does Connie switch back and forth between Danish and English in the same conversation with her family the way Jo does with her father in the show?
CN: "So my parents, they lived at home, so they didn't have that, but yes, when I was with my ex-partner, who's also Danish, that was exactly what we did — shifting back and forth between English and Danish all the time, like without any rhyme or reason for it, I suppose. It was just a natural thing — like you were thinking that in English so you were saying it in English, or you were thinking that in Danish and so you were saying that in Danish. Or there was a better expression for something in Danish than there is in English. It's the same for people who are, for example, of Italian descent. I've seen it in New York, where there's a lot of Italians, and you see that sort of thing where it's back and forth between English and the home language. So yes, we definitely fed off of… what it's really like to be born in one place but living as a family in another place."
With our few remaining minutes together, I asked Connie about the new projects she has coming up.
CN: "I just finished shooting another series, about the author of Out of Africa, Karen Blixen, and I'm just really, really proud of that one, too. I can't wait for it to come out next year. We're in the middle of the editing process now."
And lastly, what would Connie share with folks who may not have had a chance to watch Close to Me yet?
CN: "This is an incredible mystery series, like you are basically watching a mystery over six episodes that gets deeper and deeper and more and more complex. There's a lot of tension and drama. It's really also a family finding out the truth about itself. It also talks about the sins of the father to a very large degree, and how they affect generations down the line. And then it's also an extraordinary story of resilience and comeuppance."
And there you have it — straight from the star of Close to Me herself.
Close to Me, a Sundance Now Original series, is now streaming in its entirety on Sundance Now and AMC+. Check it out!
__________________
As an affiliate of Amazon and other companies, ads & affiliate links on this blog allow us to earn income from qualifying actions and purchases (at no extra cost to you).

Interview: Connie Nielsen on Her Psychological Drama Series 'Close to Me'