The Larkins, the cheerful new family-friendly comedy-drama series starring Bradley Walsh and Joanna Scanlan, is set to make its North American premiere.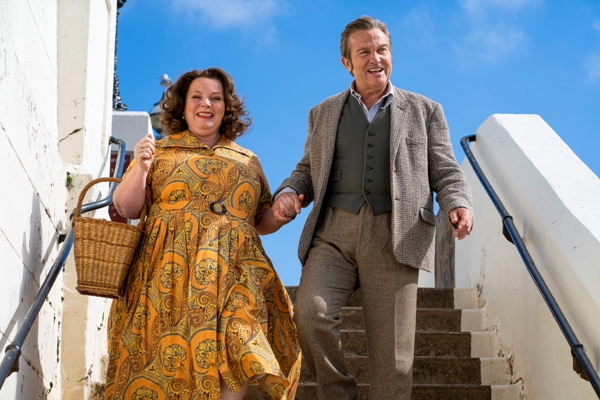 Adapted from H.E. Bates's classic novel The Darling Buds of May, The Larkins follows the warm-hearted, wheeler-dealing adventures of the iconic Larkin family in the late 1950s.
Bradley Walsh (Doctor Who, Law & Order: UK) and Joanna Scanlan (No Offence, Getting On) star as Pop and Ma Larkin, who keep on the sunny side of life with their six children, whether on their patch of paradise in the idyllic Kent countryside, or in the nearby town of Littlechurch.
In the series opener, the Larkins' eldest daughter, 19-year-old Mariette (Sabrina Bartlett, Bridgerton, Victoria), reveals after another family feast that she is moving to France — a rather unwelcome bit of news for the rest of the Larkins, as none of them wants her to leave. But Mariette has big dreams and her mind is set. As it turns out, though, her departure date is not.
Meanwhile, Pop Larkin learns from neighbor Edith Pilchester (Amelia Bullmore, Scott & Bailey) that a city fellow has been rather pushy in his attempts to get her to sell her cottage to him. Although she could use the money, Edith loves her home and wants to stay, and Pop sets about helping her to keep it. Or does he?
And after learning what some of the locals think and say about the family, Ma Larkin puts a plan in motion to put their wagging tongues to rest and alter their perceptions of the Larkins — such as those held by the gossipy vicar (Peter Davison, The Last Detective) and the wealthy snoots Alec (Tony Gardner, Last Tango in Halifax) and Norma Norman (Selina Griffiths, Queens of Mystery).
There's more besides, including the first blush of young love, the coveted role of "Master of Hounds," the arrival in town of handsome Tom Fisher (Stephen Hagan, Lucky Man), and the appearance of tax inspector Cedric "Charley" Charlton (Tok Stephen, Grantchester) at the Larkins' farm.
Costars in the six-episode series include Davina Coleman, Rosie Coleman, Liam Middleton (Isolation the Series), Lydia Page (The Worst Witch), Lola Shepelev (Curfew), Kriss Dosanjh (Intruder), Seeta Indrani (Catastrophe), Wil Johnson (Outlander), and Robert Bathurst (Cold Feet), amongst others.
The Larkins premieres in the US and Canada with its first two episodes tomorrow, Monday, December 13, exclusively on on Acorn TV. New episodes will debut weekly through January 10, 2022.
__________________
As an affiliate of Amazon and other companies, ads & affiliate links on this blog allow us to earn income from qualifying actions and purchases (at no extra cost to you).
Share this post/page.

The Larkins: Cheerful Adaptation of Classic Novel Set for North American Premiere