Acorn TV has set the North American premiere date for the second season of its Emmy®-nominated Original mystery-crime drama series Queens of Mystery.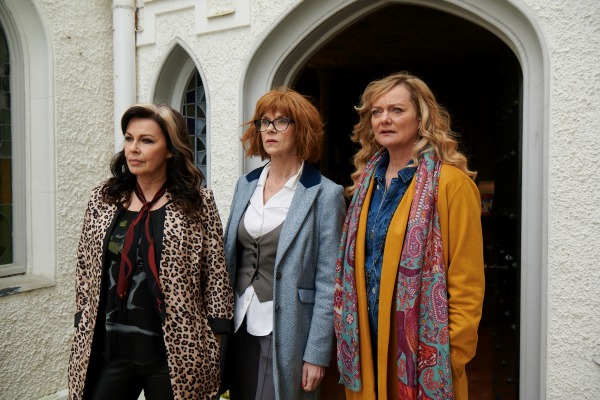 One of my and many others' favorite new series of 2019, Queens of Mystery will return with the long-awaited premiere of its second season in the US and Canada on Monday, January 10, exclusively on Acorn TV.
For folks who may not be familiar with this clever cozy mystery series, Queens of Mystery follows the adventures of the three crime-writing Stone sisters — Beth (Sarah Woodward, Professor T, The Pale Horse), Cat (Julie Graham, The Bletchley Circle, Shetland), and Jane (Siobhan Redmond, Unforgotten, Taggart) — and their 28-year-old niece, Detective Sergeant Matilda "Mattie" Stone (played in Season 2 by Florence Hall, The Princess Switch 3, Father Brown).
Using their knowledge of crime, both real-world and fictional, the sisterly trio helps Matilda to solve murders in the picturesque English region of Wildemarsh. But no matter how many cases they are able to crack, the unsolved mystery that haunts all four women is that of Mattie's mother's disappearance twenty-five years ago.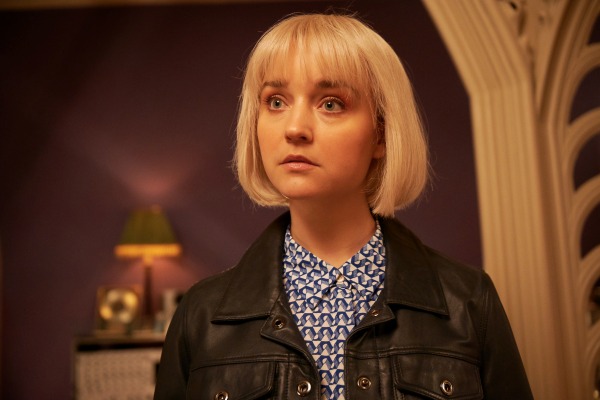 Season 2 continues the wickedly offbeat, Amélie-esque style of contemporary murder mystery stories, once again featuring bold visuals, quirky characters, fast-paced dialogue, and darkly comic murders in three new stories narrated by Emmy Awards nominee Juliet Stevenson (The Politician's Wife, Truly Madly Deeply). Each two-part story will debut weekly with back-to-back episodes.
"Sparring with Death" (premieres January 10)
When Matilda investigates a murder at Wildemarsh Wellness Retreat, she finds several people with distinctly ill intentions towards each other. A second death leads Matilda to uncover a heart-wrenching tragedy, waiting to be avenged.
"The Modern Art of Murder" (premieres January 17)
A body is discovered at the opening of a new art gallery where Aunt Cat is exhibiting. Matilda's interviews of the suspects don't paint a pretty picture, and after a second murder at the gallery, she starts to realize there's more to them than meets the eye.
"The Raven" (premieres January 24)
Matilda investigates what appears to be a robbery with clues reminiscent of her own mother's disappearance — and then Aunt Jane finds a body and the case becomes a murder. But as Matilda searches for the identity of the killer, there are parties much closer to home who would prefer that Matilda not disturb too many secrets.
Returning for the new season are Martin Trenaman (Quiz) as Inspector Thorne, Andrew Leung (Flack) as Dr Daniel Lynch, and Michael Elcock (The Grey Tarmac Road) as PC Terry Foster.
Guest stars include Sarah Hadland (Miranda), Sara Stewart (Unforgotten), Colin McFarlane (Outlander), Mel Harris (Thirtysomething), Danny Webb (Liar), and Jade Harrison (The Stranger).
Written by series creator Julian Unthank (Doc Martin, New Tricks) and Matthew Thomas (Marcella, Agatha Raisin), Season 2 of Queens of Mystery is directed by Oscar® nominee and BAFTA® winner Ian Emes (Goodie-Two-Shoes), along with Theresa Varga. Sly Fox Productions' Linda James and Savannah James-Bayly are the producers, with Tim Vaughan as associate producer.
__________________
As an affiliate of Amazon and other companies, ads & affiliate links on this blog allow us to earn income from qualifying actions and purchases (at no extra cost to you).
Share this post/page.

Queens of Mystery: Popular Crime Drama Returns with Season 2 in January 2022