The cerebral period mystery-crime drama series Vienna Blood returns to the US with its second season in the new year.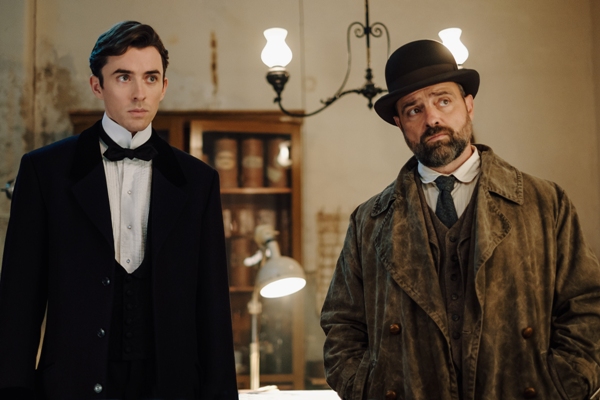 Based on Frank Tallis's best-selling series of "Max Liebermann Mysteries" novels, the new season of Vienna Blood features three new two-part mysteries that follow Detective Inspector Oskar Rheinhardt (Jürgen Maurer, Anatomy of Evil, Perfume) and psychoanalyst Max Liebermann (Matthew Beard, The Imitation Game, Kiss Me First) as they investigate a series of murders in early 1900s Vienna, Austria.
Vienna Blood: Season 2 premieres in the US on Sunday, January 9, 2022, at 10 PM ET — simultaneously on PBS broadcast channels (check your local listings), the PBS.org website, and the PBS Video app. New episodes of the six-episode season will debut weekly on Sundays through February 13. All episodes will also be available to stream on the night of their premieres with PBS Passport.
Vienna is a dazzling European capital at the start of the 20th century — a city where radical new ideas about philosophy, psychology, and art are espoused in the city's opulent cafes and opera houses. But it is also a dangerous city, where a menacing undercurrent of nationalism and anti-Semitism is on the rise beneath the genteel glamour — and where murder is afoot.
Joining forces to solve the crimes are Max Liebermann, a brilliant young doctor and disciple of controversial psychoanalyst Sigmund Freud, and world-weary Detective Inspector Oskar Rheinhardt. Combining Max's extraordinary understanding of deviant human behavior and Oskar's practical crime-solving experience, this odd couple has become a detective duo to be reckoned with, solving Vienna's most mysterious and baffling cases.
The new season opens with "The Melancholy Countess," in which a depressed Hungarian countess appears to have committed suicide by drowning herself in the bath of her lavish hotel suite. But after intense scrutiny falls on her psychoanalyst, Max, he and Oskar team up to solve the riddle of the countess's death and clear Max's professional reputation.
In "The Devil's Kiss," a beggar girl finds a mutilated corpse in the slums, and Oskar's superior informs him that the investigation is not their concern. But when Oskar receives anonymous messages relating to the murder, he can't resist delving into the mystery.
And after a monk is found brutally murdered in his monastery in "Darkness Rising," suspicion falls on a religious Jew who recently reprimanded the monk for spreading anti-Semitic rhetoric. The scandal reaches Clara (Luise von Finckh, Deutschland 89), who pleads with her ex-fiancé, Max, for help.
Returning cast members include Conleth Hill (Game of Thrones), Charlene McKenna (Ripper Street), Amelia Bullmore (Scott & Bailey), Josef Ellers (Vienna Crime Squad), and Raphael von Bargen (Murder by the Lake), with Lucy Griffiths (Robin Hood) joining the cast.
Written by Steve Thompson (Sherlock, Deep State, Jericho), Season 2 of Vienna Blood is directed by Academy Award® and Emmy® nominee Robert Dornhelm (Anne Frank: The Whole Story). The series is produced by Endor Productions and MR Film in co-production with Red Arrow Studios International, ZDF Germany, and ORF (Austria), with the assistance of Fernsehfonds Austria, Film Fonds Vienna, and Kultur Niederöesterreich.
__________________
As an affiliate of Amazon and other companies, ads & affiliate links on this blog allow us to earn income from qualifying actions and purchases (at no extra cost to you).
Share this post/page.

Vienna Blood: Season 2 of Mystery-Crime Drama Premieres January 2022 in the US