Delightful holiday whodunit Agatha Raisin: Kissing Christmas Goodbye is set to premiere in the US and Canada.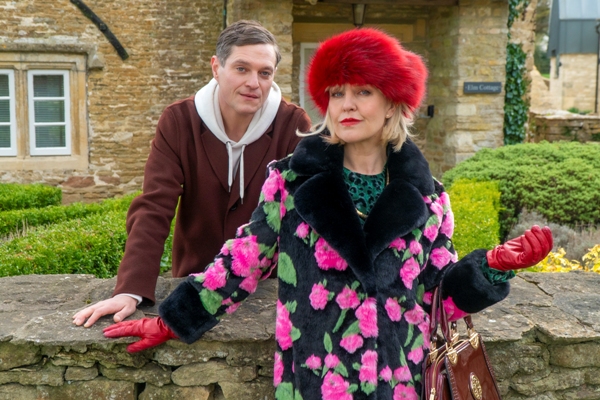 Ah, Christmas. As the song says, "it's the most wonderful time of the year." Unless you're stressing about everything that needs to get done to make this Christmas the perfect one — and you find yourself in the middle of a murder mystery — like Agatha Raisin (Ashley Jensen, Catastrophe, After Life) and her friend and assistant, Roy Silver (Mathew Horne, Gavin and Stacey), do in "Kissing Christmas Goodbye."
This holiday special, which kicks off Season 4 of the hit mystery series Agatha Raisin, is adapted from the novel Kissing Christmas Goodbye by the late, great M. C. Beaton.
The feature-length episode opens on December 20th, with friends popping by Agatha's house to help her prepare for a festive Christmas — including DC Bill Wong (Matt McCooey, Midsomer Murders), cleaner-turned-sleuth in training Toni Gilmour (Jodie Tyack, Unforgotten), local aristocrat Sir Charles Fraith (Jason Merrells, Finding Alice), and Sarah Bloxby (Lucy Liemann, Rev.), now officially the parish curate.
Things get rather curious the next day, when Agatha receives a letter from one Phyllis Tamworthy, who is looking for protection. Despite the long list of holiday to-dos that still aren't done, Roy accompanies Agatha to Lower Tapor Manor to learn more about what precisely and why the mistress of the manor is seeking this. As it turns out, Phyllis, a modern-day Scrooge if ever there was one, received an unwanted visit from a ghost from her past. This prompted her to make some drastic changes, and now she wants to be protected from being murdered.
Except the murderer got to Phyllis before Agatha and Roy could put their bodyguard hats on.
With Wilkes being away, the suspicious death-turned-actual murder case is the first homicide that Bill is investigating on his own. There is no shortage of potential suspects — from the villagers to Phyllis's three adult children. Heck, even Mrs. Boggle (Marcia Warren, The Crown) could be one! So Bill, with Agatha's help, has his work cut out for him.
This goes double when there is another death, triple when a third person becomes a victim…
Agatha Raisin: Kissing Christmas Goodbye, an Acorn TV Original, premieres in the US and Canada tomorrow, Monday, December 20, exclusively on Acorn TV.
Season 4 will return in the new year with three new, original stories, the first of which will premiere in March 2022.
__________________
As an affiliate of Amazon and other companies, ads & affiliate links on this blog allow us to earn income from qualifying actions and purchases (at no extra cost to you).
Share this post/page.

Agatha Raisin: Kissing Christmas Goodbye Is a Delightful Holiday Whodunit