Vigil, a gripping murder mystery series that became the most-watched new drama in the UK in three years, is set for its premiere in the US.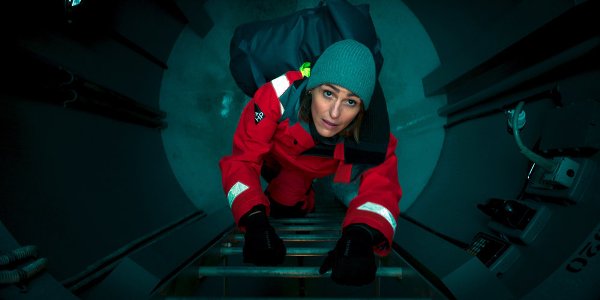 Vigil opens innocuously enough. On a sunny day in the waters of Barra Head, Scotland, four men are working on a fishing trawler. Within minutes, though, something disastrous happens and the men struggle mightily to stay alive.
Elsewhere in the realm of Poseidon is HMS Vigil, a Trident nuclear submarine, on which Chief Petty Officer Craig Burke (Martin Compston, Line of Duty) notices something strange on sonar that is also reflected on radar. Without rising to the surface, there is no way to know for sure what is going on. And there is no way that Commander Newsome (Paterson Joseph, Noughts + Crosses) is going to give the order for that given their mission. But he will have to, on the order of Rear Admiral Shaw (Stephen Dillane, Game of Thrones) — after a crew member is found dead. Because the submarine was in British waters at the time, it falls to the Scottish Police Service instead of the Royal Navy to investigate.
Assigned to the case is Detective Chief Inspector Amy Silva (Suranne Jones, Gentleman Jack, Scott & Bailey), who has no choice but to begin her investigation aboard the Vigil; the submarine will not return to shore, as it must stay on patrol to maintain the UK's nuclear deterrent. Shaw gives her three days to complete her assignment — 72 hours with no outgoing communication, forced cooperation, and few resources for Amy, as well as memories that make being on board deeply painful for her.
Based on the initial findings by Medical Officer Docherty (Anjli Mohindra, Bodyguard), it appears the crew member died from a drug overdose, presumably accidental. But additional clues indicate the victim was murdered, a theory the Commander finds preposterous — until Silva discovers what could be evidence of a homicide.
Meanwhile, Detective Sergeant Kirsten Longacre (Rose Leslie, Game of Thrones) is conducting on land a parallel investigation of the crew member's suspicious death. And soon after learning some intriguing information about and from the deceased, she discovers the dead body of a person with a link to the case — and is herself interrogated… by officers of UK security service MI5.
As Silva and Longacre's investigations intensify, so too do the dangers…
The six-episode thriller costars Shaun Evans (Endeavour), Adam James (Doctor Foster), Gary Lewis (Outlander), Lolita Chakrabarti (Riviera), Lois Chimimba (Shetland), Lorne MacFadyen (Grantchester), Connor Swindells (Sex Education), Daniel Portman (Game of Thrones), Cal MacAninch (Time), and Lauren Lyle (Outlander), amongst others.
Vigil, a Peacock Original series, premieres in the US tomorrow, Thursday December 23, exclusively on Peacock.
__________________
As an affiliate of Amazon and other companies, ads & affiliate links on this blog allow us to earn income from qualifying actions and purchases (at no extra cost to you).
Share this post/page.

Vigil: Suspenseful Submarine Murder Mystery Thriller Set for US Premiere