Acorn TV announced today that it has acquired the exclusive SVOD and US premiere rights to the highly-sought after new season of Midsomer Murders.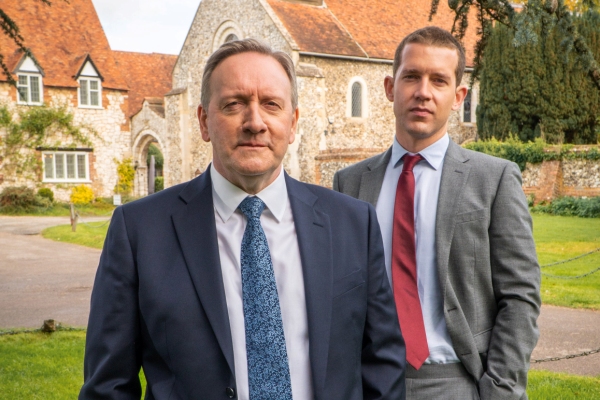 Still going strong after more than two decades, the ever-popular Midsomer Murders — the longest-running mystery series of all-time — is returning soon to stateside telly, specifically to Acorn TV, where the fan-favorite show is one of the streaming service's top-performing franchises.
Acorn TV will exclusively premiere the first two feature-length episodes of Midsomer Murders: Series 22 starting Monday, April 19, 2021. The remaining four mysteries will debut this fall, shortly after production concludes.
Said Matthew Graham, General Manager of Acorn TV:
"Midsomer Murders remains one of the most popular mystery series of all-time and is beloved by our subscribers, so Acorn TV is thrilled to exclusively offer new episodes on April 19th, as soon as they are available, as well as four more mysteries later this year. Given the importance of this series to the mystery genre and British television lovers worldwide, we know fans have been anxiously awaiting the new season, so we're excited to be the only place in the U.S. to watch all 22 seasons."
All of the main cast members reprise their roles for the new season, including Neil Dudgeon as DCI John Barnaby, Nick Hendrix as DS Jamie Winter, Fiona Dolman as John's wife Sarah, and Annette Badland as pathologist Dr. Fleur Perkins.
Guest stars include Mark Williams (Father Brown), Ferdinand Kingsley (Victoria), Maimie McCoy (Van der Valk), and Siobhan Redmond (Queens of Mystery) in "The Wolf Hunter of Little Worthy," the first episode of Series 22, and Keith Allen (Marcella), Peter De Jersey (Broadchurch), Michael Nardone (The Night Manager), and John Thomson (Cold Feet) in the second episode, "The Stitcher Society."
All 21 seasons to date of Midsomer Murders are currently available for streaming on Acorn TV and its digital channels, including Acorn TV on Amazon Channels.
__________________
As an affiliate of Amazon and other companies, ads & affiliate links on this blog allow us to earn income from qualifying actions and purchases (at no extra cost to you).

Share this post/page.

Midsomer Murders: Series 22 to Premiere in the US Exclusively on Acorn TV