It's been available for binge-streaming since October 2020, and tonight the must-see Gangs of London has its official, linear TV premiere in the US.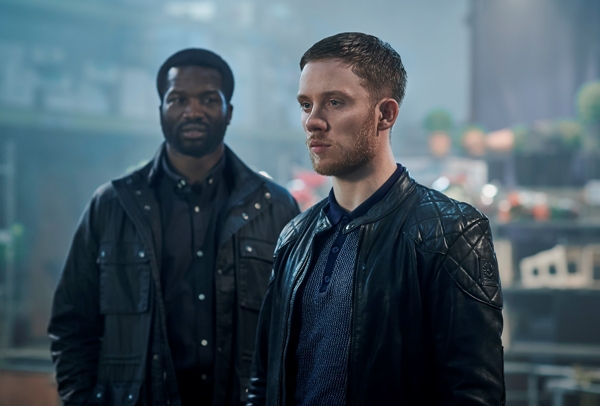 From the opening scene to the closing credits, Gangs of London is one heckuva ride — chock full of action and suspense and violence and then some.
The story revolves around the Wallace family in the aftermath of the assassination of patriarch Finn Wallace (Colm Meaney, Hell on Wheels). Finn was the most powerful crime boss in London, and his demise has caused a power vacuum and a crisis for the numerous international gangs within the Wallace criminal organization. No one knows who ordered the hit on Finn, and for a time, no one knows who put a bullet through Finn's head. Finding the latter is all Sean Wallace (Joe Cole, Peaky Blinders), Finn's older and impetuous son, cares about. So after Sean takes his father's place and effectively halts business in its tracks, Wallace associates start bleeding millions of dollars in their operations, from London to Pakistan to Turkey to Nigeria and beyond. So they begin making other arrangements…
This is precisely what Ed Dumani (Lucian Msamati, His Dark Materials), Finn's longtime friend and right-hand man, fears would happen, so it's up to him to reel in Sean, to keep the fragile peace, and to get business at the docks and elsewhere up and running again. At least things are going well in the Wallace real estate and other legitimate businesses, thanks to Alexander Dumani (Paapa Essiedu, Press), Ed's financial wiz-kid son.
On the day of Finn's funeral, all hell breaks loose at a pub by the church, caused by the words of one man: Elliot Finch (Ṣọpẹ́ Dìrísù, Humans), a lowlife chancer who skims money from his boss's illegal payments. He wants a job with Sean, and he just got his chance.
Meanwhile, Finn's driver is missing, the person who murdered Finn is in hiding, being hunted by more than Sean's people, and Sean continues his quest to avenge his father's death, not realizing the extent of the danger that he is now in…
With a complex, multi-layered storyline that holds you in its grip, a cast of unsavory characters whose sadism knows no bounds, and a near-constant barrage of violence of all sorts, Gangs of London is an action-crime drama lover's dream series.
The four male leads — Cole, Msamati, Dìrísù, and Essiedu — inhabit their characters as if they were the real thing, as does Michelle Fairley (Game of Thrones) as Marian, the ferocious Wallace family matriarch, and Narges Rashidi (The Girlfriend Experience) as Lale, a Kurdish militant.
The ten-episode first season costars Pippa Bennett-Warner (MotherFatherSon), Brian Vernel (Collateral), Ray Panthaki (Marcella), and Jing Lusi (Lucky Man). Also featuring in the series are Adrian Bower (Mount Pleasant), Richard Harrington (Hinterland), Emmett J Scanlan (The Fall), Mark Lewis Jones (Keeping Faith), Caroline Lee-Johnson (Chef!), Tim McInnerny (The Serpent), Amanda Drew (Broadchurch), and David Bradley (Harry Potter).
Gangs of London: Season 1 premieres on US linear TV with its first episode tonight, Sunday, April 4, at 10 PM ET, on AMC. New episodes will debut weekly.
(The full series is available for streaming exclusively on AMC+, the streaming bundle available of various digital services including Prime Video Channels.)
__________________
As an affiliate of Amazon and other companies, ads & affiliate links on this blog allow us to earn income from qualifying actions and purchases (at no extra cost to you).

Share this post/page.

Gangs of London: Awesome Crime Drama Has US Linear TV Premiere Tonight