A nearly two decades-old cold case is at the heart of Traces, which is set to debut in the US tomorrow.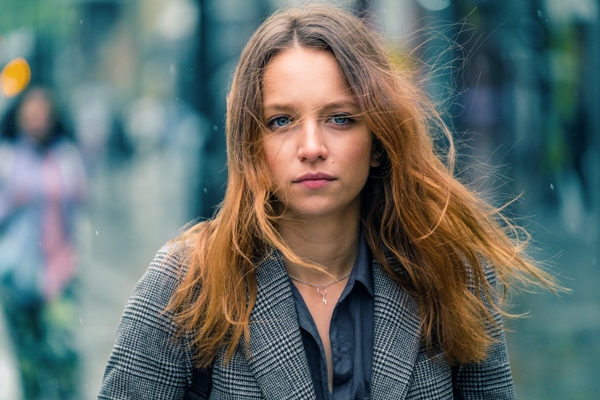 Set in and around Dundee, Scotland, Traces follows a young woman as she sets out to find the truth about the 18-year-old unsolved murder of her mother.
Emma Hedges (Molly Windsor, Cheat, Three Girls) has been living in Manchester with her aunt since her mother's death, but now she's back in her birthplace of Dundee for her new job as a lab technician at the Scottish Institute of Forensic Chemistry and Anatomy (SIFA), where her boss is Sarah Gordon (Laura Fraser, The Loch), the director of SIFA and a professor of forensic chemistry at the University of Tayside.
Because of their expertise, Sarah and her colleague, Professor Kathy Torrence (Jennifer Spence, The Bletchley Circle: San Francisco), have been called on to work with DI Neil McKinven (Michael Nardone, The Night Manager) and the police team to investigate a fire at a club that killed two people. On the academic side of things, the two profs are launching a new MOOC (massive open online course) on forensic science, which Emma signs on for — only to discover that the course's fictional case is actually the real-world case about her mum's murder.
After reconnecting with her father and other people from her past, and after finding an old photo of her parents taken in a peculiar place, Emma starts asking a lot of questions related to her mother's murder and dredges up a lot of painful memories in the process — and unwittingly puts herself in grave danger.
But not before she meets and falls in love with Daniel MacAfee (Martin Compston, Line of Duty) of MacAfee Construction, the company that did the refurb work on the club that went up in flames…
Unlike many other mystery series, there aren't any red herrings to throw armchair detectives off track in Traces. Rather, it is the ways in which characters and threads are interconnected that help to keep one guessing about who was involved in the murder.
Rising star Molly Windsor follows up her strong performances in Cheat and Three Girls, the latter of which won her the 2018 BAFTA TV Award for Best Leading Actress, with another one here, playing Emma as a daughter determined to put together the pieces of the puzzle of her mother's murder, even if it means she could lose the family and friends she still has.
The cast includes John Gordon Sinclair (Agatha Christie's Marple), Laurie Brett (EastEnders), Andrea Hart (Taggart), Anna Leong Brophy (Code 404), Neve McIntosh (Shetland), Morayo Akandé (1745), Phil McKee (Killing Eve), Vincent Regan (Flesh and Blood), Jamie Marie Leary (River City), and Joana Borja (Doctor Who).
Traces: Season 1 premieres in North America with its first episode (of six) on Tuesday, January 5, exclusively on BritBox. New episodes debut weekly.
__________________
Ads & affiliate links on this blog allow us to earn income from qualifying actions and purchases (at no extra cost to you).

Share this post/page.

Traces: Intricate Mystery Series Set in Scotland Is Well Worth a Watch