Two-time Irish Film & Television Academy awards winner Amy Huberman returns as the titular character in the second season of her comedy-drama series Finding Joy.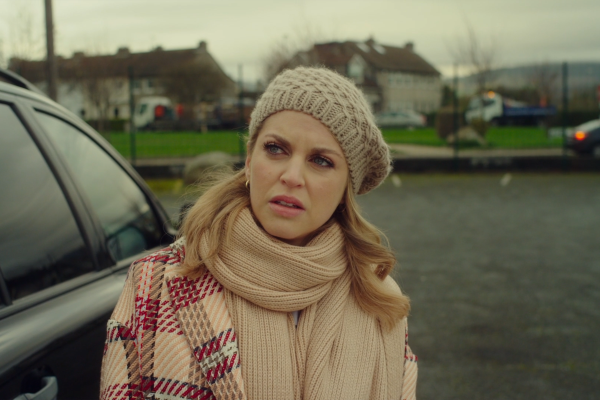 Created, executive-produced, and written by series star Amy Huberman (Striking Out, The Clinic), Finding Joy brings Huberman back to our screens as Joy Morris, a single, thirty-something woman in Dublin who, ironically, is unknowingly in search of herself as well as the feeling of joy.
Following the events in Series 1, including the ending of Joy's relationship with human Aidan (canine Aidan is still with her) and the beginning of her popularity as a stand-in lifestyle vlogger, Series 2 sees Joy reborn as Joy 2.0 — an online entrepreneur with her own video channel. As such, she must build her brand and attract way more subscribers to her channel on finding "lasting lifelong happiness" and fulfillment in everyday life.
Helping Joy are Stan (Paul Reid, Rebellion), who is back with her on camera, and new hire Emer (Ruth Kearney, Sanditon), who handles everything else, from coming up with content ideas to securing sponsors. But sponsors with cool products are few and money is tight, so Joy is running her new biz out of a co-working space she shares with lawyer Karen and marketing guy Philip.
Joy is also sharing her home space again, too, albeit not with human Aidan. Her new flatmate is Christie, a tarot card reader who hasn't paid rent. And her best friend, Trish, is spending a lot more time with her new baby at Joy's place instead of at home.
Following her metaphorical rebirth, Joy's next video story brings her back to her old school, causing some painful memories to surface. Ditto that after she reconnects with human Aidan at a class, and when she remembers how she (mis)spent one particular summer holiday. Spending a day doing a joint video with a popular Aussie yoga vlogger is supposed to be easy and fun and net her a better sponsor and more subscribers; however, the fallout from the day after the night before with him requires damage control. Ultimately, what brings Joy actual joy is something none of her subscribers gets to see: an off-camera adventure she has with a long-forgotten relative.
What does a person do when they don't know who they are? Pretend to be who they think they should be. Which is what Joy does for most of the first half of the second season of Finding Joy. Although I felt embarrassed for her and wanted to look away, I kept watching — to see more of the tender, heartfelt moments of authenticity, and to see if Joy would grow beyond the image she thinks she needs to be and into the person she actually is — and ended up bingeing all six episodes. I'm glad I did. I won't tell you what happens (no spoilers here), but will say there is a shift in tonality in the second half and the finale leaves the door open for a third season.
Returning cast members include Hannah James-Scott (Crumble) as Trish, Peter McDonald (Moone Boy) as the voice of canine Aidan, Lochlann O'Mearáin (Can't Cope, Won't Cope) as human Aidan, and David O'Doherty (A Film with Me in It) as Delivery Guy.
Joining the cast in Series 2 are Kerry Howard (The Trouble with Maggie Cole) as Christie, Gareth O'Connor (Fair City) as Philip, Hilary Rose (The Young Offenders) as Karen, Kyle Pryor (Home and Away) as Aussie vlogger Will Dack, and Justine Mitchell (Cheat) as Joy's second cousin, Maeve.
Making guest appearances are Hugh O'Conor (Chocolat) and Amy's costar in Striking Out, Neil Morrissey (The Good Karma Hospital).
Finding Joy: Series 2, an Acorn TV Original series, premieres in the US in its entirety tomorrow, Monday, January 11, exclusively on Acorn TV and its digital channels, including Acorn TV on Amazon. The new season will also launch on Acorn TV in Canada and the UK tomorrow.
__________________
As an affiliate of Amazon and other companies, ads & affiliate links on this blog allow us to earn income from qualifying actions and purchases (at no extra cost to you).

Share this post/page.

Finding Joy: Amy Huberman Returns in New Season of Irish Comedy-Drama