Masterpiece PBS kicks off its 50th anniversary programming with Elizabeth Is Missing, a must-watch drama starring two-time Oscar® winner Glenda Jackson.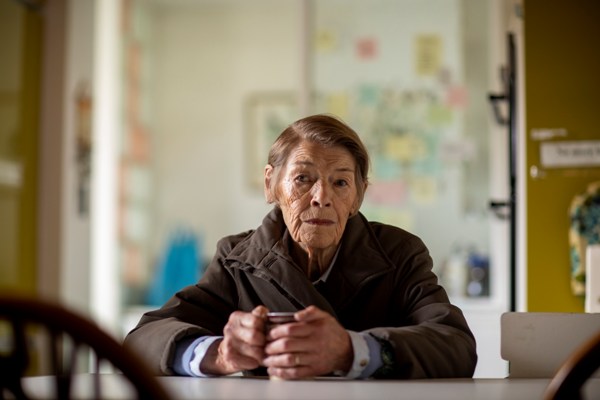 Renowned actress Glenda Jackson (A Touch of Class, Elizabeth R) returned to television after nearly 30 years to play the lead role in Elizabeth Is Missing — delivering an outstanding performance that won her multiple awards, including a BAFTA TV Award and an International Emmy® Award.
Adapted from Emma Healey's international best-selling and award-winning novel of the same name, Elizabeth Is Missing stars Glenda Jackson as Maud, an octogenarian mother, grandmother and friend who is suffering from dementia. There are reminders taped throughout her home, and she takes notes on small pads of paper to keep track of what she needs or wants to remember.
It is one of those notes that reminds Maud to visit Elizabeth, her best and only friend, for a bit of gardening at Elizabeth's house. While digging in the dirt, Maud finds an object that transports her 70 years in the past, to the days before her older sister, Sukey, disappeared without a trace.
A few days later, it is the elderly Elizabeth who appears to have vanished, after not showing up for a planned meet-up with Maud and not being at home either. Maud is very concerned that something terrible has happened to her friend, but the people she tells think her distress is related to the dementia as they try to allay her fears. But Maud insists that Elizabeth, like her sister, has gone missing, so she sets about piecing together clues from her collection of notes to find Elizabeth or to find out what happened to her.
Except the dementia is progressing. Maud is getting confused or forgetful and lashing out with more frequency, and Maud's life in the years 1949 and 2019 are coexisting more often, causing her to cry in grief for her missing sister as she recalls certain details and puts together pieces of the 70-year-old mystery. For Maud's daughter, son and granddaughter, the effects of the dementia on their mother and family are devastating.
Elizabeth Is Missing is brilliant. Its double-mystery story is intriguing, and its depiction of the ravages of dementia on both the afflicted and those who suffer alongside them is heart-wrenching. I challenge anyone to watch the film without getting emotional. (Me, I wept.)
To see the immensely talented Glenda Jackson back on screen after such a long absence is a delight, and to watch her bring the tragic heroine Maud to life in such an affecting way is a gift. Treat yourself by tuning in to the feature-length program tonight.
Costars in the film include Sophie Rundle (Peaky Blinders) as Sukey, Helen Behan (The Virtues) as Maud's daughter Helen, Nell Williams (Deep Water) as Maud's granddaughter Katy, Sam Hazeldine (Requiem) as Maud's son Tom, Liv Hill (Three Girls) as young Maud, Mark Stanley (The Murders at White House Farm) as Sukey's husband Frank, Neil Pendleton (In Plain Sight) as Doug the lodger, and Maggie Steed (Pie in the Sky) as Elizabeth.
Elizabeth Is Missing premieres in the US tonight, Sunday, January 3, at 9 PM ET, on PBS. It will also be available for streaming on the PBS Masterpiece Prime Video Channel.
__________________
Ads & affiliate links on this blog allow us to earn income from qualifying actions and purchases (at no extra cost to you).

Share this post/page.

Elizabeth Is Missing: Powerful Glenda Jackson Drama Premieres in the US on PBS