Ovation TV announced today that Murdoch Mysteries, the hugely popular, award-winning Canadian period mystery series, will return to the network in February 2021.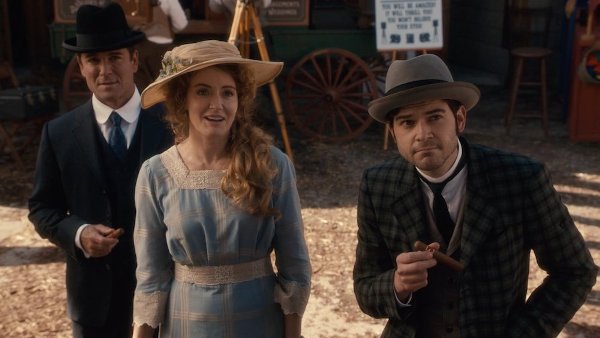 Ovation TV, America's only arts network, will present the exclusive US television premiere of Season 14 of Murdoch Mysteries starting Saturday, February 20, at 7 PM ET / 4 PM PT.
The eleven new episodes will debut weekly as part of the network's Mystery Alley programming block on Saturday evenings, with on-demand viewing being available the following day to cable subscribers with access to Ovation TV — through their cable provider or via the Ovation NOW app.
Filmed in Toronto during the coronavirus pandemic, production on the new season adhered to strict health and safety protocols, with star Yannick Bisson directing the first two episodes. Other episodes are directed by Peter Mitchell (Frankie Drake Mysteries), Gary Harvey (Cold Squad), Warren Sonoda (Trailer Park Boys), Mina Shum (Da Vinci's Inquest), and Ruba Nadda (Frankie Drake Mysteries).
Season 14 continues to explore new developments in the lives of Detective William Murdoch (Yannick Bisson), Dr. Julia Ogden (Hélène Joy), Inspector Thomas Brackenreid (Thomas Craig), Constables George Crabtree (Jonny Harris) and Henry Higgins-Newsome (Lachlan Murdoch), Violet Hart (Shanice Banton), and Detective Llewelyn Watts (Daniel Maslany) as they tackle Toronto's toughest mysteries — from the serious and historic, to the comical and unusual.
Returning cast members also include Arwen Humphreys as Margaret Brackenreid and Siobhan Murphy as Ruth Newsome. The first episode features historic characters including a young Charlie Chaplin (Matthew Finlan, Frankie Drake Mysteries), Stan Laurel (newcomer Ryan Tapley), and Buster Keaton (Alexander Elliot, The Hardy Boys).
Opening in 1908, Season 14 finds Detective Murdoch continuing his inventive detective work with Ogden's unflinching support — even after an investigation leads him to a family member that he never knew about. Brackenreid and Margaret's marriage, now on the mend, is tested once more, while Crabtree's relationship with Effie Newsome (Clare McConnell) is threatened by a potentially volatile interloper. For Higgins, family relations loom large, now that Ruth is pregnant. And unfortunately for Watts, his secret love affair faces dangerous scrutiny, while Violet Hart's now-public liaison with a wealthy playboy causes social outrage.
(Video is from Season 13)
Based on Maureen Jennings's popular "Murdoch Mysteries" series of novels, the TV series has been a favorite of mystery lovers and armchair sleuths in territories across the globe since it launched in Canada in January 2008.
For viewers that need to catch up on past seasons, Ovation TV has made Seasons 11, 12, and 13 available to watch for free under the Mystery Alley banner on the Ovation NOW app and at https://www.ovationtv.com/watch. These seasons are available now and will be available throughout Season 14's run.
__________________
As an affiliate of Amazon and other companies, ads & affiliate links on this blog allow us to earn income from qualifying actions and purchases (at no extra cost to you).

Share this post/page.

Murdoch Mysteries: Ovation TV Announces US TV Premiere Date for Season 14