Filming has started on the second season of BritBox Original series McDonald & Dodds, and now we know who a few guest stars are.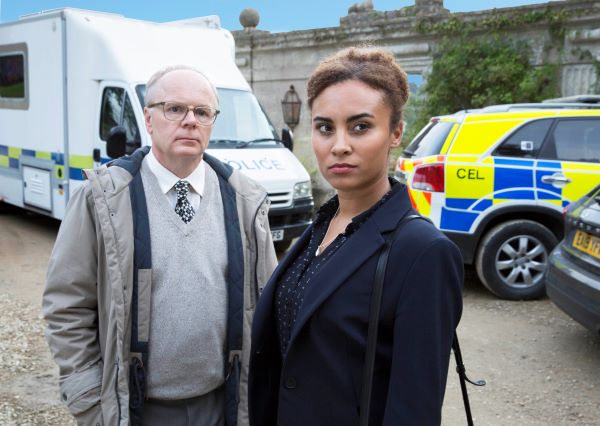 ITV announced today several guest stars who will be appearing in Season 2 of the clever mystery-detective drama McDonald & Dodds.
Joining series stars Tala Gouveia (Cold Feet) and Jason Watkins (Hold the Sunset) in the first of three feature-length murder mystery stories are Rob Brydon (Gavin & Stacey), Rupert Graves (Sherlock), Martin Kemp (The Krays), Patsy Kensit (Absolute Beginners), and Cathy Tyson (Mona Lisa).
A hot air balloon trip ends in murder, prompting DCI McDonald (Gouveia) and DS Dodds (Watkins) to investigate. The suspects are a group of friends who achieved notoriety in the 1980s, including Gordon (Graves), Mick (Kemp), Barbara (Kensit), and Jackie (Tyson). Assisting the detectives with their inquiries is Roy (Brydon) from the Air Incident Investigation Agency.
Set in picturesque Bath, the series pairs the smart and ambitious DCI McDonald, recently transferred from London's Met Police, with the unassuming and quietly brilliant DS Dodds, who has been happy working in the background for most of his career. To McDonald's surprise, they form an unexpectedly effective crime solving partnership.
Season 1 features guest stars Robert Lindsay (My Family), Jack Ashton (Call the Midwife), Cassie Bradley (Coronation Street), Navin Chowdhry (Our Girl), Roger Evans (The Pembrokeshire Murders), Susannah Fielding (Sticks and Stones), Ellie Kendrick (Game of Thrones), Sebastian Knapp (Silent Witness), and Natalie Mendoza (Hotel Babylon) in the first episode, and Joanna Scanlan (No Offence), Caroline Catz (Doc Martin), Hugh Dennis (Outnumbered), Michele Dotrice (A Very English Scandal), Freddie Fox (Year of the Rabbit), Suzanne Packer (Casualty), Charlotte Ritchie (Ghosts), and Kiran Sonia Sawar (Pure) in the second.
Returning for the new season are James Murray (Age Before Beauty) as Chief Superintendent Houseman and Jack Riddiford (Poldark) as DC Darren Craig. Joining the cast is Lily Sacofsky (Bancroft), who plays DC Milena Pachiorkowski.
Season 1 of McDonald & Dodds, a BritBox Original series, is currently available for streaming in the US exclusively on BritBox and its digital channels, including BritBox on Amazon Channels. UK viewers can stream the first season on BritBox UK.
__________________

Outbound links on this page include non-affiliate links and affiliate links; the latter allows us to earn income from qualifying actions.
Share this post/page.

McDonald & Dodds: Guest Stars Announced for Season 2 of Detective Drama