There's a new British detective duo headed to this side of the pond, an unlikely yet effective pair of coppers in the new series McDonald and Dodds.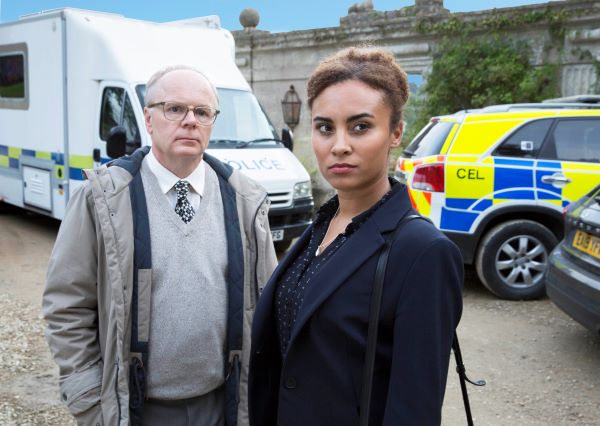 Set in the picturesque World Heritage city of Bath, McDonald and Dodds follows the investigations of a pair of mismatched detectives: DCI Lauren McDonald (Tala Gouveia, Cold Feet, EastEnders) and DS Dodds (Jason Watkins, Hold the Sunset, The Crown).
McDonald arrives in Bath from London, and has brought her tough, no-nonsense, big-city approach with her to this idyllic town, whereas local Bathonian Dodds is a quiet and unassuming man who has a knack for solving puzzles. She is on the police fast track, and he seems destined for early retirement, at least if Chief Superintendent John Houseman (James Murray, Age Before Beauty) gets his way.
Their first case together (in "The Fall of the House of Crockett") concerns the murder of a man found shot to death in the suburban manor house owned by wealthy businessman Max Crockett (Robert Lindsay, My Family). McDonald is the SIO (Senior Investigating Officer) on the case, which is the first to which Dodds has been "operationally deployed" in more than a decade. At first blush, the crime looks to be a robbery gone wrong. So why was the victim wearing Max's clothes?
"A Wilderness of Mirrors" finds McDonald and Dodds investigating the supposed suicide of a woman at a rehab facility located on the outskirts of Bath. A recovering alcoholic, she had discharged herself only hours earlier, so it's puzzling why she returned to The Mara Retreat, where she was discovered dead in her room by Kelly Mulcreevy (Joanna Scanlan, No Offence), the staff member who runs the Diversion Group Therapy sessions.
In both cases, complaints from suspects, combined with lack of progress in the investigations, put McDonald in the hot seat with the Chief Super, while Dodds's meek demeanor makes him a ripe target for her fiery temper and frustration. Yet it is his attention to detail and follow-up on crime scene clues that give them the edge over the culprits.
The storylines in McDonald and Dodds are clever, intricate, and filled with red herrings, and I appreciate how the character of Dodds, described as being "dead wood" on the police force, demonstrates that he is actually quite brilliant. I also give series creator-writer Robert Murphy (Shetland) props for not shying away from social issues in his scripts, from the lording over of the privilege of being wealthy and white, to the not-so-subtle prejudicial digs directed mostly at McDonald but also at Dodds — which, because of how the dialogue is written, can be interpreted as racism, classism, or misogyny, or a combination of all three, and in the case of Dodds, ageism. So despite the lovely shots of Bath in the show, certain characters make the place seem much less charming.
Renewed for a second season, the series costars Pearl Chanda (I May Destroy You) as DC Laura Simpson and Jack Riddiford (Poldark) as DC Darren Craig.
Many familiar faces guest-star in the two feature-length episodes. In "The Fall of the House of Crockett" they include Jack Ashton (Call the Midwife), Cassie Bradley (Coronation Street), Navin Chowdhry (Our Girl), Roger Evans (The Pembrokeshire Murders), Susannah Fielding (Sticks and Stones), Ellie Kendrick (Game of Thrones), Sebastian Knapp (Silent Witness), and Natalie Mendoza (Hotel Babylon). And featuring in "A Wilderness of Mirrors" are Caroline Catz (Doc Martin), Hugh Dennis (Outnumbered), Michele Dotrice (A Very English Scandal), Freddie Fox (Year of the Rabbit), Suzanne Packer (Casualty), Charlotte Ritchie (Ghosts), and Kiran Sonia Sawar (Pure).
McDonald and Dodds, a BritBox Original series, premieres in the US with its first episode on Tuesday, September 1, exclusively on BritBox and its digital channels, including BritBox on Amazon Channels. The second episode debuts the following week.
__________________

Share this post/page.

Outbound links on this page include non-affiliate links and affiliate links; the latter allows us to earn income from qualifying actions.
McDonald and Dodds: Clever Mystery-Crime Drama Series Set for US Debut