David Tennant plays the title role in Des, the chilling serial killer true-crime event series that premieres in the US tomorrow.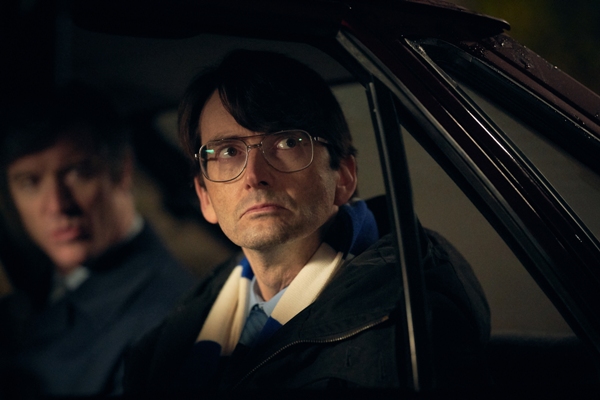 The word "quiet" is one of the first words that comes to mind when I think of Des. Another is "steady." And "hypnotic."
Because there is no mucking about in this drama about Dennis Nilsen, nothing to distract from the story about one of the most infamous serial killers in UK history and the police investigation that put him behind bars and brought justice to some of his victims. The storytelling approach is straightforward, without any sensationalizing of the subject, and the whole thing is engrossing.
At the end of the three episodes, there is the feeling of horror. And disgust. And anger, even. Not because of the show itself, but because of what it made you aware of.
Portraying the key people in the story are David Tennant (Doctor Who, Broadchurch, Good Omens) as Dennis Nilsen, Daniel Mays (Code 404, White Lines, Line of Duty) as Detective Chief Inspector Peter Jay, and Jason Watkins (The Crown, The Lost Honour of Christopher Jefferies) as Brian Masters, Nilsen's biographer.
Set in 1983, Des opens with a call to the police about suspected human remains found in an outdoor drain. At the scene to investigate are DCI Peter Jay and DI Steve McCusker, who learn the guy living in the top flat had complained about the clogged drain. That guy is Dennis "Des" Nilsen, a civil servant at a job placement center. Upon his return home from work, the detectives move quickly from questioning Nilsen to cautioning and arresting him on suspicion of murder, given the stench of rotting flesh in his flat and his telling the police where they will find rest of the body.
At his flat, in the police car, and during the interrogation at the police station, Nilsen is very forthcoming with information about his killings, fifteen in all, which began in 1978: the places where he met his young male victims, his invitations for them to accompany him back to his flat (two addresses over five years), the way he killed them, his methods of disposing of their corpses, and where he put their severed body parts. What he can't or won't tell the police is why he murdered these young men and what their names are. Without a name, the police can't charge him.
After Des gives the police the name of a Scottish lad and they verify it, he is charged with murder and moved to a prison until his trial. But there are fourteen more victims, and Peter's team works night and day to identify all of them — a near-impossible task, given the horrific things Nilsen did to their bodies, combined with decomposition.
Meanwhile, author Brian Masters has been in communication with Des, and the two meet to discuss Brian writing a book about Nilsen. At the police station, a young man who claims to have escaped from Dennis tells Peter his story. And while the press are having a field day with stories about Nilsen and his crimes, the top brass at the Met are concerned about the cost of the investigation. Ultimately, Scotland Yard pulls the plug, and Des goes to trial for murder and attempted murder for fewer than half of his victims.
Based on Killing for Company, Brian Masters's published biography of Nilsen, and extensive research and personal accounts, Des is brilliant. It captures the essence of the police process that brought this "unremarkable" man from obscurity to the front page to a life sentence behind bars, and allows us to make up our own minds about Nilsen — from the kind of person he was, to his motives for both helping the police and murdering innocent young men.
David Tennant is superb as Dennis Nilsen — a/the signature role for the actor — playing the self-centered, chain-smoking, and remorseless cold-blooded killer with such ease, it's scary.
Also excellent are Daniel Mays as DCI Peter Jay, the lead detective determined to bring justice to all of Des's victims and their families, and Jason Watkins as Brian Masters, a gay author who wanted to tell Nilsen's story and frame it properly against the anti-homosexual sentiment in Britain at the time.
The rest of the cast deliver fine performances as well, including Ron Cook (Mr Selfridge) as DSI Geoff Chambers, Barry Ward (Britannia) as DI Steve McCusker, Jamie Parker (1917) as Allan Green QC, Pip Torrens (Poldark) as Ivan Lawrence QC, and Ross Anderson (Three Girls) and Laurie Kynaston (The Trouble with Maggie Cole) as Douglas Stewart and Carl Stottor, respectively, two young men who survived Nilsen's attempts on their lives.
Des premieres in the US tomorrow, Thursday, October 15, with its first episode, exclusively on Sundance Now and its digital channels, including Sundance Now on Amazon Channels and AMC+. The second and final episodes will premiere on October 22 and October 29.
__________________
Ads & affiliate links on this blog allow us to earn income from qualifying actions and purchases (at no extra cost to you).

Share this post/page.

Des: Fascinating True-Crime Drama Set to Premiere in the US