HBO has set the US premiere date for the new contemporary drama series Industry.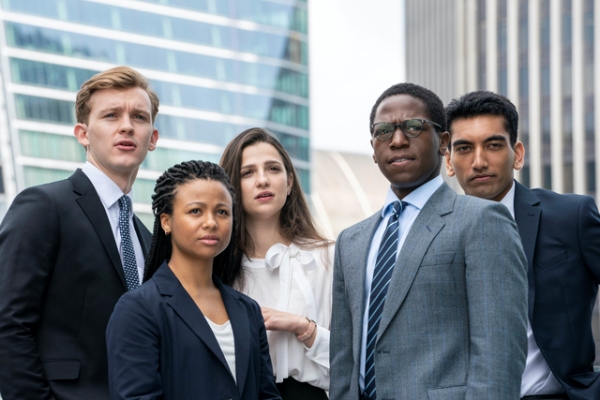 Industry dives into the world of international finance, as seen through the eyes of ambitious twenty-somethings struggling to secure their futures, to examine issues of gender, race, class, and privilege in the workplace.
It premieres in the US on Monday, November 9, at 10 PM ET/PT, on HBO. It will also be available to stream on HBO Max.
The series gives an insider's view of the black box of high finance through the eyes of an outsider, Harper Stern (Myha'la Herrold), a talented young woman from upstate New York, as the narrative follows her and fellow graduates competing for a limited set of permanent positions at a top investment bank in London.
Fueled by ambition, youth, romance and drugs, these impressionable young minds begin to forge their identities within the pressure cooker environment and sensory blitz of Pierpoint & Co's trading floor, where meritocracy is promised but hierarchy is king.
Soon the boundaries between colleague, friend, lover, and enemy blur as they immerse themselves in a company culture defined as much by sex, drugs, and ego as it is by deals and dividends. As members of the group rise and fall, they must decide whether life is about more than the bottom line.
The eight-episode drama stars Myha'la Herrold (Modern Love), Marisa Abela (Cobra), Harry Lawtey (Marcella), David Jonsson (Deep State), and Nabhaan Rizwan (Informer) as "The Graduates," and Conor MacNeill (No Offence), Freya Mavor (The ABC Murders), Will Tudor (Game of Thrones), and Ken Leung (Lost) as "Management."
Produced for HBO / BBC by Bad Wolf, Industry is created and executive produced by Mickey Down and Konrad Kay; written by Konrad Kay, Mickey Down, Sam H. Freeman and Kate Verghese; and directed by Lena Dunham, Ed Lilly, Tinge Krishnan, and Mary Nighy. It is executive produced by Jane Tranter, Lachlan MacKinnon, Ryan Rasmussen, David P. Davis, and by Ben Irving for BBC; co-executive produced by Ed Lilly; and produced by Lee Thomas.
The series will air in the UK on BBC Two and be available on BBC iPlayer (date tba).
__________________

Share this post/page.

Outbound links on this page include non-affiliate links and affiliate links; the latter allows us to earn income from qualifying actions.
Industry: HBO Sets US Premiere Date for New Drama Series