CripTales, a collection of six short films — each one written, directed, and performed by a person living with disabilities — will have its world premiere on BBC America.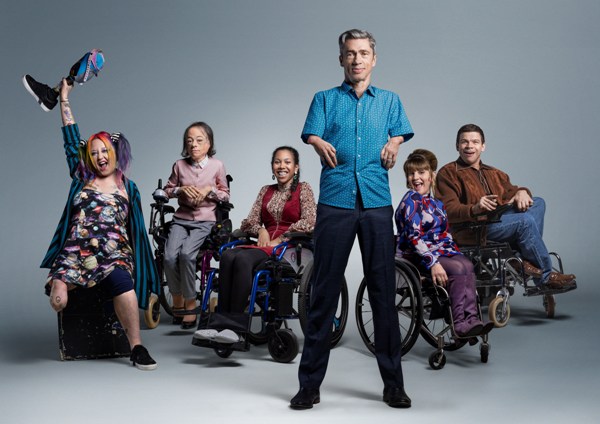 CripTales, a collection of six 15-minute monologues curated by Mat Fraser (His Dark Materials, American Horror Story), joins other series in a free streaming collection for National Disability Employment Awareness Month.
Each film is a fictional monologue capturing a life-changing moment for a person with disabilities, based on factual research and lived experience, and spanning the last 50 years of British history.
The monologues are written by Mat Fraser, Jackie Hagan, Jack Thorne (National Treasure), Genevieve Barr (The Accident), Tom Wentworth (Head Case), and Matilda Ibini (Shielders); performed by Mat Fraser, Robert Softley Gale (Ghost Light), Ruth Madeley (Years and Years), Jackie Hagan, Liz Carr (Silent Witness), and Carly Houston (Homeless Ashes); and directed by Ewan Marshall (One Night), theatre director Amit Sharma, and Jenny Sealey (London 2012 Paralympic Opening Ceremony: Enlightenment).
Said Mat Fraser:
"I'm so proud and excited to present these wonderful stories for mainstream TV audiences around the world, thanks to BBC America and BBC Studios. The authentic voices, taut direction and shining performances combine to make a series of diverse and dramatic monologues that are compelling, refreshing, and above all, entertaining."
Added Courtney Thomasma, Executive Director of BBC America:
"CripTales brings to our screens a beautiful collection of short films, curated by the incredibly talented Mat Fraser, shining a light on stories that don't often make it to primetime. At times hilarious and at others heart-breaking, these monologues exemplify both the diversity of experience among people living with disabilities and the thoroughly relatable dilemmas we all face in life."
The CripTales collection of films includes:
Audition
Writer: Mat Fraser | Actor: Mat Fraser | Director: Ewan Marshall
Mat sits in the waiting room before an audition, dreading how it will be. He re-lives some of his best and worst moments in auditions, and takes us back to his childhood, where he unlocks the reasons for his fears, before finding the way to triumph… Or does he?
Thunderbox
Writer: Genevieve Barr | Actor: Ruth Madeley | Director: Amit Sharma
It is 1968, and Sue is in the toilet at a Pop Festival. Abortion has recently been legalized; it's a moment of liberation. But for Sue, a wheelchair user, it throws up difficult questions of bodies and belief. A whirlwind romance has left her pregnant. What should she do now?
The Real Deal
Writer: Tom Wentworth | Actor: Liz Carr | Director: Ewan Marshall
Meg is looking out her window, trying to catch sight of a man whom she thinks is a benefits cheat. She is compiling details about him in order to shop him for fraud. But unexpectedly, he forges a friendship with her and encourages her to claim more benefits for herself. A dark and witty tale set against the benefits system in the U.K.
Hamish
Writer: Jack Thorne | Actor: Robert Softley Gale | Director: Amit Sharma
It's 1981. Hamish's parents have been fundraising to buy him a new wheelchair. Crucially, it is a self-operated vehicle, and a chance for independence. Pushed everywhere by caregivers before this, Hamish heads for the woods to find sexual pleasure. But he hasn't counted on such rough terrain…
Paper Knickers
Writer: Jackie Hagan | Actor: Jackie Hagan | Director: Ewan Marshall
Jackie is in a hospital bed. She is facing a decision about whether to have her leg amputated. As she thinks through her options, she explores her feelings for someone she has recently met, who seems interested in her. Will she have a chance of pursuing her romance with only one leg? A bold, witty exploration of what it is to be an amputee.
The Shed
Writer: Matilda Ibini | Actor: Carly Houston | Director: Jenny Sealey
A children's writer finds herself falling in love with Keira, her next-door neighbor. But Ellie, her caregiver, does not approve of the relationship. She starts to subtly block and subvert the romance, with dangerous consequences. A chilling tale exploring the power that a caregiver can exert over a wheelchair user's life.
CripTales will premiere on Thursday, October 1, at 10 PM ET/9 PM CT, on BBC America and across the digital platforms of the AMC Networks Entertainment group, including BBC America, AMC, IFC, SundanceTV, and AMC+.
During the broadcast and online, AMC Networks will share with viewers how they can support the efforts of The American Association of People with Disabilities (AAPD), one of the leading national cross-disability civil rights organization that advocates for the full recognition of rights of over 60 million Americans with disabilities.
To mark the launch of CripTales and October as National Disability Employment Awareness Month, AMC Networks will share a Visibility Collection that includes CripTales, Critics Choice Award winner Push Girls, and This Close, which received the Ruderman Family Foundation Seal of Authentic Representation. The Visibility Collection will be available to stream for free (no log-in required) across the apps and websites of BBC America, AMC, IFC, and SundanceTV for the month of October.
A BBC America co-production with BBC Studios' Documentary Unit, CripTales is executive produced by Debbie Christie.
__________________

Share this post/page.




Outbound links on this page include non-affiliate links and affiliate links; the latter allows us to earn income from qualifying actions.
CripTales: Groundbreaking Series to Have Its World Premiere on BBC America