Whether you're set to finish The Nest or to binge the whole thing, get ready for (more) twists in this addictive psychological thriller.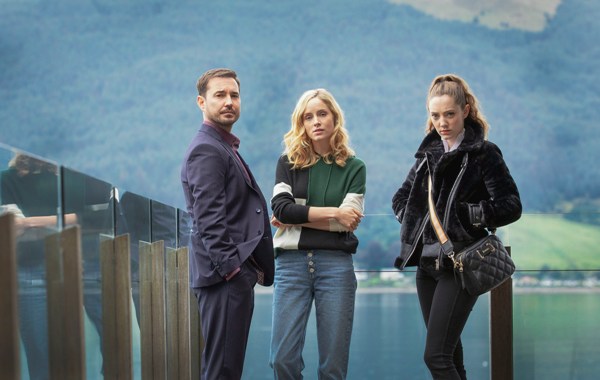 We're spoiler-free here, so there won't be any tidbits about The Nest that will ruin it for folks who haven't seen any of it yet. But know that many things in this five-part thriller, even in the final episode, are not what they seem at first blush.
The story centers on three people — Dan Docherty (Martin Compston, Line of Duty, In Plain Sight) and his wife Emily (Sophie Rundle, Peaky Blinders, Gentleman Jack), and 18-year-old Kaya (Mirren Mack, Sex Education) — whose lives are forever changed soon after they meet.
The fateful encounter occurs one night in Glasgow. Emily is driving around, lost, when she accidentally bumps into Kaya with her car. Despite her injury, Kaya makes a violent move toward the man she had been arguing with, and takes Emily up on her offer of a ride to A&E. But she doesn't actually go.
Soon thereafter, Kaya inadvertently learns about Emily's situation and makes an audacious offer: to be the surrogate for Emily and Dan's baby. For a price.
It is not a pittance of a sum. The amount goes beyond what would be considered appropriate for "reasonable expenses" under Scotland's surrogacy laws. More than three times beyond it, actually. But Kaya's life isn't on firm footing and a windfall of cash would help oodles, while the Dochertys are wealthy and want for nothing.
Except a baby.
Dan and Emily have been trying for years to have a baby, but with no success. In Emily's eyes, Kaya is their last hope. Dan is reluctant, as they know nothing about Kaya and she is anything but forthcoming, but ultimately the couple and the teen come to an agreement.
So begins the snowball that none of them saw coming.
As relationships become tense and situations become untenable — and the police show up on more than one occasion — revelations and reactions shift the trajectories of their futures. And that of the baby…
Having just binged the last four episodes, I can confirm that The Nest is not one of those shows that goes starts off great and then goes off a cliff toward the end. The final episode isn't as twisty-turny as the preceding ones, but it isn't meant to be — and there are still surprises in the conclusion.
Overall, the narrative is layered and intricate, with threads that entangle viewers in both the messy lives of the characters and the implications of their actions — the morality of "buying a baby" amongst them.
Costars include Fiona Bell (Blood), James Harkness (The English Game), Liz Ewing (Taggart), David Hayman (Hatton Garden), Shirley Henderson (Happy Valley), Katie Leung (White Dragon), Bailey Patrick (London Kills), and Samuel Paul Small (Game of Thrones).
The Nest, an Acorn TV Original series, concludes tomorrow, Monday, August 3, exclusively on Acorn TV.
__________________

Share this post/page.

Outbound links on this page include non-affiliate links and affiliate links; the latter allows us to earn income from qualifying actions.
The Nest: Psychological Thriller Features More Twists in Finale