BAFTA winner Toby Jones returns to telly in Don't Forget the Driver, the new comedy-drama series that he co-created and stars in.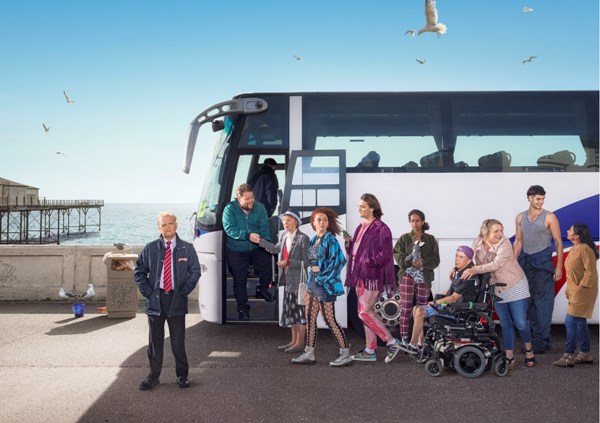 Don't Forget the Driver marks the first television project penned by Toby Jones (Detectorists, The Girl) and playwright Tim Crouch, the series' co-creator and co-writer.
The show follows Peter Green (Toby Jones), a single father and coach driver, and others in the seaside town of Bognor Regis, as they struggle with their place in the world and their own sense of identity.
Jones was the sole panelist for Don't Forget the Driver during the BritBox session at the CTAM 2020 Virtual Press Tour yesterday, during which he shared about the series via the online Q&A. (Excerpts have been edited for clarity.)
Regarding how he and Crouch came up with the premise for the show, Jones said:
"Well, Tim, my co-writer, is from a place called Bognor Regis, which is almost a comedy name in British culture. It's associated with low rent holidays, I suppose, but obviously he's from there and he's very fond of the place. As we worked there… we began to discover its people, discover its rhythms, discover its world, and Tim and I were able to bring that to life. So there was an element of wanting to explore that.

"And then we very much liked the idea of the format of a coach going on a different trip each week, so you meet a different group of people with different attitudes. So you have a group of Baptist Christians going on a trip to see a donkey that they've sponsored. Or you get a group of modeling enthusiasts going to a miniature village. Or you get old people going to get cheap booze and cigarettes from France — all of which are typical coach trips in the UK.

"What happened was, unbeknownst to us, this exploration of the UK from these different perspectives coincided purely by coincidence with Brexit, which we didn't know was gonna happen… when we started writing the show. And by good fortune, inevitably the show has been seen and interpreted as a comment on Brexit, but it isn't really. It's really a feeling — it really invokes different feelings about what it means to be British and specifically English. And Bognor's a very English town at this particular time. Or I shouldn't say at this particular time because the political situation's moving so fast, [so] at a particular time a year-and-a-half ago when the show came out."
Since Jones plays a coach driver in the series, it begs the question of whether he had to learn to drive one. So someone asked, and he replied thusly:
"I didn't have to learn the coach, but I found it a useful thing to do. So I did go and do coach driving lessons. I didn't pass my test, but I certainly did loads of lessons. And we had a private place — a private track, a studio track — we could use for most of the coaching. And anything we would do in public, I would do with an official driver behind me. But I loved driving the coach. It was one of the great bonuses of it."
Asked whether scenes were shot in the coach or on a set, and if the former, what the challenges associated with it were, Jones replied:
"It was an actual coach. Like a lot of comedies now on British TV, we do them single camera… A lot of comedies used to — certainly for the BBC — there used to be a comedy budget which assumed that the show would be shot in a studio. But gradually over the years, comedy has become more and more filmic in a way. It's become more and more based on character and less on, you know — there's fewer studio-based comedies. And certainly this one, where landscape is such a key part of the story that you get to see different areas and aspects of Britain, not least the seaside where every week's adventures take off from. It's very important that they have scale and scope. So there was that, and then within the coach, yeah, we found different ways. The very inventive cameramen found different ways of shooting the interior of the coach, both in motion and when it was motionless."
Another attendee wanted to know if "playing this made [Jones] more aware of how we treat people in uniforms and service jobs" and if [he has] been observing this."
"I can't stop observing; that's my occupational hazard. I'd love to say that I could be a peace worker or I could be something much more worthwhile than just an actor. But I can't be cured of this addiction to observation and looking at people. I wish I had a grander ambition, but I can't do anything about it, so yes, I've observed people, and I've observed people in uniforms. And hopefully I've absorbed what it means to wear a uniform, what it means to take responsibility for strangers. That's the extraordinary thing about drivers who work on a bus trip — these groups of strangers, be they a bunch of school children or a bunch of fragile old people — the driver has to take responsibility for them.

"And one of the key ideas in the show, I suppose, is that the driver, at the end of episode one, is forced to do something good even though his life is already very complicated. He's forced to decide whether he can do something good, and initially he decides he can't; he hasn't got the time or space, mentally or emotionally, to reach out to someone who needs help. And the story — and it really has a strong storyline through the six episodes, and they can be watched as a three-hour story — is about how he learns to extend himself out of his little world, and the wider world begins to impact him.

"In a way, I suppose, as we watch the news, we all have to learn to take responsibility — being asked to take responsibility for things that have nothing to do with our little patch of the world. When we watch the news, as in Lebanon last night, you know, we're asked to contribute to that, and to break out of our narrow space. And the show is dealing with that particular area."
Jones closed his one-man panel by responding to the question of whether "coach drivers [had] been approached to share their stories."
"Well, we certainly went on lots of trips, bus trips. We did some of the trips that the characters do on the show, and whenever we did, we made a point to talk to the coach drivers, and they were always very surprised that anyone wanted to know anything about them… They are people who are traditionally invisible, and they're used to being taken for granted, so they were able to share with us the pain and trials and tribulations of their job. They were interested that we were interested in them, and the more particular you can be, in any job, the more useful it is, really."
The first season costars Danny Kirrane (Wasted) as coach driver Squeaky Dave, Marcia Warren (Vicious) as Peter's mum Joy, and Erin Kellyman (Les Misérables) as his daughter Kayla, as well as Claire Rushbrook (Whitechapel), Dino Kelly (The Mallorca Files), Jo Eaton-Kent (The Watch), and newcomers Luwam Teklizgi and Wills Whittington.
Don't Forget the Driver premieres in the US in September 2020 (date TBA) exclusively on BritBox.
__________________

Share this post/page.

Outbound links on this page include non-affiliate links and affiliate links; the latter allows us to earn income from qualifying actions.
Don't Forget the Driver: Toby Jones Comedy-Drama Will Launch on BritBox in US