Stateside viewers are halfway through Series 2 of Irish mystery Blood. Check out what series creator and writer Sophie Petzal and executive producer Jonathan Fisher say about the new season.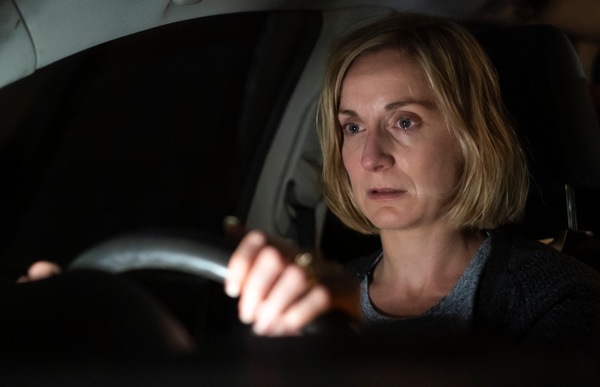 Before the world turned upside down, I had the pleasure of speaking with Sophie Petzal and Jonathan Fisher about Series 2 of Blood, which held me in its grip from start to finish.
Chatting with them was like getting an abbreviated version of a masterclass in how to develop and produce a series that becomes a hit with viewers and critics alike. (Pay attention, fledgling writers and producers.) Our conversation started with Sophie giving an overview of Series 2.
Sophie Petzal: "About a year has passed since we left the events of Season 1, since Jim was, ostensibly, being taken off by the police and Cat was left wondering about the value of what she's done to her father, done to her family, in her desperate quest for truth. When we come back, Jim's been away for a year; he's been traveling. He didn't go to jail, but we'll find out what happened to him as events progress, but he's been away traveling for a year and has decided to come back. He needs to right wrongs. Also, his eldest daughter, Fiona, who is suffering from the same illness that her mother, Mary, suffered with, is ailing, and so he's come back, but he comes back to find the family in a very different place.

"He comes to stay with Fiona and her family and the family that they work for — they live on a big farming estate — and Jim is put up there for a little bit. He basically finds that his daughter and that family and this strange environment into which he's entered is not all that it seems. There are things going on, lurking beneath the surface, that he will wade into unknowingly, and he'll find himself caught up in things that he really doesn't know how to deal with. So a lot of this series we have poor old Jim — trying to make amends, trying to redeem himself, not only in the eyes of others but in his own eyes — forced into a very sort of desperate situation once again.

"What's interesting about this series is that we change slightly the way we approach our timeline and how we tell the story. We're basically telling Fiona's story and Jim's story in tandem, but like Season 1 there's a mystery at the heart of Season 2 — its own unique, standalone mystery that's not just a re-analyzation of the events of Season 1, but is intrinsically linked thematically and obviously through its characters."
Regarding the show's themes, Sophie offered a few thoughts into the themes of family and secrets in Series 2.
SP: "Yeah, [secrets] is very much the heart of the series — the things we don't say, the things that we keep to ourselves… That's why I wanted to time jump — to create this sort of earthquake effect. The events have really had time to sink in and to take effect, and we see these characters who are trying to move on from it or are still very traumatized by it; therefore you find characters who themselves may be in trouble, who don't feel that now is the time for them to say anything or don't feel that they're in a position to say anything, and how secrets upon secrets upon secrets just create a pressure cooker. So the Blood heartland is effectively a crime story or a mystery story wrapped up with a family drama."
Speaking of family, I asked about the one that owns the farming estate and how they came to be in Blood.
Jonathan Fisher: "I think it was really important to us, going into the second series, that it felt fresh and new, that it was moving the game on from Series 1. Obviously, by the end of the first series, we reach a finite conclusion and we learn the truth of that major mystery of whether Jim did kill his wife or not. But going forward we wanted to inject fresh energy and impetus into the next series and evolve it into something bigger. It was important to keep the familiar elements that the audience had loved and responded to, i.e. bringing back Jim Hogan and various other family members, but also to introduce some new characters as well, so that the scope of the world expanded."
In Series 1, Jim was under the microscope, and in Series 2 it's Fiona. But they aren't the only ones inside the pressure cooker, as it were. There's also new character Paul, Fiona's husband.
JF: "Yes, [Fiona] is under scrutiny this time around, and we knew even before we filmed the first season that if we did get a recommission and if we did get a second season, that Fiona would be the character that we focused on. So, deliberately, Sophie made her character slightly inscrutable as well in the first season, so that we'd get a sense that we don't fully know her world. We deliberately didn't cast an actor playing her husband because we knew he would be a central character in the second season, so we'd want to cast an excellent actor in that role. The icing for us was to see the amazingly talented Gráinne Keenan, who plays Fiona, grow from supporting cast member to lead actress in Series 2. We think that the viewers are going to thoroughly enjoy her compelling performance."

SP: "She's astonishing. One of the most satisfying parts of this whole process really has been finding these incredible newer or lesser-known cast members and actors who just shine and go on to incredible things. We haven't had the pressure from our partners, which has been fantastic — we don't have to have loads of named actors. Obviously we're blessed to have Adrian Dunbar, who's incredibly well-known — that's a fantastic find — but we didn't have to go searching for recognizable names, so we just got to go looking for the best people who were best suited to the roles. That's been equally rewarding this time around, to come across some of the most incredible acting talent, and I think people are going to be really excited to see that, among other things, hopefully.

"Gráinne Keenan is just phenomenal, and Ian Lloyd Anderson blew us away. He's quite a respected and prestigious Dublin theatre actor, and he's done quite a bit of television. He just has a quality, he has a real quality, and it's a delight to watch him."

JF: "Often when you make TV drama, you're put under pressure from your broadcasters to cast particularly well-known names, and we just didn't have that here. We had total freedom to go for who we felt were best suited to the role, and that was great. That's increasingly rare these days, so to bring in someone of Ian's quality, who perhaps hasn't had a major TV drama break yet, was really exciting. And the same with the first series, too."
So did Sophie and Jonathan have other kinds of challenges in producing Series 2?
JF: "I think Series 1 proved to be very successful — the reviews were fantastic, the ratings were extremely positive, too. And therefore there was a certain level of expectation on us going into the second series. The first series sold to over 60 territories internationally. And I think, as I said earlier, one of the major challenges is refreshing it and making sure that it does feel like a new mystery and a new piece, rather than just dragging out the events of the first series, bearing in mind how finite the conclusion was to the first series.

"So that felt like a challenge, but to be honest, we have such a fantastic cast and crew who work on the show that it's a real delight to make it. I remember Sophie and I arriving on set on the first day of the second series, and everyone was so happy to be back, which, again, you don't always get. So it's a brilliant team, we love making it. The challenge was really, you know, the bar was set high in the first series, and making sure that we got to that level and try to make it even better, if possible."

SP: "Yeah, we consciously wanted to grow out our world a little bit, we wanted to expand it, we wanted to slightly modify the way that we play it, because Season 1 we play it through one character's eyes, and then we go back in time in the last episode. We wanted to have a similar element to the twist with time but do it in a different way. So there's always that balance in trying to change things — you want to keep the things that you know really worked and you want to retain some of the qualities that you discovered in Season 1, but you also want to grow and evolve.

"So I suppose that was an exciting challenge — achieving those things whilst also keeping a hold of the things that we knew we really loved and we really valued. And I think we were lucky that things we loved and valued were the things that people who seemed to enjoy it also loved and valued. So that didn't feel like too difficult a conversation; I think we were pretty clear. You know, when you start sticking words up on a whiteboard, what are the things that worked, what are the things we want to replicate, what do we want more of?"

JF: "Yes, you want to try to build it and grow it but without throwing the baby out with the bath water. So we did try structurally; in many ways it follows some similar patterns to the first series. I think it's fine for us to say that we do learn the truth of the mystery via flashback, which I think is something that viewers really enjoyed in the first series. Hopefully it feels every bit as surprising and unexpected and emotional and poignant as it did the first time around."
To keep things spoiler-free here, I will only say that I thoroughly enjoyed Series 2 and think, to Jonathan's earlier point, that it is "even better."
So what about a Series 3, if they get recommissioned?
SP: "That's the key question — if we get recommissioned. We're always having conversations about Blood, we're always talking about Blood, like what could it be, what could happen next, what could we be doing. I suppose it's a case of just sort of 'watch this space' — you know, finding a way to do it, finding the right idea, seeing if our partners want any more. We'd love to. We love this project deeply, and we're always having conversations about it."

JF: "I think when you have the caliber of Adrian Dunbar, the world's your oyster, really. And I think what we've seen, going from the first series into the second, is his character has really changed and evolved, and there's no reason why that can't continue moving forward."
The first three (of six) episodes of Blood: Series 2 are currently available for streaming in the US on Acorn TV and its digital channels, including Acorn TV on Amazon. The remaining episodes will debut weekly on Mondays.
__________________

Add your comments on our Facebook and Twitter pages.
Share this post/page.

Outbound links on this page include non-affiliate links and affiliate links; the latter allows us to earn income for qualifying purchases and actions made through the links.
Interview: 'Blood' Creator-Writer Sophie Petzal & EP Jonathan Fisher