Political thriller Secret State, starring Gabriel Byrne, heads to Ovation TV's Mystery Alley next month.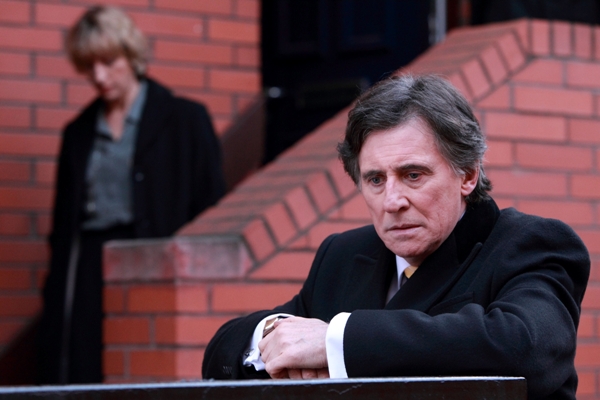 Following up on yesterday's announcement about the launch of Mystery Alley, today Ovation TV released the schedule for Secret State, the taut political thriller miniseries starring Golden Globe winner Gabriel Byrne (ZeroZeroZero, In Treatment).
The four-part drama kicks off on Mystery Alley on Saturday, September 12, at 7 PM ET / 4 PM PT, following Australian crime thriller The Code and British mystery series Agatha Christie's Partners in Crime.
Based on the Chris Mullins novel A Very British Coup, the four-part drama explores the relationship between a democratically-elected government, big business, and the banks. Gabriel Byrne stars as Deputy Prime Minister Tom Dawkins, who's thrust to the fore by catastrophic events, and ends up forced to take on the might of the Establishment. (More details below.)
The top-notch cast includes Charles Dance (Game of Thrones), Ruth Negga (Preacher), Stephen Dillane (The Tunnel), Rupert Graves (Sherlock), Ralph Ineson (Chernobyl), Sylvestra Le Touzel (Intelligence), Anna Madeley (Deadwater Fell), Gina McKee (Bodyguard), Lia Williams (The Capture), Jamie Sives (The Victim), Al Weaver (Grantchester), Douglas Hodge (The Great), Nicholas Farrell (Torchwood), Anton Lesser (Endeavour), and Tobias Menzies (The Crown).
Episode details are below. All air times at 7 PM ET / 4 PM PT.
Episode 1 — Saturday, September 12 — Following the suspicious death of the Prime Minister in a plane crash, the understated political ambitions of Tom Dawkins (Gabriel Byrne) are tested as Foreign Secretary Ros Yelland (Sylvestra Le Touzel) and Home Secretary Felix Durrell (Rupert Graves) vie for the top job.
Episode 2 — Saturday, September 19 — Following his shock election victory, Dawkins launches an inquiry into the toxicology anomalies at the blast in Scarrow.
Episode 3 — Saturday, September 26 — Following revelations about covert drone fuel production in Scarrow, Dawkins is in the center of a political storm. And his pursuit of corrupt banker Sir Michael Rix (Anton Lesser) makes him powerful enemies.
Episode 4 — Saturday, October 3 — GCHQ analyst Agnes Evans (Ruth Negga) tries every avenue to contact Dawkins and share her information about what brought down the Prime Minister's plane.
All episodes will be available for on-demand viewing at ovationtv.com/watch and via the Ovation NOW app.
__________________

Share this post/page.




Outbound links on this page include non-affiliate links and affiliate links; the latter allows us to earn income from qualifying actions.
Secret State: Ovation TV Sets Schedule for Riveting Political Thriller