Get your binge on with these competition shows featuring Mary Berry, amateur in-home restaurateurs, and Fugitives trying to escape being captured by Hunters.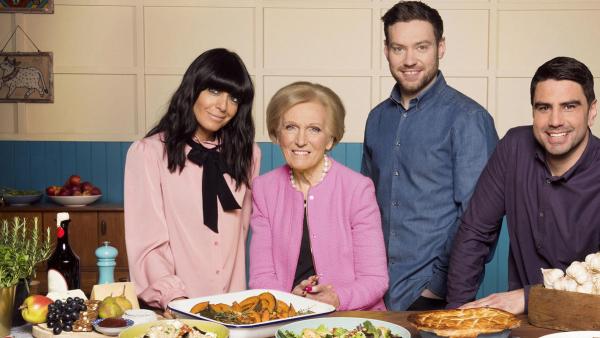 Britain's Best Home Cook
Presented by Claudia Winkleman, this series features ten of the UK's best home cooks vying for the coveted title of "Britain's Best Home Cook." The contestants, who live together in a rather imposing shed house for the lengths of their respective participation, compete in challenges in which they must cook up their most creative and tastiest versions of the theme food (e.g. burger), ingredient (e.g. cheese), or meal (e.g. brunch) to avoid being eliminated.
Judging their home-away-from-home-cooked creations are "queen of home cooking" Mary Berry, produce expert Chris Bavin, and award-winning chefs Dan Doherty (in Season 1) and Angela Hartnett (in Season 2).
The challenges include burgers, fish, pies, roasts, and chocolate pudding in Season 1, and pasta, meringue, brunch, children's birthday cake, and curry in Season 2 — all before the remaining contestants move into the quarter-final, semi-final, and final competitions.
Where to watch (US): Hulu
Hunted
This series is more heart-pounding than many drama thrillers, and I got addicted to it — the original British program on which the American reality series of the same name is based — when it debuted in the UK back in 2015. The premise is simple: contestants, called Fugitives, must go on the run within Great Britain and evade capture by a team of Hunters over the course of roughly a month in order to win all or a portion of the cash prize.
The execution is much more difficult than it sounds, because the Hunters — including former and still-serving police officers, intelligence personnel, and others — can and do use a variety of means, from CCTV and call tracing, to social media and monetary rewards, to gain information on the Fugitives' whereabouts and get closer to capturing them.
Before all is said and done, any Fugitives who haven't been caught have one last hurdle to overcome: they must get to their designated "extraction" point, again without being captured, in order to win their share of the £100,000 prize money.
Utterly gripping from start to finish, the first four of the show's five seasons are currently available for streaming in the US.
Where to watch (US): Prime Video, Tubi TV
Restaurant in Our Living Room
Narrated by actor Robert Webb (Peep Show), this series features in each episode two couples competing to have the most successful one-night-only pop-up in-home restaurant between them.
With just £500 to spend on food and supplies and three days to prepare, each amateur restaurateur team must use their culinary and business skills to develop their menus and shopping lists, estimate their home's seating capacity, determine the number of sittings over the set four-hour time frame, and the like.
Come opening night, the couples cook the food, plate the dishes, attend to details in the front and back of house (i.e. dining area and kitchen), and generally stress over everything. Their dine-in customers — folks they've never met — judge the quality of the meals and service, and pay what they believe is a fair price for their experience.
On the following evening, the proceeds for each living room restaurant are tallied up. Each couple gets to keep the money they made, but the couple with the most money wins a luxury weekend at a 5-star European hotel.
Where to watch (US): Prime Video, Tubi TV
__________________

Add your comments on our Facebook and Twitter pages.
Share this post/page.

Outbound links on this page include non-affiliate links and affiliate links; the latter allows us to earn income for qualifying purchases and actions made through the links.
3 British Competition Series to Binge-Watch