Mark your calendars. The US and UK premiere dates for the most recent television adaptation of The Pale Horse have been set.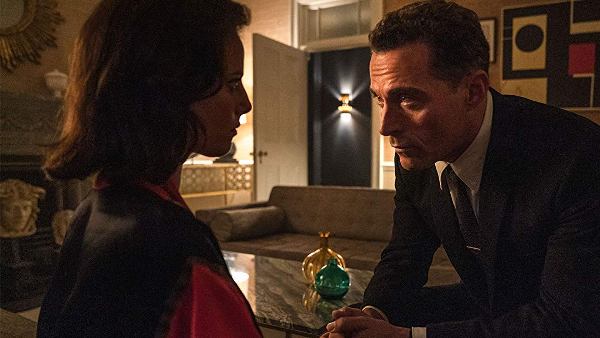 After having adapted others of Agatha Christie's works for television, including And Then There Were None, The Witness for the Prosecution, Ordeal by Innocence, and The ABC Murders, BAFTA nominee Sarah Phelps jumped on The Pale Horse, whose adaptation begins screening in the UK in little more than a week and in the US about a month later in March.
Phelps admittedly has taken liberties and altered details of the story of The Pale Horse, which fans of the novel may take issue with, as many of Agatha Christie's fans did with the changes the screenwriter made within her earlier adaptations.
But let's not put the cart before the horse. If The Pale Horse turns out to be as gripping as And Then There Were None (my favorite of the lot), then no harm, no foul insofar as being entertained goes. (If not, well… let's leave that for now.)
In Phelps's adaptation, the death of a young woman prompts a murder investigation, during which a list of names on a piece of paper is found in her shoe. So not only must the detectives on the case find the victim's killer, they need to figure out who wrote the list and who are the people whose names are on it.
One such person is Mark Easterbrook (Rufus Sewell, The Man In The High Castle, Victoria, Zen), a widowed antiques dealer who, despite having found love again with new wife Hermia (Kaya Scodelario, The Maze Runner, Southcliffe, Skins), is still haunted by the death of his first wife.
After learning about the list, Mark initiates his own investigation into why his name came to be on it. This leads him to the beautiful village of Much Deeping and to The Pale Horse, the home of three women rumored to be witches and alleged to be able to do away with one's rich relative through supernatural means alone.
Mark is skeptical about the paranormal, but as more strange things happen around him and as more of the listed people die around him, he becomes consumed by paranoia brought on by these recent events and the questions of whether the deaths were the work of witchcraft — and if the witches are targeting him next. Perhaps. Perhaps not. If not, then he must figure out a more logical reason for what's going on and identity the real killer, lest his becomes another name on the police's list of murder victims.
The two-part drama features Bertie Carvel (Doctor Foster) as Zachariah Osborne, Sean Pertwee (Gotham) as Detective Inspector Lejeune, Henry Lloyd-Hughes (Killing Eve) as David Ardingly, James Fleet (Unforgotten) as Oscar Venables, Poppy Gilbert (Call The Midwife) as Thomasina Tuckerton, Madeleine Bowyer (Black Mirror) as Jessie Davis, and Ellen Robertson (Snowflake) as Poppy.
Additional cast members are Sarah Woodward (Queens Of Mystery), Georgina Campbell (Broadchurch), and Claire Skinner (Outnumbered).
And playing the trio of witches are Rita Tushingham (Vera) as Bella, Sheila Atim (Harlots) as Thryza Grey, and Kathy Kiera Clarke (Derry Girls) as Sybil Stamford.
Produced by Mammoth Screen and Agatha Christie Limited for BBC One, and co-produced by Amazon Prime Video, the miniseries is directed by Leonora Lonsdale, produced by Ado Yoshizaki Cassuto, and executive produced by Sarah Phelps, Damien Timmer and Helen Ziegler for Mammoth Screen, James Prichard and Basi Akpabio for Agatha Christie Limited, and Tommy Bulfin for BBC.
Agatha Christie: The Pale Horse premieres in the US on Friday, March 13, exclusively on Prime Video. It begins airing in the UK on Sunday, February 9, on BBC One.
__________________

Add your comments on our Facebook and Twitter pages.
Share this post/page.

Outbound links on this page include non-affiliate links and affiliate links; the latter allows us to earn income for qualifying purchases and actions made through the links.
Agatha Christie: The Pale Horse: Prime Video Sets US Premiere Date, Releases Trailer