Every twist and turn in Bancroft's first two episodes left me exclaiming, "What the what?!?" The entire crime thriller, which debuts in the US tomorrow, might do the same for you.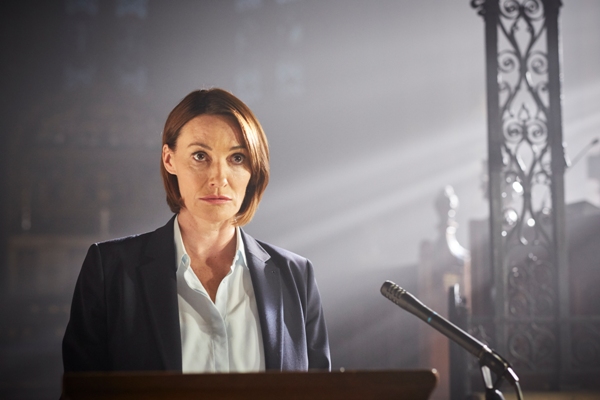 National TV Awards nominee Sarah Parish (W1A, Broadchurch, Blackpool) leads the cast of Bancroft as Detective Superintendent Elizabeth Bancroft, a brilliant, brave, and highly-respected copper who, in the series opener, is running an operation to bring down the vicious Kamara gang.
Faye Marsay (McMafia, Game of Thrones, The White Queen) co-stars as DS Katherine Stevens, a young, ambitious, and fast-tracked recruit. Stevens is aggravated that Bancroft chose DS Andy Bevan (Charles Babalola, Thirteen) instead of her for the Kamara team while she's assigned to clear up cold cases. (Harrumph.)
Despite feeling dissed, Stevens is like a dog on a bone with the first cold case, which concerns the unsolved murder of young housewife Laura Fraser in 1990. The crime was brutal, the attacker fierce. And given the evidence, she wonders how the detective who originally investigated the case came to the conclusion he did. To her, it doesn't add up.
So Stevens throws herself into the reopened case and gets help from police forensics analyst Anya Karim (Amara Karan, Stan Lee's Lucky Man, The Night Of). The person proving to be unhelpful is Laura's now-remarried widower, played by Linus Roache (Vikings, Homeland, Law & Order) in his long-awaited return to British TV.
All of this new activity on the Fraser case puts Bancroft on edge. There is something in it she doesn't want Stevens to find out, so she uses the dubious policing methods typically reserved for catching criminals to prevent the young detective from making any more progress.
Except Stevens keeps at it, further disturbing the ghosts of the past and ultimately forcing Bancroft to confront her demons.
Filmed on location in and around Bolton and the North West, Bancroft features Adrian Edmondson (War and Peace), Art Malik (Cold Feet), Kenneth Cranham (Rome), Adam Long (Happy Valley), Lee Boardman (The Five), and Steve Evets (Rev.).
Bancroft premieres in the US tomorrow, Wednesday, September 19, exclusively on BritBox.
UPDATE: As of September 20, the entirety of Season 1 of Bancroft is available for streaming on Amazon Video.
A second season has been commissioned. Stay tuned for updates.
__________________

Add your comments on our Facebook and Twitter pages.
Share this post/page.

Bancroft: Crime Thriller Starring Sarah Parish Premiering in the US on BritBox