Just in time for the colder days and longer nights is the North American premiere of Irish psychological crime thriller Dublin Murders.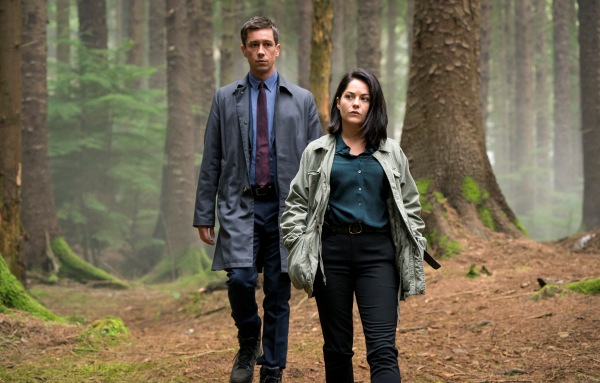 Dublin Murders is based on In The Woods and The Likeness — the first two internationally best-selling titles in Tana French's "Dublin Murder Squad" series of crime novels — wherein the main plot of each book is woven into the storyline of the eight-episode crime drama.
Sarah Phelps, the award-winning scriptwriter behind the recent television adaptations of Agatha Christie's And Then There Were None, The Witness for the Prosecution, Ordeal by Innocence, and The ABC Murders, is the creator and writer of Dublin Murders.
In the series opener, Dublin-based detectives Rob Reilly (Killian Scott, C.B. Strike, Jack Taylor) and Cassandra "Cassie" Maddox (Sarah Greene, Penny Dreadful, Ransom) get sent into the woods in Knocknaree, where archaeology students have found the dead body of a thirteen-year-old girl on an ancient altar.
It's 2006, and the question everyone is asking is, "Is this something to do with the others?" Those others are the three twelve- and thirteen-year-old children who went into the very same woods back in 1985, of whom only one was found, alive but forever damaged.
Neither Rob nor Cassie should be on this case, but they can't tell their boss, Supt. O'Kelly (Conleth Hill, Game of Thrones), as they would then have to reveal their secrets. So they continue. The victim was Katy Devlin, a local who'd been practicing day and night before she was to head to ballet school in England. Her father, Jonathan (Peter McDonald, Moone Boy), has been a vocal opponent of the planned new motorway that would demolish the woods. And when Rob goes through the two decade-old case files of the three disappearances, he realizes Jonathan is more than he says he is. So is Rob.
Meanwhile, a man (Tom Vaughan-Lawlor, Love?Hate) is stalking Cassie. As it turns out, there is more to Cassie than meets the eye, too. And like Rob, she gets pulled into a case that forces her to revisit her past.
Featuring in the series are Ned Dennehy (Peaky Blinders), Moe Dunford (Striking Out), Jonny Holden (Women on the Verge), Charlie Kelly (The Terror), Ian Kenny (Solo: A Star Wars Story), Leah McNamara (Vikings), Alexandra Moen (Fortitude), and Eugene O'Hare (The Fall).
Dublin Murders premieres in the US and Canada tomorrow, Sunday, November 10, at 8 PM EDT, only on Starz.
__________________

Add your comments on our Facebook and Twitter pages.
Share this post/page.

Outbound links on this page include non-affiliate links and affiliate links; the latter allows us to earn income for qualifying purchases and actions made through the links.
Dublin Murders: Dark Irish Crime Thriller Set to Debut in the US & Canada