My pick for feel-good drama of the year when it debuted in the US in 2017, The Good Karma Hospital is back with a new season of stories filled with love, loss, and laughs.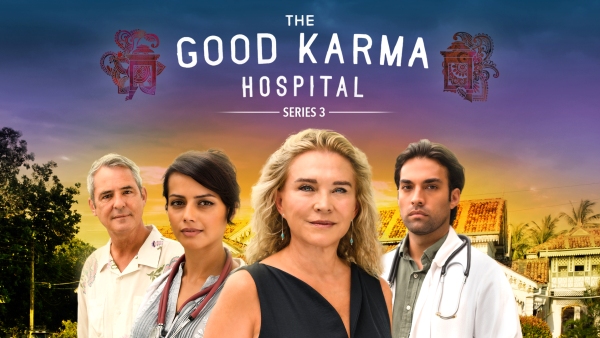 How much do I love The Good Karma Hospital? THIS much.
As someone who lives in a stateside concrete jungle, watching this series set by the sea in south India is an escape to a beautiful, exotic locale on the other side of the world. It also warms my heart and touches my soul, often moving me to tears. So it's grand that it's back.
Opening four months after the events in Series 2, the new season finds Dr. Ruby Walker (Amrita Acharia, Game of Thrones, Acquitted) back at the Good Karma Hospital after spending time on her father's tea plantation getting to know her newfound family.
Ruby's professional and personal relationship with Dr. Gabriel Varma (James Krishna Floyd, Of Kings and Prophets, Dream Team) gets back on track, albeit after a tense re-start, and Dr. Lydia Fonseca (Amanda Redman, New Tricks, At Home with the Braithwaites) is glad to have Ruby back, as the cottage hospital was (and still is, actually) over-busy and understaffed during her absence.
While the team at the hospital cares for patients with preeclampsia, poisoning, and diabetes, three life-changing events occur.
The arrival of the Miracle Train in Barco brings with it Dr. Aysha Ray (Priyanka Bose, Lion) — Gabriel's first supervisor and more besides. No one is blind to the energy between them, least of all Ruby. So when Aysha stays at Lydia's request, you can cut the tension in the love triangle with a scalpel.
Back at the hospital, Ruby convinces Ted Dalrymple (Kenneth Cranham, The White Princess), an older British man, to stay so she can treat his infection. But he has places to go and people to see — as he is on a quest to find his first love from decades ago — so Ruby helps him with this, too.
The most shocking event is the horrific attack of a young nurse (Sayani Gupta, Article 15). Both Lydia and head nurse Mari Rodriguez (Nimmi Harasgama, Requiem, Doctors) rage with anger at the crime and the criminal, but it is only Mari who feels devastatingly guilty.
Meanwhile, AJ (Sagar Radia, Berlin Station, Stan Lee's Lucky Man), the son of hospital administrator Dr. Ram Nair (Darshan Jariwala, Sense8, In the Long Run), returns to Barco while he's on break from uni. And beachside bar owner Greg McConnell (Neil Morrissey, Striking Out, Men Behaving Badly) despairs over his livelihood being effectively shut down. However, the arrival of his daughter, Tommy (Scarlett Alice Johnson, Pramface), thrills him to bits. What he doesn't know (yet) is that she's hiding something from him.
(Video is from Series 2)
Series 3 is darker than it's been in previous seasons, and more graphic (nothing gratuitous) than I remember. Do not let this dissuade you, though. Episode after episode, each steeped in a sense of humanity rarely depicted on screen, makes The Good Karma Hospital one of the most wonderful, worthwhile shows to watch.
And I am crossing my fingers that there will be a Series 4.
The Good Karma Hospital: Series 3 premieres in the US tomorrow, Monday, November 11, exclusively on Acorn TV and its digital channels, including Acorn TV on Amazon.
__________________

Add your comments on our Facebook and Twitter pages.
Share this post/page.




Outbound links on this page include non-affiliate links and affiliate links; the latter allows us to earn income for qualifying purchases and actions made through the links.
The Good Karma Hospital: Feel-Good Drama Returns to the US with Series 3