Filming has started on Young Wallander, the new Netflix Original series about the beloved Swedish detective.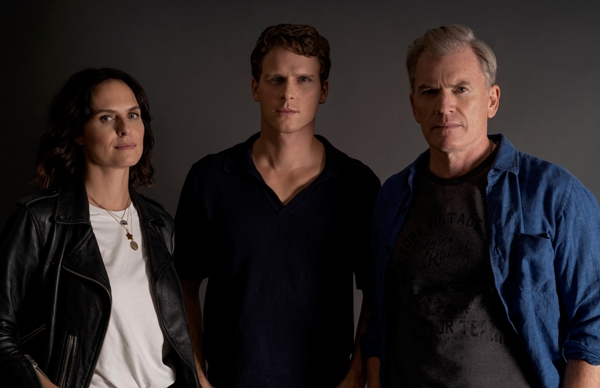 Based on the late, great Henning Mankell's best-selling "Kurt Wallander Mystery" novels, Young Wallander is an English-language mystery-crime drama set in contemporary Sweden.
Playing the iconic character of Kurt Wallander is Kristallen "Best Actor" award winner Adam Pålsson, who starred in two of my favorite Euro TV premieres in the US this year — Swedish drama Don't Ever Wipe Tears Without Gloves and Swedish crime thriller Before We Die.
The story of Young Wallander, told over six serialized episodes, focuses on the formative experiences — professional and personal — faced by the twenty-something Kurt as a recently-graduated police officer investigating his first gripping case.
Costars include Richard Dillane (The White Princess, Wolf Hall) as Superintendent Hemberg, Leanne Best (Cold Feet, Home Fires) as Frida Rask, Ellise Chappell (Poldark, Yesterday) as Mona, and Yasen Atour (Dark Heart, Marcella) as Reza.
Additional cast members include Charles Mnene (The State) as Bash, Jacob Collins-Levy (The White Princess) as Karl-Axel Munck, Alan Emrys (Johnny English Strikes Again) as Gustav Munck, and Kiza Deen (Hollyoaks) as Mariam.
The series is created by Yellow Bird UK, a Banijay Group company, and the producer of the Swedish "Wallander" franchise at TV4 as well as the successful 2008 BBC series Wallander.
Said Berna Levin, Creative Director, Yellowbird UK:
"In revisiting the beloved character of Kurt Wallander, we searched for an actor of great calibre and integrity. Someone who could carry the mantle previously worn by some of the most legendary actors of our time, honouring their brilliant past performances while also bringing in his own unique and contemporary take on this iconic role. Adam's impressive body of work and uncompromising dedication to the role made him the obvious choice. Standing with an amazing cast, we have no doubt that together, they will take Wallander to new heights and enthral audiences all over again."
The series is directed by Ole Endresen (Lilyhammer) and Jens Jonsson (Jägarna) and produced by Berna Levin (The Girl in the Spider's Web). The screenwriter is Ben Harris (Marcella).
Young Wallander will launch exclusively on Netflix in 2020.
__________________

Add your comments on our Facebook and Twitter pages.
Share this post/page.





Outbound links on this page include non-affiliate links and affiliate links; the latter allows us to earn income for qualifying purchases and actions made through the links.

Young Wallander: Cast of New Netflix Original Series Announced