Stateside fans of Scottish TV dramas can start a new one today: The Victim, starring Kelly Macdonald, whom I had the pleasure of chatting with about the show.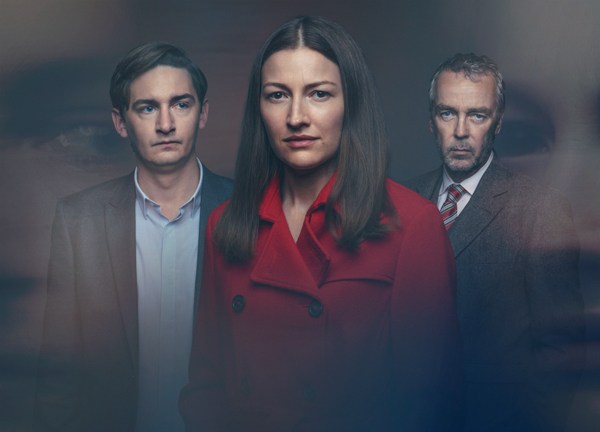 Several weeks ago, I binged all of the screeners for The Victim, a four-part Scottish miniseries that stars Primetime Emmy® Awards winner and three-time Golden Globes® nominee Kelly Macdonald (Boardwalk Empire, The Girl in the Café, Gosford Park).
The next day I chatted by phone with Kelly and Paul Sheehan, Chief Operating Officer of STV Productions, while they were in Los Angeles for the Summer 2019 TCA Press Tour to promote The Victim, the latest BritBox Original series.
First, some background about the show:
Anna Dean (Macdonald) is a still-grieving woman who is convinced the man named Craig Myers (James Harkness, Rogue One: A Star Wars Story, In Plain Sight) is actually Eddie J. Turner, the person who murdered her young son fourteen years earlier. Steadfast in her belief, she attempts to get justice for her child by posting Myers' name and address online. The response is swift and violent — a masked assailant savagely beats Myers.
Di Stephen Grover (John Hannah, Marvel's Agents of S.H.I.E.L.D., Marley's Ghosts) investigates the attack, which leads him to suspect Anna, who is later arrested, charged, and put on trial for "incitement to murder." Meanwhile, Myers is trying to salvage his reputation, to allay his wife's fears, and to keep her and their daughter safe.
To say any more would get into spoiler territory. But what I can attest is that The Victim tells a powerful story, one that might very well leave you asking more questions after than during the show — and not just about the show.
That was the case with me. At the start of our chat, I told Kelly and Paul that I was an emotional wreck from watching the show and grappling with both the questions that arose and my answers to them — to which Paul commented, "A powerful reaction to a powerful story. We should send you a counselor."
Anyhoo, my first question to them was about Anna, and they offered up some insights into her character.
KM: "[Anna] got stuck somewhere in the grieving process, and the grief turns into anger. She's a very angry woman. She feels that she's been let down by the entire justice system in Scotland, by any police officer that's ever visited her, and she's on a one-woman mission to rectify the huge disservice she feels."

PS: "She's frozen, isn't she — frozen in that emotion — and although she's so angry, I think she's also incredibly icy in her focus."

KM: "It's a terrible, unthinkable thing that's happened to her, but yeah, she's stuck in time, like she's never been able to move on, even though her life has to the outside world — she's divorced, she's remarried, she's got another child. Things look different, for all intents and purposes, but all that's happened is she's become obsessive."

PS: "And in some ways I think that means that she's at times unsympathetic, because despite the horrific tragedy she's experienced, she's a complex character. And that really polarizes, I think, the audience in terms of the level of sympathy they have for her. Kelly played such a powerful role and was a real genius in terms of making Anna at times unsympathetic."
Anna isn't the only person seeking justice. Grover is, too. But while her sense of it looks like vengeance, his has a different flavor.
PS: Had we had more time, it would've been really interesting to expand upon [Grover's backstory]… I think Grover represents a sort of blind justice. So that line — when he says to Anna, 'The notion that you would ever have a say in terms of what happened to your son's killer is completely absurd. All you're entitled to is your grief.' — that's a really brutal sentence to quote.

"But that's sort of what the justice system delivers — punishment. Whether it's deterrence or prevention, it's not really about restoration, and that's something that we wanted to explore… The criminal justice system, not just in Scotland but in most of the Western world, is all about rehabilitation, deterrence, or retribution, and those are three concepts of punishment. But what it doesn't deliver is restoration for the victims and their families. So that's something we explored through the resource of justice process and whether that actually delivers more closure for the victims' families than retribution."
The conversation then moved into spoiler territory, so let's fast forward here to Kelly and Paul's closing remarks about The Victim and what they'd like you to know about the show.
PS: "It's a sort of emotional roller coaster. I hope it's thought-provoking as well. Hopefully it makes people ask some of those big questions and some of those moral questions, as well as being a thriller that really, really engages the audience."

KM: "I agree. What you said is just perfect. I was so surprised, just in my immediate circle, my friends and family, how many people watched it — cos they don't always watch things that I do — and how much they had to say about it and the questions that they've been asking themselves since they watched it. And it's a great thing, for people to question. You should question yourself always, I think."

PS: "One of our other interviewers said it was emotionally exhausting, and we took that as a compliment."

KM: "Yeah!"
Costars in the drama include Karla Crome (Carnival Row), Isis Hainsworth (Wanderlust), Cal MacAninch (Mr Selfridge), Allison McKenzie (Shetland), Chloe Pirrie (Troy: Fall of a City), Pooky Quesnel (The A Word), Andrew Rothney (Catherine the Great), Jamie Sives (In the Dark), and Ramon Tikaram (Fortitude).
Produced by STV Productions, The Victim premieres in the US with its first episode today, September 10, 2019, exclusively on BritBox and its digital channels, including the BritBox channel on Amazon. The remaining episodes will debut weekly on the next three Tuesdays.
Many thanks to BritBox, Kelly Macdonald, and Paul Sheehan for the interview.
__________________

Add your comments on our Facebook and Twitter pages.
Share this post/page.





Outbound links on this page include non-affiliate links and affiliate links; the latter allows us to earn income for qualifying purchases and actions made through the links.

Interview: Kelly Macdonald & Paul Sheehan Discuss Powerful Scottish Drama 'The Victim'