One hundred episodes is quite a milestone — one that the megahit mystery series Father Brown will hit with its upcoming new seasons.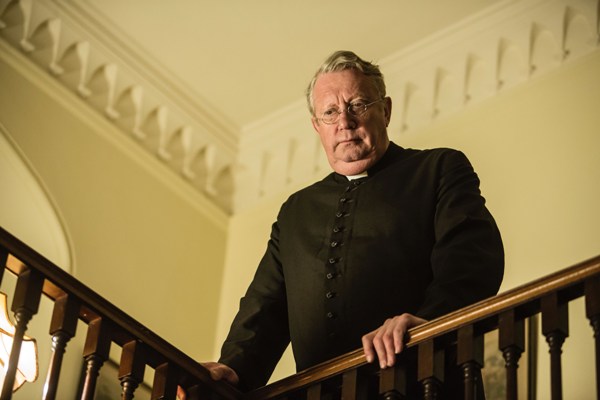 A global hit with fans in more than 200 territories, Father Brown has been renewed for Seasons 8 and 9, the latter of which will bring the series to 100 episodes.
Based on the character made famous in G. K. Chesterton's "Father Brown Mysteries" stories, the TV series will return with Mark Williams (Harry Potter) donning a cassock once again as he reprises his role as the eponymous mystery-solving, soul-saving amateur sleuth and Roman Catholic priest.
Set in the idyllic (and fictional) Cotswolds village of Kembleford, Season 8 will find Father Brown investigating the murder of an eccentric beekeeper, stepping in when Mrs. McCarthy's family reunion is threatened by a fortune-teller's predictions, and racing against time to save Bunty from the hangman's noose when she is tried for murder.
Sorcha Cusack (A Discovery of Witches) and Emer Kenny (Pramface) return as Mrs. McCarthy and Bunty, as does Jack Deam (DCI Banks) as Inspector Mallory and John Burton (Coronation Street) as Sergeant Goodfellow.
Returning guest stars include Nancy Carroll (The Suspicions of Mr. Whicher) as Lady Felicia, Alex Price (Penny Dreadful) as Sid Carter, John Light (Maigret) as Hercule Flambeau, Alan Williams (Chernobyl) as Blind 'Arry, Tom Chambers (Holby City) as Chief Inspector Sullivan, and for the first time since 2014, Hugo Speer (London Kills) as Chief Inspector Valentine.
Seasons 8 and 9 will consist of ten 45-minute episodes, with the former launching on BBC One in 2020 and the latter in 2021.
With its debut of Season 7 last month, BritBox will roll out Seasons 1-6 over the coming months as they move over from another subscription streaming service and BritBox becomes the exclusive SVOD home of Father Brown in the US. Stay tuned for updates about Seasons 8 and 9.
__________________

Add your comments on our Facebook and Twitter pages.
Share this post/page.





Outbound links on this page include non-affiliate links and affiliate links; the latter allows us to earn income for qualifying purchases and actions made through the links.

Father Brown: Hit Brit Mystery Series to Hit 100 Episodes