Fans of Shakespeare & Hathaway: Private Investigators, rejoice! The hit BBC daytime series has been renewed for not one but two more seasons!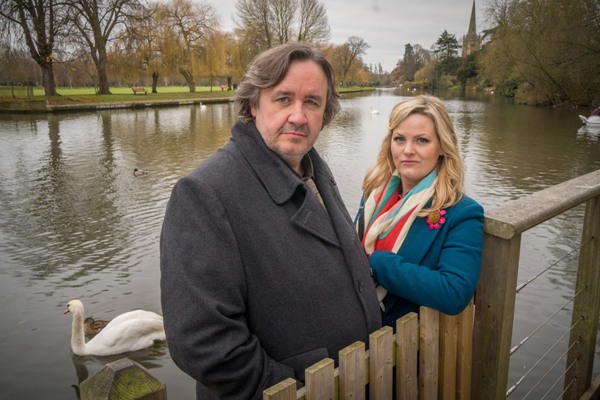 Having completed its second season earlier this year on BBC One with an average 22% share of audience* and a time slot win, comedy-drama-mystery series Shakespeare & Hathaway: Private Investigators will be returning to telly with two more seasons.
The series stars Mark Benton (Waterloo Road, Northern Lights, The Halcyon) and Jo Joyner (Ackley Bridge, EastEnders, Ordinary Lies) as Frank Hathaway and Luella "Lu" Shakespeare — the oddball private detective duo who solve murders and other crimes in Stratford-upon-Avon, birthplace of the Bard.
Filming begins this month for Season 3, which will launch in the UK in 2020. Season 4 follows in 2021.
The third season will find Shakespeare and Hathaway back on the case in Stratford, where cunning criminals make for complex cases, including ones that involve an aging heavy metal star with a pact with the devil, a Shakespeare museum full of deadly secrets, and a King Lear story set in a carpet warehouse, amongst others.
Assisting the private investigators is their dedicated thespian assistant Sebastian (Patrick Walshe McBride, Inspector Lewis), as well as PC Viola Deacon, a 20-something friend of Sebastian with boundless, puppy-like enthusiasm, played by new cast member Yasmin Kaur Barn (Man Like Mobeen).
Created by Father Brown alumni Paul Matthew Thompson and Jude Tindall, Shakespeare & Hathaway: Private Investigators will continue as its current seasons with ten 45-minute episodes for each of the two new seasons.
Stateside viewers can stream Season 1 on BritBox, the exclusive US SVOD service for the series, as well as its digital channels, including BritBox on Amazon.
Season 2 is available for TVOD streaming on Amazon Video and digital download on Apple Services (formerly known as iTunes).
* Share of audience is the percentage of viewers watching television during a particular time slot who are tuned into a specific program.
__________________

Add your comments on our Facebook and Twitter pages.
Share this post/page.





Outbound links on this page include non-affiliate links and affiliate links; the latter allows us to earn income for qualifying purchases and actions made through the links.

Shakespeare & Hathaway: Private Investigators Renewed for Two More Seasons