The popular mystery series Agatha Raisin is returning to Acorn TV next month with the brand new TV special, Agatha Raisin & the Haunted House.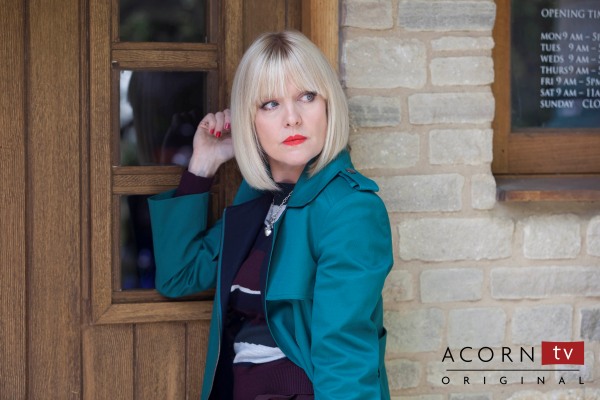 A favorite mystery series on both sides of the pond, Agatha Raisin, an Acorn TV Original series, will be back in the US and Canada with the start of its third season on October 28th, when it opens with Agatha Raisin & the Haunted House.
Based on M. C. Beaton's best-selling "Agatha Raisin Mysteries" novels, the series stars Emmy® nominee Ashley Jensen (Extras, Catastrophe, Ugly Betty) as the eponymous London PR wiz-turned-amateur sleuth, who gets entangled in mischief, mayhem, and murder after she opts for early retirement in Carsely, a small village in the Cotswolds.
In Series 3, Agatha Raisin is on the verge of a new era — reconciled with James Lacey (Jamie Glover, Endeavour) and launching her own detective agency. (Now she's a professional sleuth!) However, when the agency fails to attract any clients, James suggests they investigate a legendary haunted house as the perfect opportunity to drum up business. The thing is, no one was expecting their first case to be quite so spooky.
The other stories in Series 3 will debut on Acorn TV in early 2020, including feature-length adaptations of the novels Agatha Raisin & the Deadly Dance, Agatha Raisin & the Love from Hell, and Agatha Raisin & the Pig That Turned.
(The trailer below is for the original series launch.)
In addition to Ashley Jensen and Jamie Glover, the show's other regular cast members have reprised their roles for Series 3, including Mathew Horne (Gavin & Stacey) as Roy Silver, Jason Merrells (Safe House) as Sir Charles Fraith, Lucy Liemann (Rev.) as Sarah Bloxby, Matt McCooey (Doctors) as DC Bill Wong, Jason Barnett (Porridge) as DCI Wilkes, Katy Wix (Not Going Out) as Gemma Simpson, and Marcia Warren (Vicious) as Mrs Boggle.
Agatha Raisin & the Haunted House premieres in the US and Canada on Monday, October 28, exclusively on Acorn TV.
__________________

Add your comments on our Facebook and Twitter pages.
Share this post/page.





Outbound links on this page include non-affiliate links and affiliate links; the latter allows us to earn income for qualifying purchases and actions made through the links.

Agatha Raisin: TV Special to Premiere on Acorn TV in October