Cinemax announced today that filming has started on Lethal White, a four-part story that makes up the new season of the hit mystery-crime drama C.B. Strike.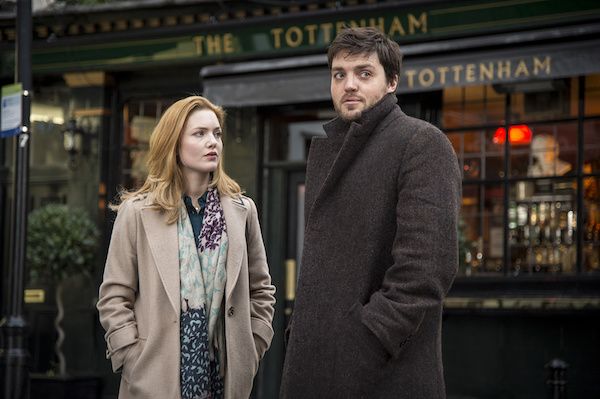 Lethal White is based on the fourth title in the best-selling "Cormoran Strike" series of crime novels by Robert Galbraith (pseudonym of J.K. Rowling).
Series leads Tom Burke (The Musketeers, War & Peace) and Holliday Grainger (Patrick Melrose, The Borgias) reprise their roles as the London private investigation team of Comoran Strike and Robin Ellacott. Also returning are Kerr Logan (Game of Thrones, Alias Grace) as Matthew Cunliffe and Natasha O'Keeffe (Peaky Blinders, Resistance) as Charlotte Campbell.
Joining them in Lethal White are Robert Glenister (Close to the Enemy, Hustle), Joseph Quinn (Les Misérables, Dickensian), and Nick Blood (Agents of S.H.I.E.L.D., The Bletchley Circle).
In the grips of psychosis, a young man named Billy Knight (Quinn) arrives in private detective Cormoran Strike's (Burke) office telling the story of a child he saw strangled many years ago. Strike is simultaneously hired by government minister Jasper Chiswell (Glenister) to investigate Billy's brother, Jimmy Knight (Blood), who is blackmailing him. As Strike and his business partner, Robin (Grainger), work to determine how the cases might be connected, Robin goes undercover in the House of Commons.
However, Robin's private life is unravelling as her relationship with Matthew (Logan) feels the full strain of her commitment to Strike and her work. At the same time, Strike has his own issues — a girlfriend who confesses she loves him and his complicated ex Charlotte (O'Keeffe), who is pregnant and back in the frame.
This is the second season of C.B. Strike for Cinemax and the third for BBC One. BBC One aired the first two stories — The Cuckoo's Calling and The Silkworm — as Season 1 and Career of Evil as Season 2, while Cinemax aired all three as its first season.
Sue Tully (Line of Duty) will direct all four episodes of Cinemax's Lethal White, produced in association with BBC One. J.K. Rowling executive produces through her Bronte Film & TV production company, with Neil Blair, Ruth Kenley-Letts, and Tommy Bulfin as executive producers for the BBC. The series is produced by Jackie Larkin (Mrs. Wilson), based on a script by Tom Edge (The Crown).
(Viewers in the US who haven't watched Season 1 — one of my favorite new shows of 2018 — can check it out on Cinemax or one of its digital channels, such as Cinemax on Amazon, or on Amazon Prime.)
Stay tuned for updates.
__________________

Add your comments on our Facebook and Twitter pages.
Share this post/page.





Outbound links on this page include non-affiliate links and affiliate links; the latter allows us to earn income for qualifying purchases and actions made through the links.

Lethal White: Filming Begins on New Season of Hit Crime Drama 'C.B. Strike'