Several new book adaptations are headed to telly in the form of British TV series and one-off dramas.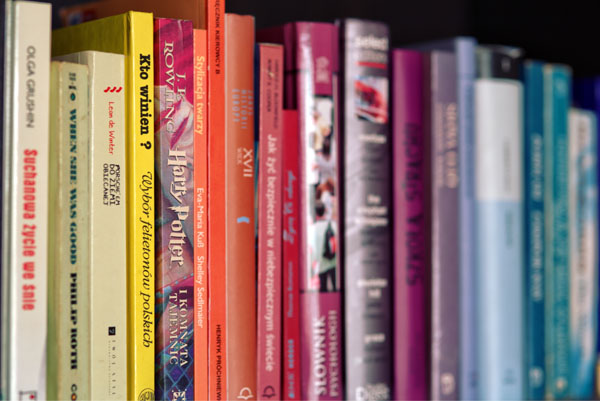 All Creatures Great and Small
Masterpiece on PBS is co-producing a brand new TV series based on the iconic collection of "All Creatures Great and Small" stories written by best-selling author James Herriot, the pen name of veterinarian Alf Wight.
The series, consisting initially of six episodes and a Christmas special, will shoot on location in Yorkshire, England.
The 50th anniversary of the original publication of All Creatures Great and Small is in 2020. Since the books were first published in 1970, they have have sold 60 million copies internationally. The stories chronicle the heartwarming and comedic adventures of a young country vet, with a cast of farmers and townsfolk who lived and worked in the Yorkshire Dales in the 1930s.
Commissioned by the UK's Channel 5, the new All Creatures Great and Small is a production of Playground (Howards End, Wolf Hall), with funding and support from Screen Yorkshire. The lead writer is Ben Vanstone (The Last Kingdom), the lead director is Brian Percival (Downton Abbey), and the producer is Richard Burrell (New Tricks). The Executive Producers are Colin Callender and Melissa Gallant for Playground, Hugo Heppell for Screen Yorkshire, and Rebecca Eaton for Masterpiece.
Stay tuned for news about casting and the series' premiere on PBS Masterpiece.
Because the Night
ITV has commissioned the suspense thriller Because the Night, inspired by the novel Burial written by Luther creator Neil Cross, who is also penning the scripts for the new series.
Produced by Euston Films, Because the Night is a chilling four-part story of murder — and perhaps ghosts — which exposes the quiet terror of a man trying to escape his past. Nathan is a well-meaning but directionless man with a terrible secret, one that he has long prayed would stay buried and for which he's long worked hard to make recompense.
Almost a decade into his new and devoted married life, Nathan is rocked to the core when Bob, an unwelcome face from the past, turns up on his doorstep with shocking news — triggering a series of catastrophic decisions that drive the narrative of psychological suspense, dread, love, and possible redemption.
Niall MacCormick (The Durrells in Corfu) will direct all four hour-long episodes. Kate Harwood (Hard Sun) and Noemi Spanos (Dublin Murders) will executive produce the drama for Euston Films.
It's early days yet, so stay tuned for updates about whether a US channel, streaming or linear TV, picks up Because the Night.
Deep Water
Adapted from Paula Daly's series of "Windermere" novels, Deep Water takes look at modern families and the pressure of juggling busy lives, and explores what it means to be a perfect mother.
The series is set against the beautiful and imposing backdrop of the Lake District, and follows the lives of three complex and vibrant women, all connected by the school gates — each has children around the same age — and all struggling to keep their heads above very deep water.
International Emmy® winner Anna Friel (Marcella, Butterfly) plays Lisa Kallisto, a chaotic and disorganized mother of three who juggles her hectic family life with running a business, which keeps her occupied at all hours. Lisa is married to Joe, who works night and day as a taxi driver.
RTS award-winning and BAFTA-nominated Sinead Keenan (Little Boy Blue, Being Human) plays physiotherapist Roz. She once had a thriving private practice, but the debts run up by her soulmate Winston leave the family facing financial ruin. Roz is offered help from an unexpected quarter, and the decision she makes could change the course of her life.
And Screen Nation Rising Star Rosalind Eleazar (Howards End, Rellik) plays Kate Riverty, a wealthy and attractive young woman with a highly-organized family life in the stunning home overlooking Lake Windermere that she shares with her husband Guy and children Lucinda and Fergus. Kate seems to have it all, but could it be that she and her life are too good to be true?
Kate invites her friend Lisa and husband Joe to dinner, but the evening goes spectacularly wrong for Lisa after she makes a spontaneous decision.
Written by Anna Symon (Mrs Wilson), the drama is produced by Rebecca Hodgson (Good Cop) and directed by Harry Wootliff (Only You). The Executive Producers are Karen Wilson (The Tunnel), Diederick Santer (Grantchester), and Anna Symon.
Deep Water launches on ITV in August.
There's no word yet about a US channel picking up the series, so stay tuned for updates.
Elizabeth Is Missing
Two-time Academy Award winner Glenda Jackson (Women In Love, Elizabeth R) makes her long-awaited return to television in Elizabeth Is Missing, a one-off feature-length adaptation of Emma Healey's best-selling novel of the same name. The story combines a gripping mystery with a tender yet unflinching exploration of one woman's struggle with dementia.
In marking her return to the small screen after more than 25 years, Jackson will star in the lead role of Maud, who, convinced that something terrible has happened when her best friend Elizabeth goes missing, sets out to solve the mystery. But with her dementia worsening, unfinished business being unearthed, and the past and present starting to merge, Maud's search takes on a poignant urgency. Will Maud be able to discover the truth about Elizabeth before she loses herself completely?
A project of STV Productions, the 90-minute drama will be written by Andrea Gibb (Swallows and Amazons), directed by Aisling Walsh (Room at the Top), and produced by Chrissy Skinns (The Last Kingdom). The Executive Producers are Sarah Brown and Andrea Gibb for STV Productions and Gaynor Holmes for BBC One.
Filming starts this summer in Scotland, and further casting will be announced in due course.
Stay tuned for news about whether a US channel picks up Elizabeth Is Missing.
The Pale Horse
Following her adaptations of And Then There Were None, The Witness for the Prosecution, Ordeal by Innocence, and The ABC Murders, BAFTA nominee Sarah Phelps is tackling her next adaptation of an Agatha Christie title: The Pale Horse. This new two-part drama is a production of Mammoth Screen and Agatha Christie Limited for BBC One, co-produced by US partner Amazon Prime Video.
Said Phelps:
"Written in 1961, against the backdrop of the Eichmann Trial, the escalation of the Cold War and Vietnam, The Pale Horse is a shivery, paranoid story about superstition, love gone wrong, guilt and grief. It's about what we're capable of when we're desperate and what we believe when all the lights go out and we're alone in the dark."
When a mysterious list of names is found in the shoe of a dead woman, one of those named, Mark Easterbrook, begins an investigation into how and why his name came to be there. He is drawn to The Pale Horse, the home of a trio of rumored witches in the tiny village of Much Deeping. Word has it that the witches can do away with wealthy relatives using the dark arts alone, but as the bodies pile up, Mark is certain there has to be a rational explanation. Plus, who could possibly want him dead?
The drama will be directed by Leonora Lonsdale (Beast) and produced by Ado Yoshizaki Cassuto (City of Tiny Lights). The Executive Producers are Sarah Phelps, Damien Timmer and Helen Ziegler for Mammoth Screen, James Prichard and Basi Akpabio for Agatha Christie Limited, and Tommy Bulfin for BBC.
Casting will be announced at a later date.
Stay tuned for updates, including the drama's premiere date on Prime Video.
Us
Filming has started on Us, the BBC One drama adapted by David Nicholls from his hugely popular novel of the same name.
The four-part drama, which features Nicholls' signature mix of humor and heartbreak, stars Tom Hollander (Baptiste, The Night Manager) as Douglas Petersen, who is blindsided when his wife Connie (Saskia Reeves, Luther, Shetland) tells him she's not sure she wants to be married to him anymore. Agreeing to still go on their planned family grand tour of Europe, Douglas vows to win back the love of his wife and to repair his troubled relationship with their son Albie (Tom Taylor, Doctor Foster, The Dark Tower).
Sofie Gråbøl (The Killing, Fortitude), Iain De Caestecker (Agents of S.H.I.E.L.D, The Fades), and Thaddea Graham (Curfew, The Letter for the King) also costar in the series produced by Drama Republic and Bandstand Productions.
Us is executive produced by Greg Brenman and Roanna Benn for Drama Republic, Tom Hollander and Hannah Pescod for Bandstand Productions, Jo McClellan for BBC One, and David Nicholls. It is directed by Lisa Siwe (Temple, Modus). Filming will take place in London, Amsterdam, Venice, Barcelona, and Paris.
Stay tuned for news about whether a US channel picks up Us.
__________________

Add your comments on our Facebook and Twitter pages.
Share this post/page.

Brit TV News Bits: Upcoming Programs Based on Books