Dame Penelope Keith returns to telly with another delightful travel series centered on villages in Britain, only this time bragging rights and money are involved.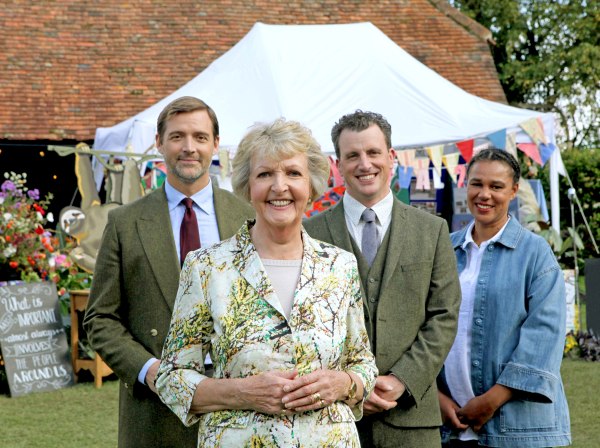 Two-time BAFTA Awards winner Penelope Keith (To the Manor Born, Executive Stress) has a thing for British villages.
A proud villager herself, she presented the first of her travelogue series, Penelope Keith's Hidden Villages, starting in 2014, followed by Penelope Keith's Hidden Coastal Villages in 2017.
Her latest is Penelope Keith's Village of the Year, a travel and competition series in which she and her team of judges scour the length and breadth of Britain to give one village the coveted crown plus prize money of £10,000.
The judges are archaeologist and village historian Alex Langlands, garden designer and RHS Chelsea Garden Show gold medal winner Juliet Sargeant, and craft expert and village dweller Patrick Grant.
In the episodes that make up the competition's heats, Penelope and the judges each visit one of four villages out of the 76 that were shortlisted — organized across the 24 episodes into the Western, South East, Central, and Northern Zones — and collectively select the one that will continue on to the zone's semi-final. Ultimately, only one the four semi-finalists will be named Village of the Year and receive the £10,000 in the series finale.
The first episode finds Penelope in Charmouth in West Dorset, where she discovers a type of dinosaur fossil that can be found along the village's Jurassic coastline. Patrick visit Redbrook, the village that sits directly on the English-Welsh border and is "split down the middle by the River Wye" with England on one side and Wales on the other. On the Devon-Cornwall border is the village of Lydford, where Juliet learns where the name "Saxon" comes from. And Alex heads to North Wales to the village of Aberdaron, which is sometimes referred to as "the land's end of Wales" due to its remoteness.
As with the other programs in her travel series, Penelope Keith's Village of the Year will fire up your wanderlust in all kinds of ways. It is filled with spectacular aerial views and gorgeous on-the-ground shots of the villages, and chats with locals who share interesting and often funny anecdotes and tidbits of history about the villages. The whole thing is fun and charming and well worth a watch.
Penelope Keith's Village of the Year premieres in the US with its first four episodes on Monday, June 17, exclusively on Acorn TV and the Acorn TV channel on Amazon. The series' debut continues on consecutive Mondays with four episodes each.
__________________

Add your comments on our Facebook and Twitter pages.
Share this post/page.

Penelope Keith's Village of the Year: Delightful Travel Series Set to Premiere in the US