Midsomer Murders, one of the most popular British mystery series on telly today, now has its very own channel on this side of the pond. It's on Pluto TV, and it's free!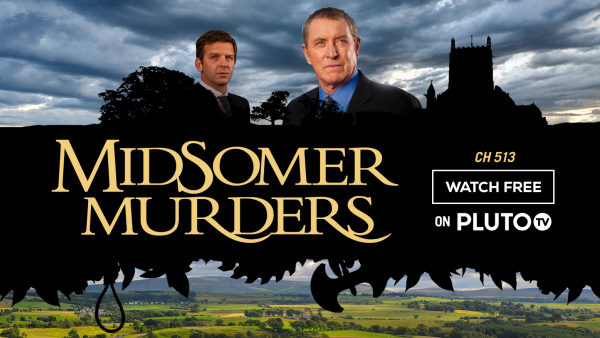 As I write this, "Murder on St. Malley's Day," the fourth episode from Season 5 of Midsomer Murders, is on in the background.
It's streaming live on channel 513 of Pluto TV, the ad-supported video-on-demand service in the US, available on all mobile, web, and connected TV streaming devices.
The free Midsomer Murders channel is great in and of itself, but Pluto TV goes one better by also giving viewers the option to stream episodes on demand. Currently available are all the ones in Seasons 1-13, which starred John Nettles as DCI Tom Barnaby, with Daniel Casey as DS Gavin Troy, John Hopkins as DS Daniel Scott, and Jason Hughes as DS Ben Jones.
The long-running series is based on the "Chief Inspector Barnaby" mystery novels by Caroline Graham, and follows Causton CID's lead detective as he and his sidekick investigate murders in the quaint (and fictional) English county of Midsomer, lovingly called the deadliest county in the country by the show's fans. Its long list of guest stars includes Roger Allam (Endeavour), Selina Cadell (Doc Martin), and Una Stubbs (Sherlock).
In addition to Midsomer, Pluto TV's current British TV content includes Going Postal, Idris Elba: King of Speed, Man Stroke Woman, and The Palace, amongst others.
And even more British TV shows are debuting on Pluto TV starting this month, including Primeval, Robin Hood, and Classic Doctor Who. For further details, read this article.
Now go watch you some Midsomer Murders on Pluto TV.
__________________

Add your comments on our Facebook and Twitter pages.
Share this post/page.

Midsomer Murders Has Its Own Free Channel on Pluto TV