It's just a matter of hours until Series 5 of Line of Duty, one of the best television crime thrillers ever, premieres in the US with all. six. episodes.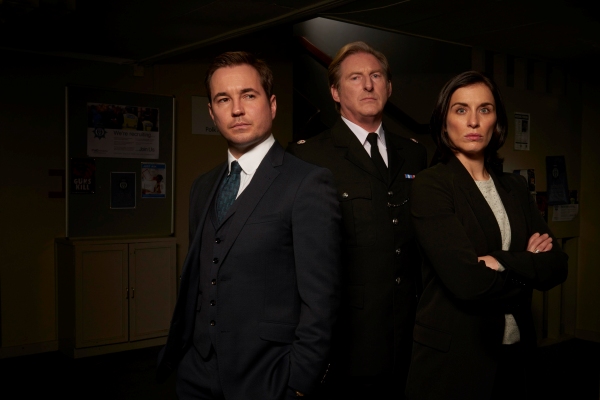 Jed Mercurio has done it again.
The creator and writer of Line of Duty has delivered another brilliant season of the crime thriller — one filled with heart-pounding and mess-with-your-mind action, not to mention red herrings and acronyms galore.
It's no wonder, then, that Series 5 is the highest-rated program of 2019 to date in the UK. The series opener killed it with a consolidated 13.2 million viewers, as did the season finale, which garnered 9.1 million sets of eyeballs in the overnights — the largest such audience both of this year and since last year's finale of Bodyguard, which genius Mercurio also created.
Set two years after the events in Series 4, the new season of Line of Duty opens with a seized-drugs transport being hijacked and the AFOs (authorized firearms officers) being gunned down in cold blood by balaclava-wearing killers. Three of the cops die in the line of duty at the scene, one survives.
DS Steve Arnott (Martin Compston, In Plain Sight), DI Kate Fleming (Vicky McClure, Broadchurch), and Supt Ted Hastings (Adrian Dunbar, Blood) of anti-corruption unit AC-12 suspect corrupt officers leaked information about the convoy, as it's the only way the criminals could have known about it. So AC-12 opens an investigation into police collusion.
Meanwhile, PCC (Police and Crime Commissioner) Rohan Sindwhani (Ace Bhatti, No Offence) is overseeing the Met's organization-wide investigation into systemic corruption of police by OCGs (organized crime groups).
Off the job, Ted is separated from his wife, living in a hotel, and seriously strapped for cash; Fleming and her husband are back together, giving marriage (and parenthood) another go; and Steve, while fit for duty, is still taking painkillers for the injuries he sustained during AC-12's last investigation.
On the job, AC-12's inquiries turn up information that points them to John Corbett (Stephen Graham, Boardwalk Empire), the ruthless leader of an OCG. Well, it just so happens that he's also a UCO (undercover officer). OMG!
Thus Corbett becomes the focus of AC-12's investigation.
As their probe continues, members of AC-12 go further and further down the rabbit hole while suspicions abound and the dead body count rises.
Guest stars in Series 5 include Rochenda Sandall (Love, Lies and Records), Sian Reese-Williams (Hidden), Elizabeth Rider (Informer), Susan Vidler (Shetland).
Joining the series' regular cast are Taj Atwal (Stella) as PC Tatleen Sohota and Richard Pepple (Beasts of No Nation) as PS Kyle Ferringham.
And returning cast members include Maya Sondhi (The Split) as PC Maneet Bindra, Polly Walker (Prisoners Wives) as Special Counsel Gill Biggeloe, Aiysha Hart (A Discovery of Witches) as DS Sam Railston, and Andrea Irvine (Red Rock) as Ted's wife, Roisin Hastings.
If you happen to be a Line of Duty newbie, know that Series 5 works as a standalone season, so you can enjoy it without having watched any of the previous four. However, if you start from the beginning, you'll have the benefit of recognizing various plot threads as they carry through to the new season.
Line of Duty: Series 5 premieres in the US tomorrow, Monday, May 13, exclusively on Acorn TV, where Series 1-4 are also available for streaming.
__________________

Add your comments on our Facebook and Twitter pages.
Share this post/page.

Binge-Watch of the Week: Utterly Gripping 'Line of Duty: Series 5'