Mark your calendars for the premiere of The Spanish Princess, the highly-anticipated follow-up to The White Queen and The White Princess, coming to Starz in May.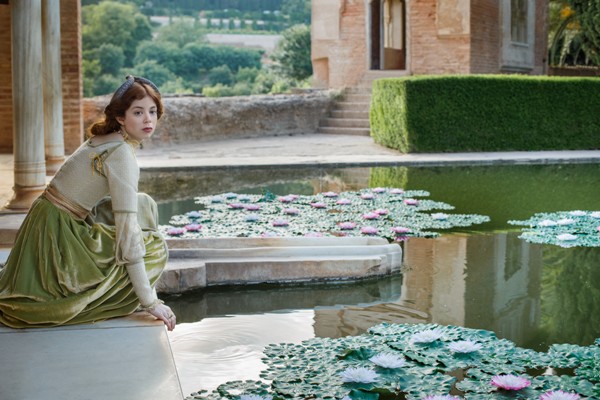 As with its predecessors, The Spanish Princess is adapted from titles in Philippa Gregory's global best-selling series of "Plantagenet and Tudor" novels — specifically The Constant Princess and The King's Curse — and tells its story from the point of view of the women. This limited series also sheds light on a previously untold corner of history: the lives of people of color living and working in 16th century London.
The title character is Catherine of Aragon (Charlotte Hope, Game of Thrones, The Musketeers), the poised, kind, and strong-willed young Princess of Spain, who has been promised in marriage to the English Prince Arthur (Angus Imrie, Kingdom) since she was a child. Descended from Duke John of Gaunt of the House of Lancaster, she is driven by an unwavering sense of her true destiny as Queen of England and by the desire to emulate her mother, Queen Isabella (Alicia Borrachero, Morocco: Love in Times of War).
The 17-year-old Catherine arrives in England with her diverse court, including ladies-in-waiting Lina de Cardonnes (Stephanie Levi-John, Striking Out), a Spanish noble of African-Iberian descent, and the sweet and free-spirited Rosa (newcomer Nadia Parkes). A foreigner in an unfamiliar court, Catherine stands her ground against the formidable Tudor matriarchs — Arthur's grandmother Margaret Beaufort (Dame Harriet Walter, Black Earth Rising) and mother Queen Elizabeth (Alexandra Moen, Fortitude) — and slowly finds a connection with the boy she has been betrothed to since she was three years old.
But then tragedy strikes. Prince Arthur, now her husband, dies suddenly, and Catherine's future in the Tudor court is threatened. In order to secure her place in the royal family, she devises an audacious plan and sets her sights on the new heir, the charismatic and headstrong Prince Harry (Ruairi O'Connor, Delicious), who will one day rule as King Henry VIII.
Costars in The Spanish Princess include Aaron Cobham (Cold Feet) as Spanish soldier Oviedo, Laura Carmichael (Downton Abbey) as Margaret Pole, Elliot Cowan (Da Vinci's Demons) as King Henry Tudor, Alan McKenna (Save Me) as Richard Pole, and Georgie Henley ("The Chronicles of Narnia" films) as Margaret Tudor.
Also featuring in the series are Philip Cumbus (Girlfriends) as Thomas Wolsey, Richard Pepper (The Same Sky) as Thomas Boleyn, Earl of Wiltshire, Olly Rix (Our Girl) as Edward Stafford, and Jordan Renzo (Class) as Charlie Brandon.
Season 1 of The Spanish Princess premieres in the US on Sunday, May 5, at 8 PM ET/PT, exclusively on Starz. The series debuts on the same date in the UK and Germany on the Starzplay platform.
__________________

Add your comments on our Facebook and Twitter pages.
Share this post/page.

The Spanish Princess: Starz Sets Premiere Date for Third Installment of Historical Drama Series