St. Patrick's Day is this Sunday, so mark the occasion by watching some Irish TV programs while sipping green-colored beverages.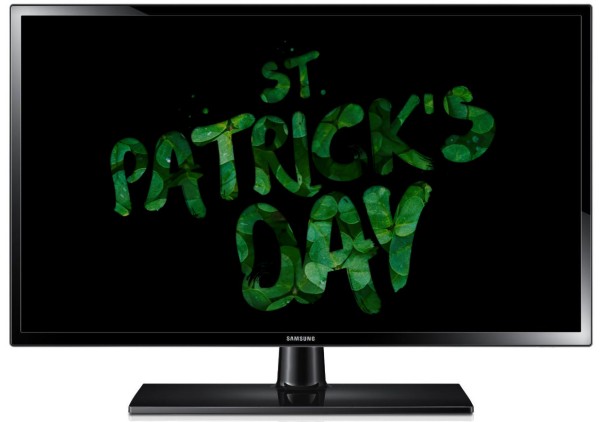 Since St. Patrick's Day is observed on the 17th of March, here's a list of 17 Irish shows. There's a bit of something for everyone, from comedies and dramas, to factual and documentary series, as well as shows that will fire up your wanderlust, not to mention your taste buds.
50 Ways to Kill Your Mammy
To see what a relationship between an Irish lad and his mum can be, look no further than to this sweet and funny reality show in which radio and TV personality Baz Ashmawy takes his septuagenarian mum, Nancy, on a series of adventures around the world. He has top billing, but she is the real star. Where to watch in the US: Prime Video
Can't Cope, Won't Cope
The disintegration of an unhealthy friendship is the theme of this dramedy, which follows Aisling (Seána Kerslake, Dollhouse) and Danielle (Nika McGuigan, Philomena) — 20-something BFFs living and partying in Dublin, whose codependent relationship begins to unravel and puts them at odds with each other. Where to watch in the US: Netflix
Catherine's Family Kitchen
Irish TV chef, food writer, and cookbook author Catherine Fulvio (A Taste of Home: The Ballyknocken Cookbook) is the proprietor of the Ballyknocken House & Cookery School in County Wicklow and the presenter of this 8-part series, in which she creates dishes for a romantic picnic, a visit from surprise guests, children's birthday parties, and more. Where to watch in the US: Prime Video
Shown in Irish with English subtitles, this award-winning drama follows Cathal Mac Iarnáin (Diarmuid de Faoite, Kings), the crime reporter for a TV news station in Galway, whose brusque manner, dedication to his craft, and constant crossing of boundaries help him with news stories but not crime victims, colleagues, the Gardaí, or his wife Mairéad (Maria Doyle Kennedy, Orphan Black) and their children. For more details, read this article. Where to watch in the US: Amazon Video, MHz Choice, MHz Choice on Amazon
Daniel & Majella's B&B Road Trip
In this delightful travel series that's as much about the people as the places, multiple award-winning Irish singer Daniel O'Donnell and his wife Majella visit special sites (like "a protected area for leprechauns") and participate in local activities chosen by the owners of the various B&Bs where the couple stays during their road trip across Ireland. Where to watch in the US: Prime Video
Derry Girls
One of my favorite new series of 2018, this utterly hilarious comedy set against the backdrop of The Troubles in the early 1990s follows the comic misadventures of four Irish girlfriends and one gal's tag-along English boy cousin as they navigate life in Derry. Where to watch in the US: Netflix
Narrated by Brendan Gleeson (The Guard), this docudrama series tells the stories behind the seven signatories of the 1916 Easter Proclamation — Tom Clarke (Rory Mullen, Game of Thrones), James Connolly (Lorcan Cranitch, Ballykissangel), Joseph Plunkett (Frank Bourke, The Last Kingdom), Sean Mac Diarmada (Seán T. Ó Meallaigh, Vikings), Thomas McDonagh (Stephen D'Arcy, Silent Witness), Eamonn Ceannt (Marcus Lamb, Rebellion), and Patrick Pearse (Tadhg Murphy, Black Sails). Where to watch in the US: Prime Video
Garda Down Under
This 6-part reality series follows seven former gardaí who moved from Ireland to Western Australia to work for the WA Police, the world's largest police district. They were recruited to help maintain law and order in the state, which has a rapidly growing population and a land mass that is 30 times the size of the island of Ireland. Where to watch in the US: Best of British Television on Amazon
Great Irish Journeys with Martha Kearney
This 4-part documentary, newly-available for streaming on this side of the pond, follows Dublin-born journalist Martha Kearney as she walks in the footsteps of 19th-century Irish artist and geologist Georges Victor Du Noyer, who spent his life charting the landscape, people, and buildings of Ireland. Where to watch in the US: Prime Video
The Hanging Gale
Set in Donegal during Ireland's Great Famine of 1846, this historical drama stars the McGann brothers — Joe (Night & Day), Mark (The Grand), Paul (Doctor Who), and Stephen (Call the Midwife) — as the Phelan brothers, tenant farmers who try to save their farm and family from both the ravages of the potato blight and the injustices of the landholding system. Michael Kitchen (Foyle's War) costars as the fair-minded-turned-vengeful land manager Captain Townsend. Where to watch in the US: Amazon Video
Adapted from the "Quirke" novels by Benjamin Black, this Irish noir mystery-crime drama series set in 1950s Dublin stars Gabriel Byrne (In Treatment) as Quirke, the chief pathologist for the morgue, who investigates suspicious deaths in and around the city. Where to watch in the US: Amazon Video, BritBox, BritBox on Amazon
Rachel Allen's Dinner Parties
In this 10-part series, celebrity chef and cookbook author Rachel Allen (Rachel's Irish Family Food) helps people be hosts with the most as she teaches them how to throw perfect dinner parties. Where to watch in the US: Tubi TV (Also on Tubi: Rachel Allen Home Cooking)
Raw
Lisa McGee, the creator of the breakout hit comedy series Derry Girls, also came up with the idea for this soap-ish drama that follows the goings-on at the eponymous (and fictional) restaurant in Dublin and the lives of its staff. The show stars Charlene McKenna (Ripper Street) and Keith McErlean (Trivia). Where to watch in the US: Prime Video, Tubi TV
Red Rock
The binge to end all streaming binges on this list (at 230 episodes) is this addictive crime drama-soap opera series, which revolves around the eponymous (and fictional) town's local Garda station while following the feud between the Kiely and Hennessy families. Where to watch in the US: Prime Video
Narrated by Carrie Crowley (Acceptable Risk), this factual series takes viewers inside the famed 5-star hotel located in the heart of Dublin. Cameras follow the staff as they prepare for high season and the holidays, celebrate the hotel's 190th anniversary, and make wedding proposals and honeymoons extra special for their guests. Where to watch in the US: Prime Video
Amy Huberman (Finding Joy) stars in this drama as Tara Rafferty, a lawyer who begins to rebuild her life after leaving her fiancé (Rory Keenan, Versailles), whom she found in bed with another woman. With the support of her mentor (Neil Morrissey, Line of Duty), Tara opens her own practice while her now-ex attempts a reconciliation. Where to watch in the US: Amazon Video, Acorn TV, Acorn TV on Amazon
Tales of Irish Castles
Simon Delaney (Moone Boy) presents this 6-part documentary series that reveals the stories behind more than a dozen "monuments to domination and power" and their role in Ireland's history — from the Anglo-Norman invasion of Ireland in 1169, when castle-building began on the Emerald Isle, to the famine and social strife in the country during the 19th and 20th centuries, which left many an iconic Irish castle in ruins. Where to watch in the US: Netflix
For more titles, visit the "Irish TV Shows Available for Streaming in the US" page.
__________________

Add your comments on our Facebook and Twitter pages.
Share this post/page.

Celebrate St. Patrick's Day with These 17 Irish TV Shows