Acorn TV makes its first renewal in giving Agatha Raisin a third season, with star Ashley Jensen returning for the new episodes.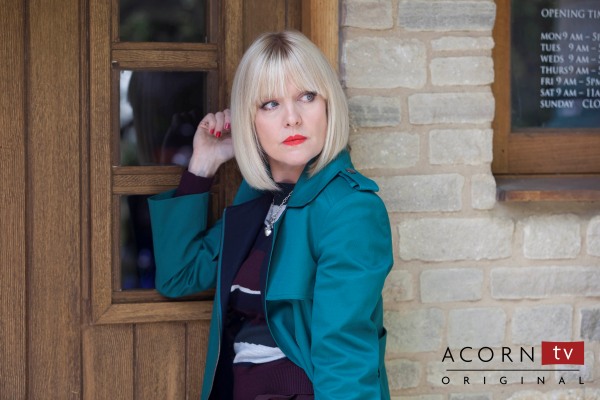 Based on M. C. Beaton's best-selling "Agatha Raisin Mysteries" novels, the series stars Emmy® nominee Ashley Jensen (Extras, Catastrophe, Ugly Betty) as the eponymous London PR wiz-turned-amateur sleuth, who gets entangled in mischief, mayhem, and murder after she opts for early retirement in a small village in the Cotswolds.
Said Jensen:
"I am beyond excited to be returning to my high heels with another series of Agatha Raisin with Acorn TV. I can't wait to get started on her next fun and frolicsome journey."
Production begins in mid-March and goes through mid-July 2019.
In Series 3, Agatha Raisin is on the verge of a new era — reconciled with James Lacey (Jamie Glover, Endeavour) and launching her own detective agency. Could this be the start of her long-craved-for new life?
While Agatha Raisin: Series 2, the first series commissioned by Acorn TV and the first Acorn TV Original, adapted three of Beaton's novels, Series 3 will adapt four — Agatha Raisin & the Haunted House, Agatha Raisin & the Deadly Dance, Agatha Raisin & the Love from Hell, and Agatha Raisin & the Pig That Turned — into three feature-length episodes and a winter special.
Others of the show's regulars will reprise their roles for Series 3 include Mathew Horne (Gavin & Stacey) as Roy Silver, Jason Merrells (Safe House) as Sir Charles Fraith, Lucy Liemann (Rev.) as Sarah Bloxby, Matt McCooey (Doctors) as DC Bill Wong, Jason Barnett (Porridge) as DCI Wilkes, Katy Wix (Not Going Out) as Gemma Simpson, and Marcia Warren (Vicious) as Mrs Boggle.
Stay tuned for updates about when Agatha Raisin: Series 3 will launch in the US.
For viewers in the UK, Sky will premiere Series 2 in summer 2019.
__________________

Add your comments on our Facebook and Twitter pages.
Share this post/page.

Agatha Raisin: Acorn TV Renews Popular British Mystery for Series 3