New cast members join two drama series, a slew of guest stars appears in a hit Brit mystery series, and a popular drama series is set to return with its fourth season.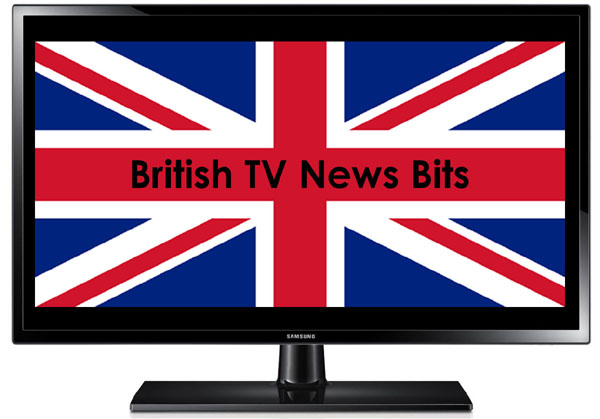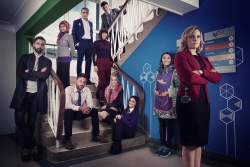 Ackley Bridge
Robert James-Collier (Downton Abbey, The Level, Coronation Street) and Charlie Hardwick (Emmerdale, The Royal, Billy Elliot) are joining the cast of Channel 4's award-winning drama, and their characters are bound to ruffle some feathers.
Series 3 finds the school taken over by The Valley Trust, which brings in deputy head teacher Martin Evershed (James-Collier) and director of behaviour Sue Carp (Hardwick) to whip the pupils into shape, while Mandy Carter (Jo Joyner, Shakespeare and Hathaway: Private Investigators) remains at the helm of the school, but only just.
The eight-episode third season has begun filming and will debut in the UK later this year. It will most likely screen in the US on Acorn TV and the Acorn channel on Amazon, where the first two seasons are currently available for streaming. (Photo: Acorn TV)
Death in Paradise
Season 8 of this award-winning BBC series premiered in the UK on 10 January, so it should only be a matter of six months or so for it to arrive on this side of the pond with eight new clever murder mysteries (assuming the US release date is similar to that for the past few seasons).
Most of the show's regulars return for the new season, including Ardal O'Hanlon (My Hero) as DI Jack Mooney, Josephine Jobert (Cut) as DS Florence Cassell, Tobi Bakare (The Tunnel) as Officer JP Hooper, Don Warrington (The Five) as Commissioner Selwyn Patterson, and Elizabeth Bourgine (Elite Squad) as Catherine Bordey. The exception is Danny John-Jules (Red Dwarf), the last original cast member, who left the series at the end of Season 7. In his stead is Shyko Amos (A Very English Scandal), who plays Officer Ruby Patterson, the newest member of the Saint Marie police. Also joining the cast is Leemore Marrett Jr. (Silent Witness) as Patrice Campbell, the man who has captured Florence's heart.
As for the new season's guest stars, they include:
Episode 1 — Rebecca Front (Love, Lies and Records), Robert James-Collier (Downton Abbey), Andrew Tiernan (Marcella), Diveen Henry (No Offence), Chizzy Akudolu (Holby City), and Ewen Cummins (Vera)
Episode 2 — Jonathan Kerrigan (Stan Lee's Lucky Man), Charlotte Ritchie (Call the Midwife), Jonas Armstrong (Troy: Fall of a City), Shelley Conn (Liar), Blake Harrison (Prime Suspect: Tennison), and Sule Rimi (Black Earth Rising)
Episode 3 — Kevin Doyle (Downton Abbey), Navin Chowdhry (Our Girl), Olivia Poulet (Back), Ron Cook (Mr. Selfridge), and Kimberley Nixon (Fresh Meat)
Episode 4 — Anna Chancellor (Ordeal by Innocence), Sara Powell (Little Boy Blue), Susy Kane (Stan & Ollie), Louis Greatorex (Last Tango in Halifax), Robert Portal (Collateral), and Margaret Clunie (Victoria)
Episode 5 — Zackary Momoh (No Offence), Nicole Lecky (Sense8), Nneka Okoye (The A List), and Indra Ove (Unforgotten)
Episode 6 — Saskia Reeves (Shetland), Angus Deayton (Waterloo Road), and Alastair Mackenzie (Monarch of the Glen)
Episode 7 — Adelle Leonce (C.B. Strike), Terence Maynard (Spy), Errol Trotman Harewood (Greenhouse Academy), Richard Blackwood (EastEnders), and Richard Pepple (The Long Song)
Episode 8 — Dan Ryan (Innocent), Tristan Sturrock (Doc Martin), Karl Theobald (Sick Note), Hari Dhillon (Holby City), and Lisa McGrillis (George Gently)
Stay tuned for updates about the US premiere of Season 8 and catch up on previous seasons at Amazon Video, iTunes, Netflix, and Vudu, and on public TV stations, where available.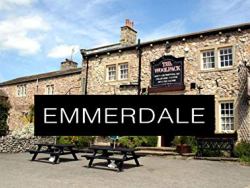 Emmerdale
Dean Andrews (Life on Mars, Ashes to Ashes, Last Tango in Halifax) is joining the cast of the popular ITV soap opera. While details are being kept hush hush until his debut this spring, Jane Hudson, the show's executive director, has stated that "his character is certainly going to shake things up for some of our villagers."
In the meantime, stateside viewers can catch up on the goings-on in the eponymous (fictional) Yorkshire village on BritBox and the BritBox channel on Amazon. (Image: BritBox/Amazon)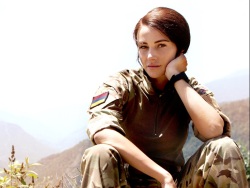 Our Girl
Michelle Keegan (Tina and Bobby, Ordinary Lies, Coronation Street) is reprising her role as army medic Georgie Lane for Series 4 of this BBC One contemporary military drama, which begins filming in April.
Set a year after the events of Series 3, Part 2 (not yet available in the US), the new six-part season finds Georgie promoted to Sergeant, happily living back home with her family in Manchester, and training a group of new medics. She's clear that she won't be joining 2 Section for their upcoming deployment to Afghanistan, until a near-fatal accident causes her to rethink her decision.
Viewers in the US can watch Our Girl's pilot episode and Season 1 (which starred EastEnders' Lacey Turner as Combat Medical Technician Molly Dawes), as well as Keegan's Seasons 2 and 3-1, on BritBox and the BritBox channel on Amazon. (Image: BritBox)
__________________

Add your comments on our Facebook and Twitter pages.
Share this post/page.

Brit TV News Bits: Ackley Bridge, Death in Paradise, Emmerdale & Our Girl