You might be thinking, "Concludes? When did it begin?" My bad; I missed the premiere, too. But Ovation has this docudrama on linear TV and on-demand, and it's worth checking out.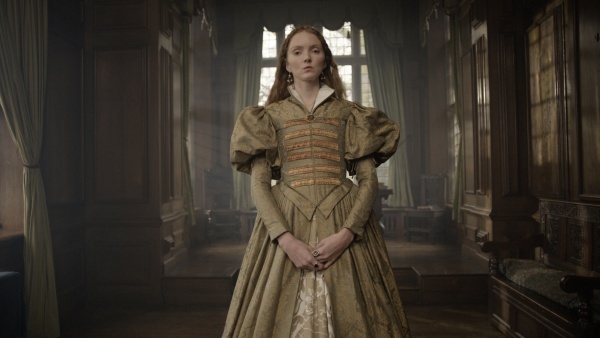 When it comes to Queen Elizabeth I, much has been written and filmed about her already, but given her status as "England's greatest queen," it's likely there will be more to come.
One recent television production is Elizabeth I & Her Enemies, a three-part docudrama presented by historians Dr. Suzannah Lipscomb (Hidden Killers) and Dan Jones (Britain's Bloodiest Dynasty). In it they aim to bring out less-well-known parts of the story about how the monarch was under threat, pretty much from the day she was born in 1533 until her death in 1603.
The first episode, "Battle for the Throne," centers on the the young Princess Elizabeth, who as a toddler is declared a bastard and banished from the royal court by her father, King Henry VIII, following the beheading of her mother, Anne Boleyn.
Although these humiliations during Elizabeth's formative years are traumatic, it is after Henry's death in 1547 that ill intentions and threats toward her become more pronounced and obvious to those sworn to protect her, if not to Elizabeth herself, played by Lily Cole (Doctor Who, Snow White and the Huntsman).
Until the Protestant Elizabeth ascends the throne and is crowned Queen of England, Wales, and Ireland in 1558, her true enemies include Thomas Seymour, the fourth husband of Henry VIII's widow, Catherine Parr; Queen Mary I, the Catholic daughter of Henry and his first wife, Catherine of Aragon, and Elizabeth's sister; and members of the Privy Council, such as Sir Robert Tyrwhitt.
"The Enemy Within" finds Queen Elizabeth I facing pressure from her advisers to marry and the increasing battles between Protestants and Catholics across England. But threats to both her throne and her life come from people who have the power to make them reality, and it is the job of Elizabeth's principal adviser and spymaster, William Cecil and Francis Walsingham, to ensure that plots by Mary, Queen of Scots and Pope Pius V don't succeed.
And in "Death of a Dynasty," Elizabeth must prevent King Philip II of Spain, at the instigation of Pope Sixtus V, from invading England with his terrifying Spanish Armada. But probably the most heartbreaking act of treason the Queen encounters comes from one of her favorite courtiers, Lord Essex, two years before her death at the age of 69.
As Lipscomb remarks, given all the failed plots and schemes against Elizabeth during her lifetime, "Maybe, just maybe, God really was on her side."
The third and final installment of Elizabeth I & Her Enemies premieres this Saturday, September 29, at 10 PM ET, on Ovation. It will be available for on-demand viewing the next day, along with the first two episodes, through the Ovation NOW app.
__________________

Add your comments on our Facebook and Twitter pages.
Share this post/page.

Elizabeth I & Her Enemies: Lily Cole Docudrama Concludes This Weekend