Travel documentarian Michael Palin experiences "the most revealing journey" of his life in North Korea, and National Geographic Channel brings you his story this weekend.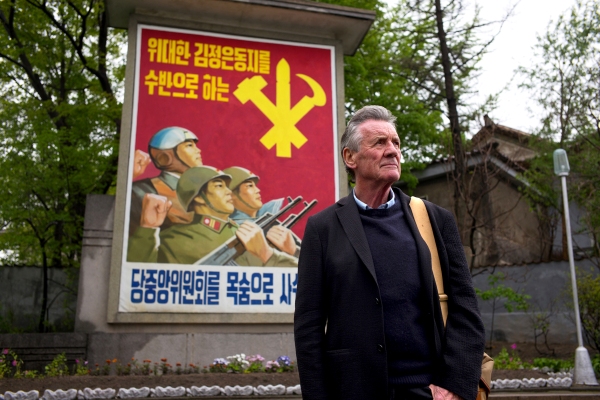 Monty Python actor, BAFTA Awards winner, and inveterate traveler Michael Palin has seen more of the world and had more travel adventures than most people. He's been around the world in 80 days, gone full circle and from pole to pole, followed in Ernest Hemingway's footsteps, trekked across the Sahara and the Himalayas, and toured Eastern and Central Europe as well as Brazil from corner to corner.
For his most recent journey, Palin gained historic access to the people and places of North Korea, one of the most closed-off countries in the world — an experience he captured in the two-hour documentary special North Korea from the Inside with Michael Palin.
Said Palin:
"To visit North Korea was an opportunity I couldn't turn down. For somewhere that is so often in the forefront of the news, it remains a complete mystery to most of us. That we were able to travel across the country and get some sense of everyday life was enormously exciting. The visit was an eye-opener for me, and I'm sure it will be the same for others. In all my travels around the world I have never had the same sense of fascination and revelation as on this journey to North Korea."
Palin and the production team from ITN covered more than 1,300 miles on this trip, traveling from the south to the north of the country to interact with North Korean citizens from all walks of life, to witness the country's extraordinary annual May Day celebrations, and to reveal sites and locations that have rarely, if ever, been explored before.
From discovering what everyday life consists of for residents in the capital city of Pyongyang, to exploring Mount Paektu and visiting a brand new tourist resort being built in Wonsan, Palin offers audiences an extraordinary inside look at the enigmatic nation often referred to as a "hermit kingdom."
What's more, filming coincided with the historic meeting of North Korean leader Kim Jong-un and South Korean President Moon Jae-in, thus providing viewers a rare opportunity to witness the occasion from the perspective of the North Korean people.
Planning on North Korea from the Inside with Michael Palin took two years and required a series of complex, high-level negotiations in order for Palin and the crew to be granted the unprecedented access they received to be able to experience North Korea in a way that few Westerners have ever been able to previously.
Commissioned by the UK's Channel 5 and produced by ITN Productions, the special debuted across the pond last week to critical acclaim.
North Korea from the Inside with Michael Palin premieres in the US this Sunday, September 30, at 9 PM ET, on National Geographic Channel.
__________________

Add your comments on our Facebook and Twitter pages.
Share this post/page.

'North Korea from the Inside with Michael Palin' to Screen in the US on National Geographic