Game of Thrones' Kit Harrington returns to HBO in Gunpowder, the new three-part historical miniseries that will complete its run next week on BBC One in the UK.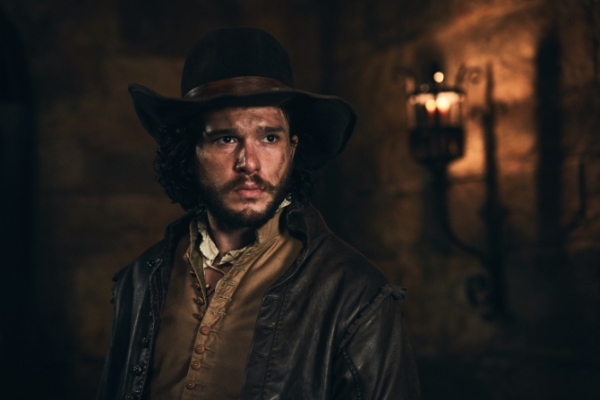 Gunpowder is a thriller based on the real-life 17th century events that led to the Gunpowder Plot in 1605 London. It delves into the history behind the plot evolution, the selection of the team to carry it out, the gathering of the resources, and the obstacles the plotters came up against.
Every year on November 5th, often called Guy Fawkes Day, the English mark the discovery of the Gunpowder Plot with bonfires and fireworks. While many people believe Guy Fawkes devised the plot, he didn't, although he did play a pivotal role.
The man who dreamed up the plot and was its driving force was Robert Catesby, a 33-year old Catholic gentleman from Warwickshire, played by Kit Harington, a descendant of Catesby.
The story opens in 1603 England, with Scottish King James VI (Derek Riddell, Hard Sun) taking the throne as King James I of England and Ireland following the death of Elizabeth I. England is at war with Catholic Spain, and authorities directed by the king's Spymaster in Chief, Lord Robert Cecil (Mark Gatiss, Sherlock), hunt down, torture, and execute priests while lay Catholics are persecuted. Practicing their religion in secret, they risk imprisonment, fines, harassment, the loss of their property, and even death.
Catesby's refusal to abandon his religion has brought him to the edge of financial, social, and psychological ruin. His wife and father have both recently died, leaving him to raise his young son alone in an increasingly hostile world. Unable to stand by while his fellow Cathoics suffer, and despite the peaceful protestations of head Jesuit, Father Henry Garnet (Peter Mullan, Ozark), doing nothing is not an option for Catesby. He starts to recruit friends and relatives, swearing them to secrecy as he devises an audacious plan.
His fellow conspirators include Guy Fawkes (Tom Cullen, Knightfall), Thomas Wintour (Edward Holcroft, Wolf Hall), Jack Wright (Luke Neal, The Politician's Husband), and Thomas Percy (Daniel West, South Riding), amongst others.
Several attempts have already been made on the new King's life, and all have failed. Catesby's cousin, Anne Vaux (Liv Tyler, The Leftovers), becomes suspicious about his activities and fears the consequences will be the exact opposite of what Catesby intends.
Costars in Gunpowder include Shaun Dooley (DCI Banks) as Sir William Wade, Lieutenant of the Tower of London, Robert Emms (Atlantis) as Father John Gerard, and David Bamber (Snatch) as Henry Percy, 9th Earl of Northumberland.
Directed by J Blakeson (The Disappearance of Alice Creed) and produced by Laurie Borg (Peaky Blinders), Gunpowder is executive produced by Ollie Madden (MI-5) for Kudos, Matthew Read (Doctor Foster) for the BBC, and series creators and writers Ronan Bennett (Top Boy), Daniel West, and Kit Harington for Thriker Films.
Gunpowder will air in the US over three consecutive nights, starting Monday, December 18th, at 10 PM ET, on HBO. The miniseries will also be available to HBO subscribers on HBO On Demand, HBO NOW, and HBO GO.
__________________
Add your comments on our Facebook, Google+, and Twitter pages.
Share this post/page.

Gunpowder: Kit Harington's Historical Thriller Coming Soon to HBO US