Dame Penelope Keith returns for another delightful program, in which she takes viewers behind the closed doors of Queen Elizabeth's royal residences across the UK.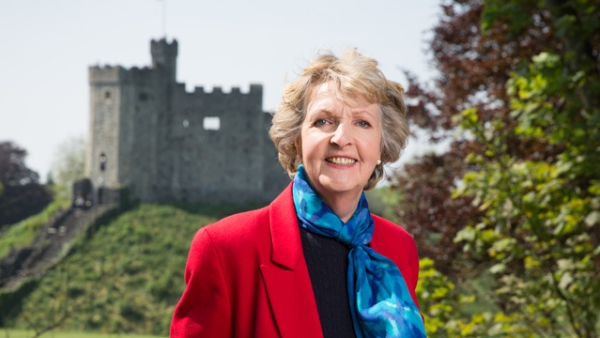 Following up on her hugely popular series, Penelope Keith's Hidden Villages, Penelope Keith (To the Manor Born, No Job for a Lady) takes viewers on a tour of royal history in this four-part series commissioned to mark the 90th birthday of Queen Elizabeth II.
In each episode she visits one of the famous castles of the British royal family, starting with Windsor Castle in London — "the oldest, largest occupied castle in the world."
Built by William the Conqueror soon after the Norman invasion of 1066, Windsor Castle, which receives more than 3500 tourists every day, is "often described as the Queen's favorite residence." It's no surprise, then, that the Queen spends more time here than at any of the other royal residences.
The 1992 fire at Windsor Castle, which damaged or destroyed 100 rooms, contributed to the Royal Family's having an annus horribilus that year. (The restoration took five years to complete, at the cost of £37 million.)
But Windsor Castle isn't just one of the homes of the British Royals. More than 150 Londoners are permanent residents here, making it "a living, breathing community."
On the property is St. George's Chapel (also damaged by the fire), and it is here that viewers get to see along with Keith one of the chapel's best-kept secrets — an area built especially for Queen Victoria after the death of her beloved Prince Albert. It isn't accessible by the public, so this program is one of the few, if not only, ways you can get a glimpse.
Keith's exploration of Windsor-related history and traditions also takes her off these royal grounds to the College of Arms, Hampton Court, and the River Thames, where viewers get to see the design of Julian Fellowes' coat of arms, learn about the duties of a Royal Herb Strewer from a descendant of the one who served King George IV, and (vicariously) take part in the Tudor Pull aboard the Royal Rowbarge Gloriana.
The second episode takes Penelope Keith to Scotland, where she tours Inveraray Castle, located on the shore of Loch Fyne in Argyll, and the Palace of Holyroodhouse in Edinburgh, the official residence of the Queen in Scotland. Highlights include Keith's visit to the bedchamber of Mary Queen of Scots and her meeting the Royal Falconer at Borthwick Castle.
Keith's next stop is Hillsborough Castle, located in County Down in Northern Ireland, where she meets the Queen's bugler and uncovers an unexpected treasure dating back to the Coronation. The final leg of her journey is Caernarfon Castle, the medieval fortress located in Caernarfon, Gwynedd, in northwest Wales, where she meets a royal harpist and champion dog breeders, and is serenaded by a male choir. (How lovely!)
Penelope Keith at Her Majesty's Service is confirmed for airing on the public TV stations and regional networks listed below. Air dates and times vary by market, so check your local listings or contact the station that serves your area for details.
| STATE | CITY | STATION |
| --- | --- | --- |
| CALIFORNIA | Monterey, Salinas, San Francisco, San Jose, Watsonville | |
| CALIFORNIA | San Diego | |
| DISTRICT OF COLUMBIA | Washington, DC | |
| FLORIDA | Miami | |
| FLORIDA | West Palm Beach | |
| IDAHO | Boise, Coeur d'Alene, Moscow, Pocatello, Twin Falls | |
| IOWA | Cedar Rapids, Council Bluffs, Davenport, Des Moines, Fort Dodge, Iowa City, Mason City, Red Oak, Sioux City, Waterloo | |
| KENTUCKY | Ashland, Bowling Green, Concinnati/Covington, Elizabethtown, Hazard, Lexington, Louisville, Madisonville, Morehead, Murray, Owensboro, Owenton, Paducah, Pikeville, Somerset | |
| MICHIGAN | Alpena, Cadillac, Flint, Manistee, Mt. Pleasant | |
| MINNESOTA | Minneapolis, St. Paul | |
| MONTANA | Billings, Bozeman, Great Falls, Kalispell, Missoula | |
| NEVADA | Las Vegas | |
| NEW YORK | Albany, Schenectady, Troy | |
| NEW YORK | Norwood, Watertown | |
| NEW YORK | Rochester | |
| NORTH CAROLINA | Asheville, Chapel Hill, Charlotte, Concord, Edenton, Greensboro, Greenville, Jacksonville, Linville, Lumberton, Raleigh-Durham, Roanoke Rapids, Wilmington, Winston-Salem | |
| OHIO | Cleveland | |
| OHIO | Columbus | |
| OHIO | Dayton, Oxford, Portsmouth | |
| OREGON | Bend, Corvallis, Eugene, La Grande, Portland | |
| PENNSYLVANIA | Altoona, Clearfield, Johnstown | |
| RHODE ISLAND | Providence | |
| SOUTH DAKOTA | Aberdeen, Eagle Butte, Lowry, Martin, Pierre, Rapid City, Sioux Falls, Vermillion | |
| TEXAS | Dallas | |
| UTAH | Provo | |
| VIRGINIA | Charlottesville, Richmond | |
| WASHINGTON | Seattle, Yakima | |
| WISCONSIN | Milwaukee | |
__________________
Add your comments on our Facebook, Google+, and Twitter pages.
Share this post/page.

Penelope Keith at Her Majesty's Service Makes Broadcast Debut on Public TV Stations