If the name of Crackle's new scripted series rings a bell, it should. It's based loosely on the hugely popular film, Snatch, and like the feature is a comedic thrill of a crime caper.
Nearly seventeen years after the movie Snatch opened in theatres in the UK, the Crackle Original Series, Snatch, premieres in the US.
In addition to being loosely based on writer/director Guy Ritchie's successful cult film, the series — created, written, and executive produced by Alex De Rakoff (The Calcium Kid, Dead Man Running) — is inspired by an actual heist: the 1983 theft of £26 million worth of gold bullion, diamonds, and cash from a Brink's-Mat security warehouse near Heathrow Airport in West London.
Thanks to Crackle, I watched the first two episodes and can say this: Snatch, so far, is fabulous. With a new story and new characters, the series stands on its own and is quite worthy of a binge-watch. It also gives several nods to its namesake film, which fans of the feature (like me) will appreciate immensely.
Set in contemporary London, the story follows the criminal misadventures of three 20-something mates — Albert Hill (Luke Pasqualino, The Musketeers, The Borgias), Charlie Cavendish-Scott (series executive producer Rupert Grint, "Harry Potter" films, Wild Target), and Billy Ayres (Lucien Laviscount, Scream Queens, Coronation Street) — each of whom has something to prove.
The handsome and street savvy Albert is a small-time crook who aspires to be a better class of criminal than his infamous gangster father, Vic Hill (Dougray Scott, Hemlock Grove, Desperate Housewives), who was sent down when Albert was ten years old for a gold heist that went sideways, at least for him. Despite being in prison, Vic's legendary status casts a long shadow, and Albert wants out from under it and his dad's interference. He also wants to stay out of jail, if he can help it.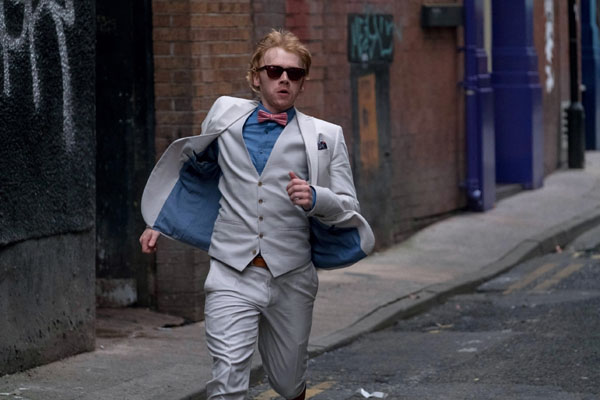 Charlie is Albert's loyal best friend. Despite the tarnish on his silver spoon, he's still posh. Aristocratic family aside, he's also broke. And he's trying to show Albert that he's capable of running scams for a quick quid, too. The thing is, book smarts aren't street smarts, and Charlie has the former but not the latter. This, combined with his penchant for doing mood-altering drugs, usually means he does more to get the trio into messes than money. Consider this exchange between him and Albert:
Charlie: "When are you going to give me a pat on the back?"

Albert: "When you start adding some risk-averse value to this operation."
And Billy is a mixed-race gypsy boxer who fights in unlicensed boxing matches. This seems to run in the family; his deceased father was a traveler and bare-knuckle boxer (wink, wink). Billy's skint like both of his friends, but scamming for him is less about money than the rush from pulling it off. Like Charlie, he's loyal to and trusting of Albert and will do pretty much whatever his mate asks of him, including going down in his next fight for a big payoff.
Enter Sonny Castillo (Ed Westwick, Gossip Girl, Wicked City), a sadistic Cuban gangster and club owner with ties to the Cuban mob in Miami, a hair-trigger temper, and "a zero-tolerance policy." Oh, and an MBA. (No) thanks to him, Albert et al (and Vic) get turned under in their own hustle and are out any winnings. Now Albert is up the proverbial creek sans paddle and in hock £30,000 (and counting).
What's a young man, with the Hill reputation to live up to, to do?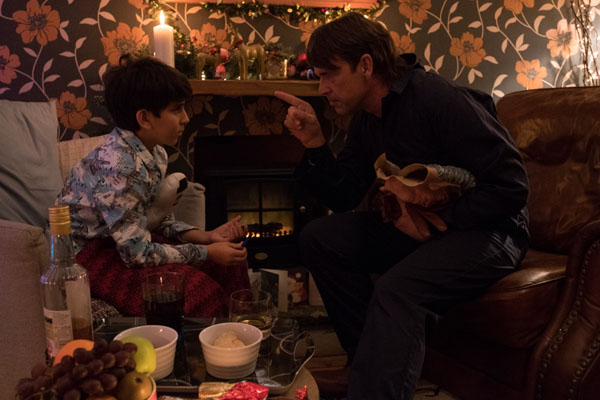 Chat with his mum, of course. Lily Hill (Juliet Aubry, The White Queen, Primeval), a strong, loving, and supportive woman, manages the family's legitimate florist shop, which doubles as a front for Albert's shadier dealings. She takes no guff, sets the boys straight, and calls things like she sees them. And what she sees in Vic's interference in Albert's life is her husband's way of "trying to stay relevant." (Ouch.) In her son she sees a young man who can "either be a mark or make a mark."
Right, then. Desperate times call for desperate measures, so Albert takes Lotti Mott (Phoebe Dynevor, Dickensian, Prisoners Wives) up on her offer. She's Sonny's smart and sexy moll, and she's got big plans for herself. They start with a payday worth a couple hundred thousand quid. Enter the young Hill crew.
It would have been brilliant if the plan had gone according to Hoyle. Then again, it's all a matter of perspective, isn't it? No cash on the one hand; millions of pound sterling worth of gold bullion on the other. For a dude with a smartphone, mobile data, and a newly-uploaded Instagram video, "That's gangsta!"
And that video is garnering a lot of views, including by the Brick Top-bespectacled Vic Hill and Bob Fink (Marc Warren, Jonathan Strange & Mr. Norrell, Hustle), a bent copper who's no stranger to gold heists.
While the precious metal gold is the talk of London's criminal underworld, there's also the matter of the gold fob watch that Charlie had sold to the clever Chloe Koen (Stephanie Leonidas, American Gothic, Defiance), an American grifter in London working for Saul Gold (Henry Goodman, Avengers: Age of Ultron), a ruthless fence whose weapon of choice is a scalpel and who, via Vic, has a "low-risk" job for Albert and Charlie that involves diamonds.
The ice is chump change compared to the gold, and Vic, Fink, and others who aren't in possession of the bullion want it badly. Meanwhile, the younger Hill trio, now a quintet with Lotti and Chloe in the mix, want nothing more than to get rid of the gold and a hold of its worth… and to stay clear of the nasty buggers chasing after and threatening them for the millions.
When I first wrote about Snatch here, I wondered if there would be pigs in the series, since they played a small yet meaningful role in the film. There are pigs, of sorts, as well as not one but three Jewish businessmen from Brooklyn; whether a dog and a carton of milk play pivotal parts in the series remains to be seen.
What's clear two episodes in is that Snatch is much more than a chase-'em-down, beat-and-shoot-'em-up crime comedy. It's also a story about family and relationships — the kind one gets born into and the kind one creates — delivered in a fun, fast-paced, visually-dynamic, and exciting series.
Snatch premieres exclusively on Crackle on Thursday, 16 March 2017, when you can get your binge-watch on and stream all ten episodes for free.
__________________

Add your comments on our Facebook and Twitter pages.

Share this post/page.

Snatch: Crackle Original Crime Comedy Series Premieres This Week!