For folks who've been jonesin' for a Downton Abbey- or Mr. Selfridge-esque period drama, check out The Halcyon, which premiered in the US today.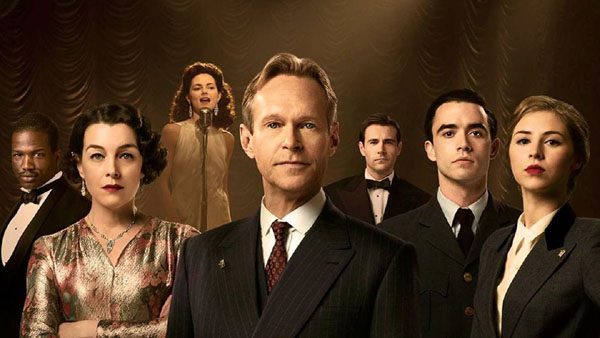 Set in 1940, The Halcyon is an eight-part drama centered on the people and goings-on at the eponymous five-star London hotel.
As World War II rages on, The Halcyon's general manager, Richard Garland (Steven Mackintosh, Stan Lee's Lucky Man, Luther, Inside Men) works to ensure that the posh guests are well taken care of by his staff.
One guest whose stay requires them to be oh so discreet is Lord Hamilton (guest star Alex Jennings, The Crown), a politician and the hotel's owner. On one particular day, Richard must race to prevent Hamilton from being caught in flagrante delicto with mistress by his wife, Lady Priscilla Hamilton (Olivia Williams, The Ghost Writer, The Heart of Me, An Education), when the missus shows up unexpectedly. (She knows about her husband's affair, but keeps calm, carries on, and puts on a show of togetherness. Well, for the time being, anyway…)
Observing what's happening around him at the hotel is Joe O'Hara (Matt Ryan, Constantine, Collision), an American journalist posted in London as a war correspondent and a guest at The Halcyon. And what's happening are burgeoning relationships of the out-in-the-open and closeted sorts, thefts, and treachery, to name but a few. There's also, of course, the war, which does not leave the hotel or its inhabitants unscathed.
The regular cast includes Hermione Corfield (Pride and Prejudice and Zombies, Endeavour) as Emma Garland, Richard's daughter and the hotel's receptionist and later assistant manager; Annabelle Apsion (Call the Midwife, Shameless) as housekeeper Lillian Hobbs; Mark Benton (Waterloo Road, Land Girls) as head concierge Dennis Feldman; Nick Brimble (Grantchester, House of Cards trilogy) as doorman Skinner; Liz White (Life on Mars, The Fixer) as switchboard operator Peggy Taylor; Akshay Kumar (Legends, Homeland) as barman Adil Joshi; Sope Dirisu (Humans, The Mill) as bandleader Sonny Sullivan; and Kara Tointon (Mr. Selfridge, EastEnders) as singer Betsey Day.
Also featuring in The Halycon are Charles Edwards (Arthur & George) as Lucian D'Abberville, factotum to French refugee and hotel guest the Comte de St Claire (Eric Godon, The Missing); Kevin Eldon (Death Comes to Pemberley) as chef George Parry; Danny Webb (Scott & Bailey) as MI-5 Officer Mortimer; and Charity Wakefield (Wolf Hall) as Charity Lambert, Lord Hamilton's Nazi-sympathizing mistress.
Created and written by Charlotte Jones (Without You), produced by Chris Croucher (Downton Abbey), and executive produced by Sharon Hughff (Strike Back) and Andy Harries (Wallander), The Halcyon is a production of Left Bank Pictures (The Crown, DCI Banks, Outlander).
The Halcyon is now available for streaming on Amazon Video. The series makes its cable debut on October 2nd, at 10 PM ET, on Ovation TV.
__________________
Add your comments on our Facebook, Google+, and Twitter pages.
Share this post/page.

The Halcyon: Period Drama Now Streaming in the US, Premieres on Cable This Fall